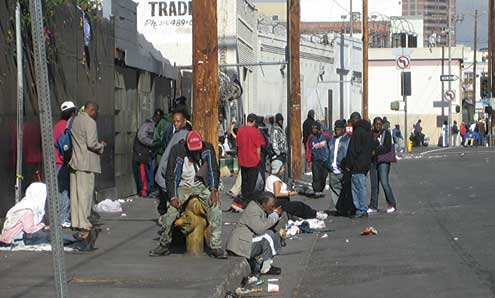 An international effort to eradicate poverty
Part six in a New Frontier series of eight
by Christin Davis
In an eight-part series, New Frontier is exploring the United Nations' eight Millennium Development Goals (MDGs) to eradicate poverty and achieve basic human rights for all people, and detailing Salvation Army work to accomplish the goals.
From Sept. 20-22, 2010, 140 heads of state and government met at the United Nations (UN) for a Summit on the MDGs. The 31-page outcome document reaffirms the commitment to these goals and focused on actions, policies and strategies to support the countries that are behind in reaching these goals by 2015.
UN Secretary-General Ban Ki-moon also announced the launch of a $40 billion plan—pledged by governments, foundations, businesses and non-governmental organizations—aimed at saving the lives of 16 million women and children over the next five years.
Read more about the summit at un.org/en/mdg/summit2010.
Goal 1: To eradicate extreme poverty and hunger
Read more about this goal in New Frontier, volume 28, number 3.
Goal 2: Achieve universal primary education
Read more about this goal in New Frontier, volume 28, number 5.
Goal 3: Promote gender equality and empower women
Read more about this goal in New Frontier, volume 28, number 7.
Goal 4: Reduce child mortality
Read more about this goal in New Frontier, volume 28, number 9.
Goal 5: Improve maternal health
Read more about this goal in New Frontier, volume 28, number 12.
Goal 6: Combat AIDS, malaria and other diseases
The Salvation Army in Moldova developed and implemented an educational HIV/AIDS program for schools. In partnership with local government education authorities, the Army has held over 80 seminars in schools and colleges to an audience totaling over 16,000 young people.
In Zambia, The Salvation Army's Chikankata Hospital has 150 beds, a training school for nurses, midwives and laboratory assistants, and an associated leprosy control program and rehabilitation center. A mobile community health team operates in the surrounding districts in conjunction with five associated rural health centers. Since 1987, the hospital has operated an AIDS care, prevention and control program, and also conducts a four-phase nutrition program.
Nearby, in Tanzania, the "Mama Mkubwa (Big Mother)" project identifies children who need help because of AIDS. Many of these are orphans who are supporting their brothers and sisters without any adult guidance. Children in the program receive care from trained volunteer families and support through playgroups, as well as food, clothing, medical care and the opportunity to go to school.
In Canada, the Agape Hospice in Calgary, Alberta, provides end of life care for individuals and their families, including many AIDS sufferers. It provides the medical support necessary to reduce suffering as much as possible. The hospice also provides emotional and pastoral support to those who desire it. The Army here also provides training through its Community Care Ministry for volunteers who may come in contact with people with AIDS while visiting in hospitals and nursing homes.
In late 2009, the India Central Territory conducted an evaluation program of the All India HIV/AIDS Project. Six territorial HIV/AIDS coordinators and 40 participants attended the evaluation program. Delegates visited the Government General Hospital in Gudivada, which offers pre-test and post-test counseling and occasional free medical support. The participants and the evaluators also went into communities and tested the current work.
In the United Kingdom, The Salvation Army is a member of the Stop AIDS Campaign—an initiative bringing together more than 80 leading development and HIV/AIDS groups to raise awareness and campaign for universal access to prevention, treatment and care.
All four territories of The Salvation Army in the U.S. have made it a goal to work on HIV/AIDS, particularly in the area of HIV testing and linking people with HIV to care and treatment.
As World AIDS day approaches on Dec. 1, 2010, consider how you and your corps can promote awareness and limit prejudice. See more at worldaidsday.org.
Goal 7: Ensure environmental sustainability
Goal 8: A global partnership for development
See more about the MDGs in the past and upcoming parts of this New Frontier series and at endpoverty2015.org.