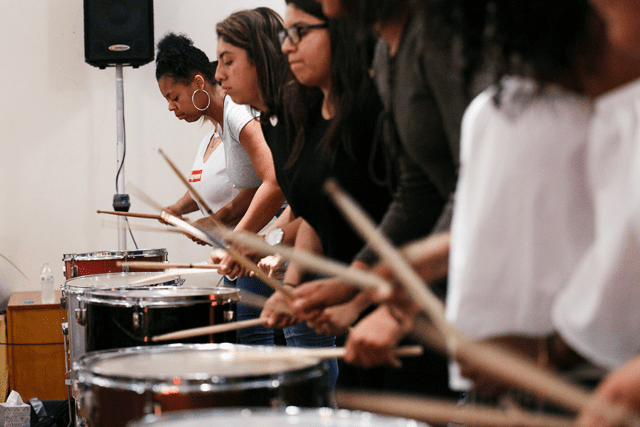 All-girls drumline inspires growth
Ontario (California) Corps group marches everywhere from fairs to parks to churches.
By Neil Munoz –
Studies show that people often associate certain musical instruments with gender. The flute, for instance, is typically linked to a feminine role, while percussion a more masculine one. Consequently, some girls are steered away from the drums in favor of something more "gender appropriate."
Yet The Salvation Army Ontario (California) Corps' drumline consists entirely of girls—and that's not by design.
"The all-girl drumline occurred not by choice, but through the process of advancement level placement," said Assistant Music Director Marvin Haskett. The drumline, which started as a part of the corps' after-school program, comprises drummers from the "advanced" unit, who worked their way up through the "beginner" and "intermediate" groups. In other words, not only have the girls showed interest in the drums—they've excelled.
Haskett came to the San Bernardino County suburb roughly nine years ago and didn't waste time. He started teaching kids in the after-school program paradiddles and drum rudiments, along with rhythmics even before teaching them to read music. And for good reason. Learning percussion forges a natural mind-body connection, which in turn, helps develops spatial logic, critical thinking, and problem-solving skills—often leading to strong academic performance. Drumming in a group also affords the girls the chance to collaborate, rather than compete, with one another.
Initially, 13 girls made up the advanced unit, but some went off to college and time became a factor. Now, eight remain—three of whom are Haskett's daughters. In that time, they've developed into senior soldiers and role models for some of the corps' younger members.
"Not only are we an all-girl drumline, but we have personalities that are so different from one another that we find ways to better each other," said Taliya Haskett, one of the original members. "The drumline is the core of the corps. It ties us all together. Drums are universal—you can still feel it even if you play the drums or not."
As the girls get older, they start to collaborate with Marvin Haskett on creating routines, while he writes the music. "When we would rehearse, kids would watch us through the fence or cars would stop and park to watch us perform," Taliya Haskett said.
Though funded by community donations through general appeals, the program's faced its share of challenges. Chief among them—securing instruments. "We would go to yard and garage sales, thrift stores or even grab broken ones placed on the curb," Marvin Haskett said.
Through it all, the group has performed everywhere from fairs to parks to churches. Recently, they were invited to compete at the LA Convention Center and JW Marriott at a conference with 3,000 attendees.
As the girls graduate high school and move on from the unit, the corps works to groom the next crop of drummers through its beginner and intermediate cohorts. Eventually, the drumline will become more diverse as more boys start to show interest and level up. Until then, the girls will look to continue spreading joy and breaking through stereotypes.
"These girls have brought so much value and excitement to the corps," said Envoy Naomi Tamez. "The entire congregation and community look forward to when they play the drums. I know that I do."