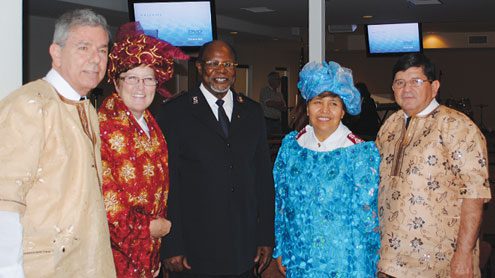 African immigrant outreach a critical touchpoint in Phoenix
Meeting the needs of a population in constant flux, a unique Salvation Army ministry is a welcome fixture in the Phoenix community.
Making a home in a new place isn't easy. And when that new place is a new country with a new language thousands of miles from where you lived, the change can be daunting, and finding your way can be overwhelming.
For years, thousands of African immigrants and refugees have made Phoenix, Arizona, their home. According to the United States Census Bureau's 2016 American Community Survey, Phoenix is home to approximately 10,000 Africans.
Seeing a need, The Salvation Army launched the African Immigrant Ministry (AIM) in 2013 to introduce Africans to The Salvation Army and bridge the gaps in the community. Five years later, the ministry continues to meet needs as a critical part of the Phoenix Citadel Corps.
"We are not a corps, but we are…working in the corps," said Commissioner John Ludiazo, who leads AIM with his wife, Commissioner Véronique Ludiazo. The pair previously led the then-Congo (Kinshasa) and Angola Territory. "We are an outreach ministry for many immigrant people who are coming into this country."
AIM rests within the Phoenix Citadel Corps, though the ministry mostly worships separately on Sunday afternoons.
"We are blessed to have one of the most culturally diverse corps in the territory, and the AIM ministry is an important part of our corps family," said Major Tim Smith, Phoenix Citadel Corps Officer.
While its name may lead you to believe the ministry only supports immigrants from African Nations, AIM is organized by Africans, but its body is much more diverse.
"We receive everybody. We have Americans. We have Asian people. We have South American people. Everyone is welcome," Ludiazo said.
If you were to drop in to worship with AIM, you'd probably hear multiple languages throughout the service. Because people come from different countries, the group sings in English and some African languages. Members testify in their native tongue if someone else can interpret for them.
"People are so pleased to know that we are receiving immigrant people because of language and culture," Ludiazo said. "People may say, 'Why do you not send them just to the normal church with everybody?' But because of culture, we have a way of worshiping. We have a way of singing and, mostly African people, they like dancing. They like expressing the joy in a different way. Sometimes in some churches they think that it disturbs them, but to us it is for the joy for God."
On the first Sunday of every month and other special occasions, AIM joins together with the rest of the Phoenix Citadel Corps to worship.
"We recognize that we are all part of the family of God—we are still one corps—and all have an important role in it," Smith said.
An important part of combining forces is through the corps' children's ministry. Children of the AIM have prominent roles in the youth and music programs, and comprise nearly half of the Moonbeam, Sunbeam, Adventure Corps and Girl Guard troops on Wednesday evenings. On the weekends when the children's music programs meet, children from AIM families make up about half of the corps' youth musicians, too.
Last year, Phoenix Citadel Corps' singing company won the divisional competition, and last month, the youth brought home nine trophies from the Southwest Got Talent music competition, which included the youth and beginner bands, youth and junior timbrels, a drama team and four soloists, two of whom are part of AIM.
While AIM has been serving the community since 2013, the constant flux of life makes it hard to estimate growth.
"It is difficult for me to say if we are having more people than before because people are coming, but the people are also moving to different states or different areas, but we are still there," Ludiazo said. "We are growing as the Lord is giving us every month."
But growth can be measured in other ways. AIM has seen a member go on to become a U.S. citizen. The group has sent a cadet to the College for Officer Training at Crestmont.
While The Salvation Army is fast-growing in Africa, according to Ludiazo, many of the people coming to Phoenix who have lived in refugee camps have never heard of it before. He finds himself often explaining The Salvation Army is more than a charity or a church.
"We try to let people know about The Salvation Army in different dimensions: spiritually, emotionally and also materially—what can be done in The Salvation Army, how we do it and who are we," Ludiazo said.
Often this comes through the form of simply meeting the needs of immigrants in the Phoenix community.
"It is our duty to lead them with the American culture when they come from outside of America," Ludiazo said.
This takes shape in a number of ways. Sometimes people may have legal issues and AIM helps direct them to find legal help. Or maybe people are looking for work who have never gone to school, so they need advocates to help them find jobs or navigate applications. Sometimes people need interpreters.
Another way AIM serves the Phoenix community is through visiting those in jail and assisted living.
"We will give our help to anyone," Ludiazo said. "We are The Salvation Army."
---
This is the fifth in a series of articles by New Frontier Chronicle showcasing different expressions of ministry across The Salvation Army USA Western Territory that point up the importance of reaching out to other ethnic and linguistic groups.