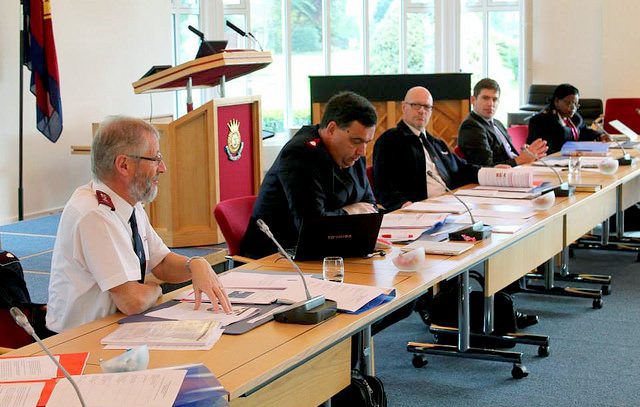 Senior leaders task force talks accountability
By John Murray, Major –
A significant and robust process reviewing transparency, accountability and impact measurement for The Salvation Army is underway at International Headquarters (IHQ).
The process was developed in response to General André Cox's vision statement for The Salvation Army, in which he said, "I dream of an Army with strong, relevant and streamlined administrative structures and a much more effective use of our financial and material resources."
The Accountability Impact Measurement Senior Leaders Task Force met Nov. 29 to Dec. 1 at Sunbury Court, near London, in preparation for the General's Consultative Council that will meet Jan. 19–22, 2015.
Chaired by Commissioner Robert Donaldson, territorial commander of the New Zealand, Fiji and Tonga Territory, the Senior Leaders Task Force includes: Commissioner Birgitte Brekke-Clifton, IHQ; Commissioner Florence Malabi, IHQ; Commissioner Rosalie Peddle, IHQ; Commissioner Carol Seiler, USA Central Territory; Commissioner Charles Swansbury, IHQ; Commissioner John Wainwright, IHQ; and Colonel Prema Varughese, India Northern Territory.
The group reviewed the purpose statements of each of the four core work streams currently under review: governance, impact measurement, finance and child protection. Each work stream has completed a thorough theological reflection and is dedicated to working toward best practice as it relates to its respective area. The senior leaders developed a decision framework for each of the four work streams and agreed on additional work to be completed prior to the GCC.
"The General values transparency and accountability in leadership and he is committed to evaluating the impact of The Salvation Army's global ministry in real terms," Donaldson said. "We are committed to this four-pillar review process in a robust and systematic fashion, thus ensuring a strong and healthy future for Salvation Army ministry around the world."
Major Dean Pallant, international accountability and impact measurement coordinator, leads a Support Team of officers and employees from IHQ, the United Kingdom with the Republic of Ireland and Switzerland, Austria and Hungary Territories, and representing legal, finance, personnel, communications and the IHQ zonal offices.