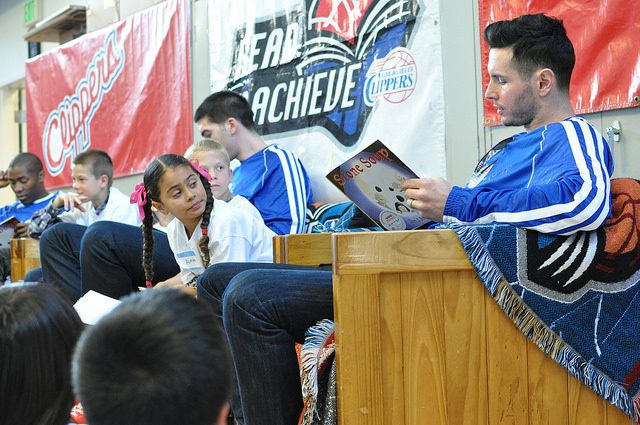 A slam dunk collaboration
By Kimberly Selman –
Representatives of the Los Angeles Clippers—including players J.J. Redick, Jamal Crawford and Byron Mullens—visited The Salvation Army Westwood Transitional Living Village Feb. 8 to reveal a completely refurbished and stocked computer lab.
The Clippers donated 11 computers, 20 mini iPads, a Macbook Pro, 10 computer chairs, 10 headphones, a printer and an iPad cart for the mini iPads to be charged and stored, and repainted the computer lab walls, installed new counter tops and will be installing a new window to complete the room's transformation.
During their visit, Redick, Crawford and Mullens helped to break in the computers and iPads with some of the youngest residents of the Village. They also read a book to all of the children in the multipurpose room and fielded questions. Before the event was over, every child received a "Read to Achieve" t-shirt, books, pencils and other school supplies.
The Salvation Army Westwood Transitional Village is a 40-unit residential housing facility that provides support services for homeless families. Families can spend up to two years there while they stabilize and acquire the skills and resources needed for independent living. Approximately 150 individuals live at the Village at all times, with two-thirds of the total population being children.
Thanks to the Los Angeles Clippers' kind donations the residents of The Village will now have the tools they need to succeed both professionally and academically.