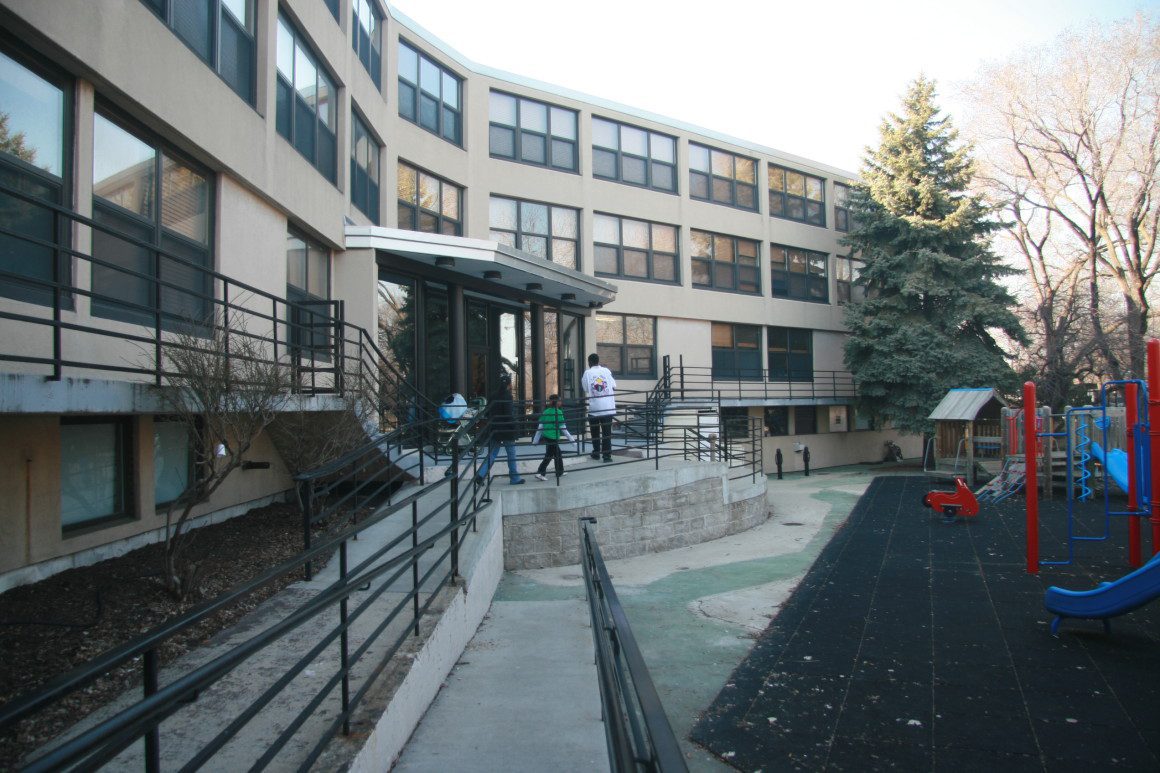 A savings lodge
Displaced families budget, save and find housing while living at Chicago's Evangeline Booth Lodge.
Homelessness doesn't always equate to living on the streets.
When Jamal Murray, 20, and his wife Elainna, 22, learned they were having a baby, the couple moved from Chicago, Illinois, to live with Elainna's mother in Kentucky, along with their 6-year-old daughter, Aniya Johnson.
Jamal found a job working as a security guard, which allowed the young family to move into an apartment. A few months later, Jamal lost his job. No longer able to afford living expenses and with a newborn baby, the couple returned to Chicago to live in Jamal's aunt's living room. Then they moved in with his mom. After a dispute, they moved again—to Elainna's uncle's living room where a few other extended family members already lived.
The Murrays eventually made contact with the Department of Human Services, who called The Salvation Army on their behalf. On January 22, 2009, the family moved into the Army's Evangeline Booth Lodge in Chicago.
"I felt like I was moving into a mansion," said Jamal, who was malnutritioned and underweight when they arrived. "It was a surreal feeling."
A dwelling deficit
The Evangeline Booth Lodge, which opened in 1922, currently occupies a 3-story building on the Lake Michigan shore. Previously a Holiday Inn, the Brandecker family purchased the building as a gift for The Salvation Army. As a former hotel, the space allows the shelter to operate with 64 separate housing units, including bathrooms, for intact family units. Ten units are reserved for single women.
The Evangeline Booth Lodge recently completed renovations to the building facilities following seven years of litigation and construction.
Director Teresa Cortas said the Evangeline Booth Lodge has one focus: "To help families attain financial stability and permanent housing."
Though the third most populous city in the United States, Chicago has a lack of rental units, minimal affordable housing and virtually no subsidized housing. The Chicago Coalition for the Homeless found that 21,078 people are homeless on a typical night in the city. Only 22 percent—just over 4,600 people—are served in shelters.
The Joint Center for Housing Studies of Harvard University determined in 2006 that one in three U.S. households spends 30 percent or more of its income on housing, while one in seven spends 50 percent or more.
The city of Chicago lost over 71,000 rental units between 2000 and 2005, according to a 2007 Chicago Rehab Network housing fact sheet. The city stands to lose an additional 8,000 federally subsidized units by 2010 when the contracts expire.
"Our clients have fallen on hard times in urban poverty surroundings," Cortas said. "They are hardworking, dedicated people who simply need help to be able to sustain themselves."
Cortas said the majority of families moving into the lodge arrive with situations similar to the Murrays—the family loses their ability to live independently and moves in with extended family for a short time. Eventually, and almost inevitably she said, they end up displaced.
At the lodge
Acceptance is first come, first served. The lodge receives an average of five calls a day from potential incoming families. A phone intake worker discusses particular needs and notifies them of the lodge's rules, including a 10 p.m. curfew. If space is available and the family agrees to the rules, they are invited in and members over 14 are drug screened. If an individual tests positive for drugs, they are provided with rehabilitation resources.
The length of stay for a family is generally four months, though Cortas said some only stay a couple weeks. A family can exceed the limit, however, based on individual assessment.
Each family is assigned a case manager, who consistently meets with all members. Upon arrival, the case manager assesses a family's strengths and begins setting goals. The family is connected with any eligible assistance and provided help finding jobs if necessary. The case manager also ensures that each child is in school and regularly attending; Cortas said most kids are a year behind educationally because of the family transience.
Families are expected to save 80 percent of their income while living in the lodge, to develop funds for when they move out. Case managers help the family design and manage a budget. Gradually, families begin to help pay for small necessities, such as laundry.
The lodge provides three free hot meals every day. A health clinic is available onsite with two nurses and one doctor who provide physicals and care twice a week through Heartland Alliance.
Youth minister Kirsten Aho works to connect with the children, who comprise 70 percent of the shelter's population.
To meet the goal for each family, case managers start looking for permanent housing immediately after a family moves in. For most, subsidized housing is found outside of Chicago—often in other states that provide more resources for the working poor. "We want these families to know they are not alone and are part of the greater good," Cortas said. "So many times they have been told otherwise by society. We know they have more to offer than they give themselves credit for."
The simple things
In late March, the Murrays moved again—into their new home in Portage, Indiana.
Jamal is now a sworn member of the United States Air Force. The family is receiving steady income from his service and is establishing their new life.
"The hardest thing about my situation is that I have a family; I have two kids and a wife to take care of and to make sure they are happy," Jamal said. "Staying at the lodge was humbling. Now I know that they will have the things they need while I'm gone."
Once settled, Elainne plans to continue nursing school.
"I'm excited to have a place that my kids can come to and call home," she said. "I don't want my daughter to be embarrassed. I want them to play outside, and I want to cook a meal for my family."
Like most little girls, Aniya dreams of a room with princess decorations.
"We appreciate the simple things having gone through so much," Jamal said. "I have my family; I have what I need."