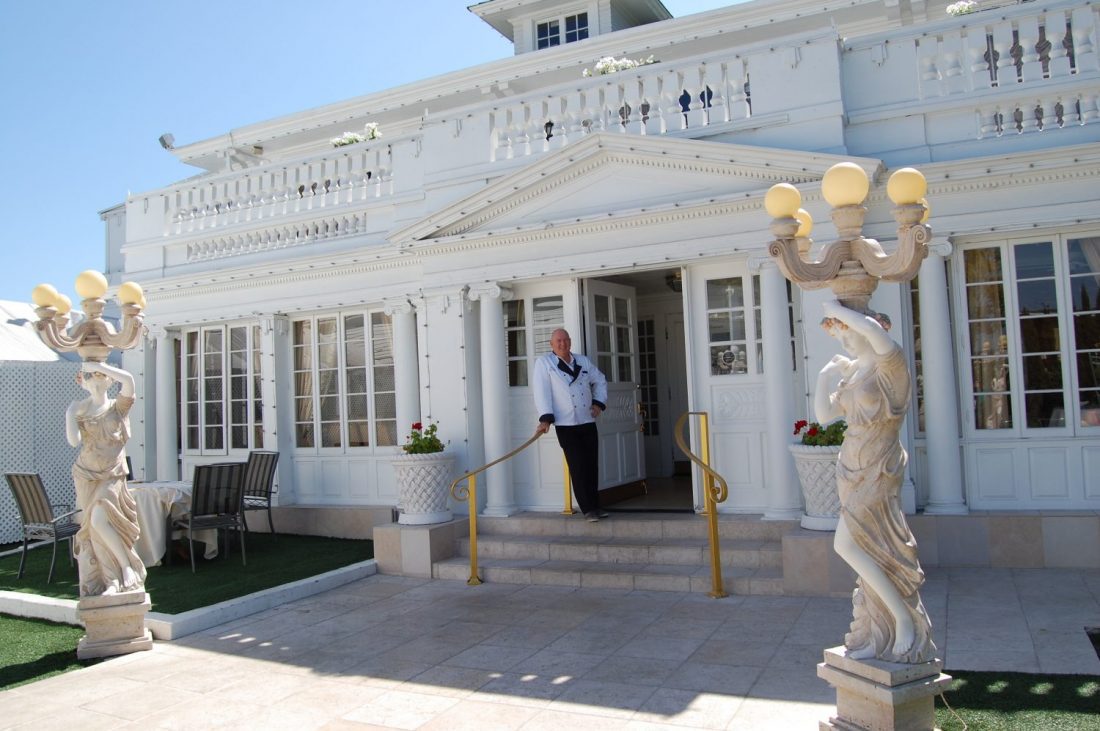 A pasta with hope
Restaurateur feeds 'motel kids' and kick-starts family housing.
Bruno Serato left Italy more than 30 years ago hoping to attain his version of the American Dream. Never one to settle, he promptly learned English and went from dishwasher to owner of the popular Anaheim White House restaurant, in Anaheim, Calif.
He soon realized that not everyone was living the dream.
In 2005, Serato and his mother, Caterina, visited the Boys and Girls Club of Anaheim, where his mother noticed a young boy eating potato chips for dinner. They learned the boy's family couldn't afford to buy him a meal, and Caterina insisted that her son make pasta for the child.
This situation is not uncommon in America where 1.6 million children are homeless, according to The National Center on Family Homelessness. More than 1,000 of these children live in Orange County motels.
To help combat this, Serato founded Caterina's Club and began making pasta for 72 children five nights a week, which expanded to 300 kids seven nights a week—a quarter of a million meals to date. Recently, Serato also started paying first and last months rent for families, helping them move out of the motels.
Caring sat down with Serato to find out more about his foundation and how he's helping families permanently leave the motel life.
Has cooking and helping others always been your passion?
Yeah—my passion is people. My mom and dad had a small restaurant in Italy and from 14-20 years old I worked with my mom in the kitchen. I've been in the restaurant business now for over 40 years.
When the economy was at its lowest point, did your restaurant struggle?
We lost 30-40 percent of our business. It was extremely difficult. We refinanced the house and the restaurant in order to keep going.
How were you able to still provide for the kids?
The kids tripled in the worst moment of my business. I knew if I didn't do it, a lot of those kids wouldn't have dinner. They were in a worse situation than I was. I decided to keep going with the help of God.
Your faith helped you during that difficult time?
Faith will help you get through the worst situations in your life. When my business was doing much worse and the kids tripled, I just looked above my head and said, "God, I'm in your hands, do what you have to do." And that's what happened. If I didn't have that, I probably wouldn't be here today.
Have you had any profound experiences with the children you've helped?
One kid broke my heart this week because I've been feeding him for two to three years and he just moved with his family. I paid their first and last months rent, so their mom could move to a new home to be away from the drug dealers, addicts, and sexual predators that are in the motel area. I was sad because I probably won't really him again because now he's in a different city.
Have you helped other families like his move?
Moving families out is my new project for this year. I've been feeding kids for seven years, but there's always a major sad feeling when we take them back to the motel. I kept thinking about what to do with the families and the children. I started to do new fundraisers to make money to pay for the first and last month's rent.
Some of those people lost their home, lost their job and their last chance is to be in a motel. After a couple of months, they find a job because they're hardworking people—but when they find a job, they want to get back on their own feet. They want to go back to a regular apartment or home, but they have difficulty coming up with the $4,000 or $5,000 deposit. I pay that for people who qualify. They have to have two kids minimum, they have to be clean [not addicted to drugs], and hardworking. We stand behind them for 12 months to make sure they don't fall back. If they can make it the first 12 months, they can make it forever.
How many families have you helped so far?
About 16.
When did you start this portion of the foundation?
In May, and it's now a part of Caterina's Club. I'm still feeding the kids because that's my priority, but why not take those children away from a bad environment—that's my new step. We're moving families all over Orange County right now.
Describe the motel area that these kids are living in.
It's scary. It scares me. There's a family now that we're moving out soon—they've been living there for 12 years. Some people get used to it, but now that the kids are growing they want to get out. They all have to live in one room, which is very sad. You have to see it to believe it. A lot of people are in denial in our country with the kind of problem we have.
What would you say would be the best way to change that?
Pool our resources together and move one family at a time. I do believe if you take children away from a bad environment, you're making a better future.
You received the CNN Hero Award in 2011 for the work you do with your foundation; congratulations. What was that experience like?
The event was amazing, but the biggest reward was for the motel kids. I started receiving donations to my foundation after that. It helped make people around the world aware that there are innocent children in America who don't eat.
What can people do in their area to help?
I think they should talk to their local restaurant or chef and reach out to the motel kids in the city. That's the number one thing. Every time you drive somewhere and see a motel, think about how there could be a child living in that motel forever. The problem is everywhere.
Your mother appears to have had a huge influence on your life and the foundation. Do you think without her prompting that this would have come to fruition?
No, because honestly if she had never said, 'give them pasta,' the thought wouldn't have occurred to me. Sometimes you need someone to click something in your mind to do something. I hope when people see this—something will click for them also.