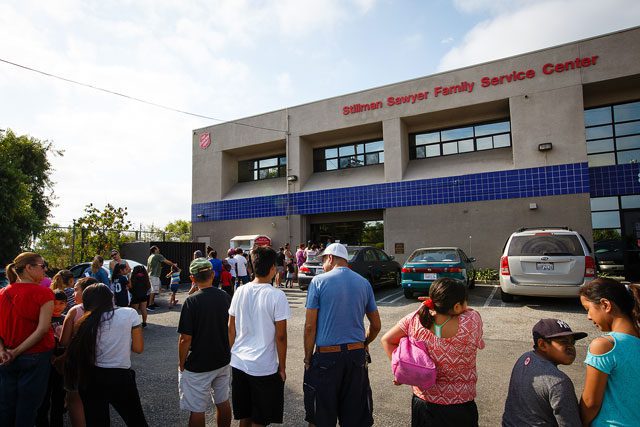 A look inside the Stillman Center
Soup, soap and salvation offered to attendees
Each day, the Stillman Sawyer Family Services Center in Harbor City, California, has anywhere from 35 to 55 people pass through its doors for food distribution, and that's just the start of the Army-run facility's services. Whether an individual is there for soup, a hygiene bag, or to attend Bible study or a vocational class, they can get the help they need.
As people enter the Stillman Center, Social Services Officer Ernesto Madrid welcomes them in and scans their locator cards. He's kept up-to-date on the happenings in the people's lives. He welcomes the good news of those who have broken the cycle of homelessness or who have reunited with their family. But he considers the best news to be that of "those who have taken faith and a pathway back to the Lord."
Over the years, Madrid has gotten to know a number of clients, including Albert and Cesar, who are regulars at the Stillman Center.
Albert
Albert has been homeless for 40 years, although half of that time was spent living in a van and traveling wherever it could take him. While he was aware of The Salvation Army, he wasn't sure what it was all about. He thought it was like a "French Legion Army of people who simply offered shelter, social services and ring bells because that was what they were commissioned to do."
Albert found the Stillman Sawyer Center. The food was good, but then he started attending Bible studies, and his curiosity grew. He loves that every time he'd thank the staff and volunteers, they'd respond with "don't thank me, thank Jesus."  
"Coming here, I can have a good day," Albert said. "I enjoy the structure…The chain of command through you, through Christ and God. You put God first even though he will always accept you."
Now, Madrid says, Albert got approved for Section 8 housing, so he can regain his footing.
Cesar
Cesar has been homeless for 19 years. Since Cesar was a child, bullying, rejection and discrimination have been common themes, since she identifies as a transgender female. After Cesar's dad passed away, her mom moved to Arizona, and she stayed behind in L.A., eventually becoming homeless.
Life on the streets exposed Cesar to trafficking, drug-dependence and alcohol. Cesar identifies as bisexual and fathered two children with separate moms. She got in to various rehabilitation programs, including the Army's ARC, where she was enrolled for 16 months, but found it difficult to fit in.
Once Cesar found the Stillman Center, the hospitality affected her, especially the respect and dignity and the lack of discrimination. These things led Cesar to start attending Bible Study.
"I'm here every Friday, not just for food but for prayer. For feeling good and looking good," Cesar said. "It feels good that they're close to me and that I can always come here to ask for help."
Earlier this year, Cesar was arrested. While in jail, she kept in touch with the Stillman Center via letters, and told Madrid that the prayers and responses opened up her spiritual journey. Once she was released, she went straight to Stillman Center where she received a hug, not a handshake.