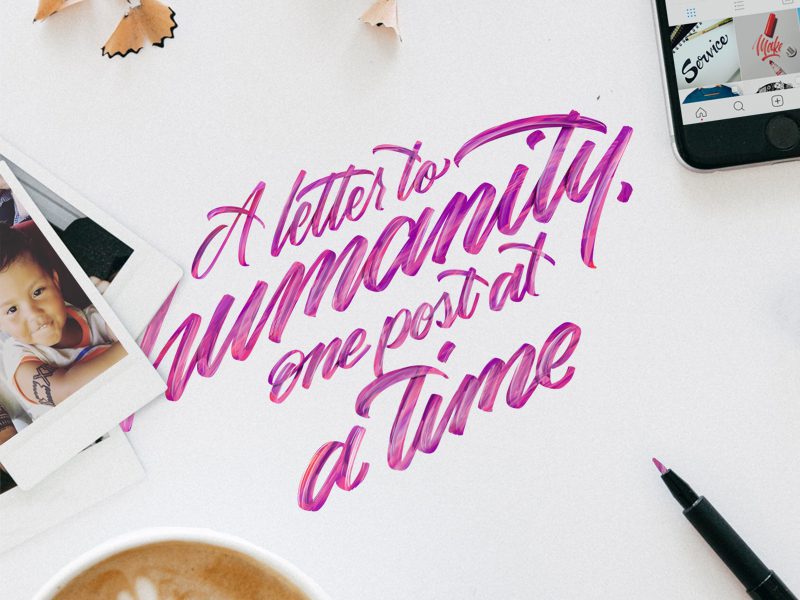 A letter to humanity, one post at a time
Employee and Salvationist Erick Rodriguez uses lettering for good
Be kind. Be relentless. Be strong.
If an artistic expression could choose its cause, Erick Rodriguez's Instagram presence would be a call to a lifestyle of good, full of vim and vigor. The artist? A self-proclaimed introvert with a pen as his microphone and a page as his platform.
As a letterer, Rodriguez draws a crowd with content that points to the true and the beautiful. His words are the foundation of his artistic ministry.
"I guess one of my main things that I like to do through whatever I put out there is for people to get some sort of message from it and be inspired into action to do something," Rodriguez said.
He recalled a moment when he met the face of forgotten kindness and realized that if beautiful words could empower people to live them out, he was going to at least try. In advocating for kindness, he lettered, "Be Kind," in gilded ink on black paper.
But creating and curating content for his social media profile isn't his day job; he works in youth ministry for The Salvation Army, serves as part of the worship team at The Salvation Army Santa Ana Temple, and is both a husband and father. He moonlights as the admin behind @writehandlettering—he calls it his "late-night lettering."
"It's become a very meaningful part of my day, where I can just go home and sit in my studio—which is actually the kitchen—and spend some time with God and have this devotional time where I'm just putting stuff to paper," Rodriguez said. "A lot of stuff has been birthed from that. It's those quiet moments in the kitchen at probably midnight or one o'clock in the morning just doing some sketches."
And with each post from his kitchen table, his work has the chance to move his followers into solidarity.
"It's become a platform to be able to do that, to get to know people and talk to people who I might not have otherwise bumped into in everyday life," he said. "It's taught me how God opens these doors and creates these opportunities to interact with people."  
And how to do so honestly. Rodriguez recalls finishing a piece he was proud of only to realize it had a misspelling. He decided to share it anyway and reveal the imperfection. It proved a fitting metaphor, he said, as a Christian artist and influencer. "I think that when people see that, they believe you more and they see more authenticity and they become more convinced of your beliefs and your faith," he said. In essence, people are compelled to his beliefs because they can believe him.
While many of his first lettering connections occurred online, Rodriguez has since done meet-and-greets, mentorships, collaborative projects and calls with people from his neighborhood all the way to Finland. "Honestly, in this world of connectivity and all the social media and all this stuff that's everywhere, it's become a really great way to make the world a little smaller," Rodriguez said.
He uses each of his creations to preserve a moment, a word that God gave to him that day. Lettering is his approach to reconciling the gift of his hands to the gospel of his God. And Rodriguez sees the value in propagating his art in sharing hope through it.
"Even if you're not art focused, if you see something really beautiful written out that says 'be kind,' maybe you'll say, 'yeah, maybe I can be kind to somebody today,'" he said.   
In a way, lettering is his letter to humanity, reminding each individual to be kind, relentless and strong for one another.