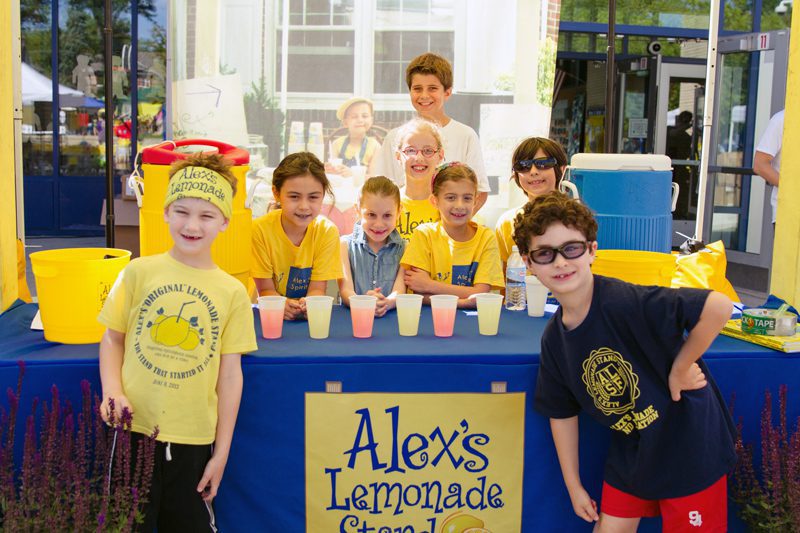 A lemonade stand like no other
At 4, Alex made it her mission to end childhood cancer.
In 1996, Jay and Liz Scott joined the fight against pediatric cancer when their daughter Alex was diagnosed with neuroblastoma, before her first birthday. Alex inspired people all over the world with her mission to end cancer for all kids before losing her own battle to the disease in 2004, when she was just 8 years old.
"She was an amazing person," Liz Scott said. "She was a very smart little girl, very wise, toward the end especially. She was very strong-willed about everything, whether it was what ice cream she wanted or fighting her disease."
After her death, her parents turned her annual lemonade stand for cancer research into a full-time job when they started the Alex's Lemonade Stand Foundation in 2005.
Alex wasn't always a grassroots fundraiser. She became one at the age of 4 when she was introduced to the idea of new and expensive treatments for kids with cancer after receiving one herself.
"It really planted that seed in her mind that there were more brand new treatments out there to help other kids," Scott said.
During their hospital stay, Alex told her mom that she wanted to have a lemonade stand in their front yard. It was winter in New England, so her mom redirected her, saying that they would talk about it when she felt better and when it was warmer.
But Alex didn't forget.
In June, she asked her mom about the lemonade stand, this time explaining why it was so important.
"She said, 'I'm not keeping the money, I'm giving it to my hospital so that they can help other kids like they helped me,'" Scott recalled. "I didn't see it coming."
That weekend, the Scotts gathered supplies for Alex's first lemonade stand, which she planned to run with the help of her older brother Patrick. Scott's sister came over with her kids to help and when she found out what Alex was doing with the money, she called the local newspaper to tell them about the fundraiser. When the paper ran a short ad about the lemonade stand, everything changed. Before the family woke the next day, people were knocking on the Scott's door asking to donate.
"We had no idea what we were in for," Liz said. "People just were touched by what she was doing; they were inspired."
Alex's stand raised $2,000 that day.
She caught the attention of national media outlets and started to receive donations in the mail along with letters from adults and kids across the nation who were inspired to hold lemonade stand fundraisers in their neighborhoods.
"Her reading them and the smile on her face, it was almost like a light bulb went off," Liz said. "She was really inspired that other kids, without being asked, were helping."
After this wave of donations, they raised $20,000, which they sent to Alex's hospital for neuroblastoma research. When her parents told her where the money had gone, Alex shook her head in disapproval.
"She said 'that is so selfish,' and I was ready to say, 'I don't care, I want a cure for you,'" Scott said. "She said, 'all kids want their tumors to go away, we should give money to all kids' cancers.'"
Over the next four years, Alex continued to hold her fundraiser every year and she used the media attention to ask the nation for help in raising $1 million for pediatric cancer research. She met that goal just 10 days before her death in August 2004.
Jay and Liz weren't sure what do with the lemonade stand. They thought it would go away quietly until they started to receive letters and donations from Alex's fans.
"Alex left this gift for other kids and we decided that we needed to make a decision," Scott said. "Either direct people to make their donations to another organization or go out on our own."
After speaking with friends in the nonprofit world, they decided to start a foundation of their own.
"It did seem like something that we could do and within a few months of her dying, it seemed like something we had to do," Scott said.
Alex's Lemonade Stand Foundation (ALSF) held its first advisory board meeting in January 2005 and the Scotts announced that they would be leading the organization themselves. Jay and Liz gave up their jobs to focus on the new organization full time.
"It felt so personal still and I felt like we were carrying on what Alex had started," Scott said. "We both agreed that we had one opportunity to get this launched and make sure it's done in a way that Alex can be proud of."
They went to work shaping an organization around Alex's original vision. They've kept up the annual lemonade stand fundraisers and encourage kids around the nation to participate by holding their own stands. They created a scientific advisory board that reviews all grant applications to ensure that their funds are making the biggest impact for all types of pediatric cancer. In 10 years, ALSF has raised more than $80 million for childhood cancer research.
Jay and Liz Scott have dedicated their lives to helping other children win the battle that their own daughter lost, and many other children are cancer-free today because of treatments funded by ALSF.
"Over time, it's less personal," Liz said. "It's about Alex and it's about these other kids and families we've met along the way. It's personal in a different way now, it's grown to be about many other children, which I think is amazing."