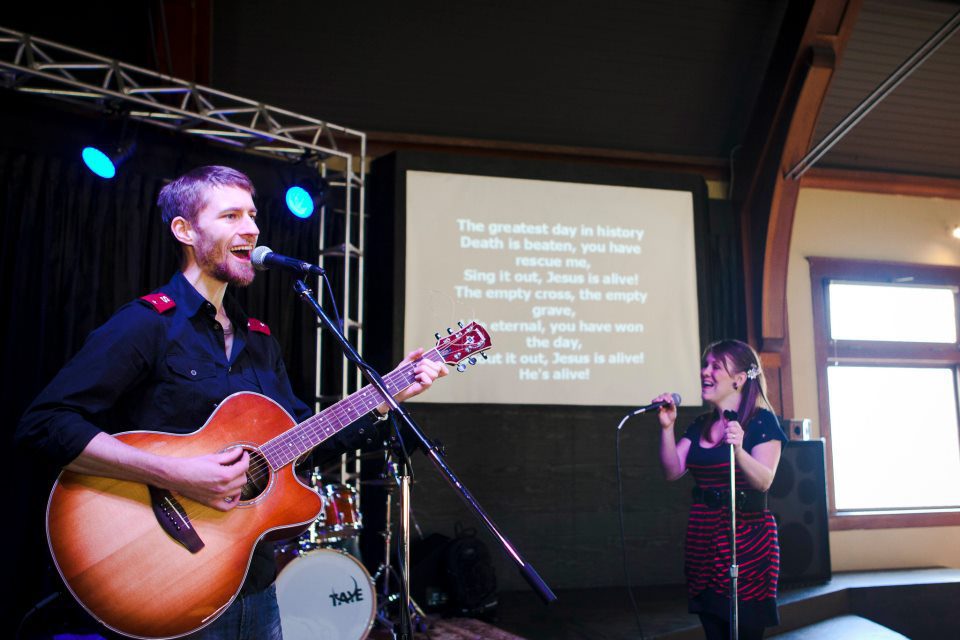 A family feel at High Point
Church redesign mixes coffee shop and living room
[huge_it_slider id="2″]
Couches, coffee tables, state-of-the-art stage, art gallery and fair trade coffee bar—it sounds like the local coffee shop, but this is High Point Community Church.
"High Point is comfortable," said Barb Blenkin, a new member of the church. "People can feel at home and accepted whether or not they are a church member, Christian or anything."
High Point started prior to World War II as a Sunday school outreach—the Esquimalt Corps—in Esquimalt, Canada. The congregation moved to Victoria West in 1997 and changed its name to High Point, and just over a decade later began transforming into its current state.
In a sense, the idea to change things originated from the early days of The Salvation Army, when we adapted our methods to local contexts and met in homes, bars and street corners. Here, we noticed that coffee shops provide gathering places that seem to disarm people and create a sense of community. Aesthetically, our space borrows from both traditional architecture and coffee shops, concert venues and your own living room.
"Church often feels like you're an invited guest at God's formal dinner party, but not at High Point," said Nathan Swartz, church attendee. "High Point feels like you're part of God's family and the sanctuary is his living room."
It is home to many walks of life, including those who moved with the corps from its former location, single parents, families, teens who have grown up within these walls, those who work in childcare, those assigned to the military base a few blocks away, and even those who live on the streets.
"I love that our church embraces anyone who walks through the door; no matter age, status, or look," said Amanda Swartz, church member. "That ease of comfort also comes from the fact that the environment of the church embodies the local relaxed, artistic feel of the community."
We believe in local sustainability focused on family and community. We love helping our neighbors and have two annual community events to enjoy and support each other. The art we sell is all done by locals and changes every month. High Point is also available for community shows and fundraisers, which provide opportunities for visitors and for us to get to know more people in our community. The relaxed atmosphere makes it easy to tell people about Jesus.
The family feeling moves beyond the revamped space, as church members meet in each other's living rooms once a week for a potluck dinner and Bible study.
"You can come as you are here," new member Blenkin said. "It feels like you're at a friend's house."