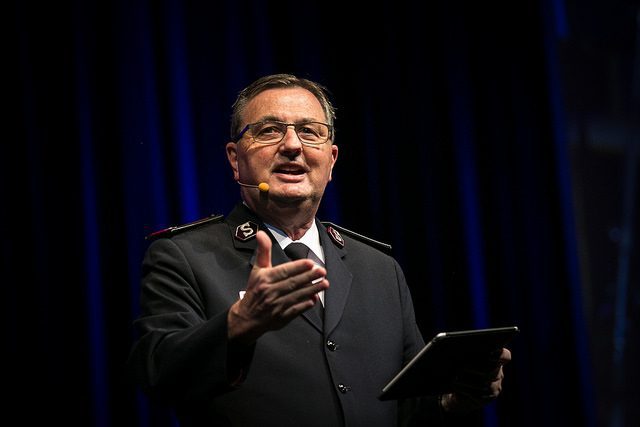 A congress reflection
By James Knaggs, Commissioner – 
The Boundless 2015 Congress in London will remain as a significant historic event for The Salvation Army. More than any other gathering in the history of the movement, we joined with Salvationists and friends from around the world in amazing new ways, with extraordinary participation and unequaled historic reflection.
Not disparaging any other congress or international event, it's not so hard to realize that the broadcast and social media features available to us have given this congress a reach beyond what we've ever experienced. Over 1 million people connected through these means from 157 countries, making it monumentally global. When you consider that #Boundless2015 was trending larger than the world famous Wimbledon Tennis Matches, you begin to understand the enormous reach of the gospel through this event.
Another fresh approach to the ministry of The Salvation Army was the diverse representation in the people who gave the major addresses at this congress. Appropriately, the General was featured and challenged us all with holy living and service to others as Salvationists. Other speakers represented a cross section of generations, cultures, races, gender and geography. This only happens with a carefully identified plan and conscientious implementation. I salute the General for his leadership in this area. We must listen to the whole Salvation Army to make our way forward in glorifying God.
The third aspect of the congress that caught my attention was the repeated consideration of our historic background and the warriors who paved the way for The Salvation Army today. Each meeting included this feature to the glory of God, as did the exceptional musical, "Covenant." The tandem value of such is found in the reliable recording of each of the congress events. Cameras and technicians present in the congress used technology to keep the account of this historic occasion in formats that will be retained for ages to come.
The USA Western Territory was deeply engaged in the congress and had one of the largest delegations in the world. Our people gave themselves to support the meetings and events in many ways that enriched the experience for all. Carolyn and I were humbled by the receptivity to the contributions of the territory and the effusive reports given to us about our people throughout the experience. The investment into the global Salvation Army and on behalf of our own territory has been worth it. We will see the many outcomes in years to come. For this and all the congress activities, we thank God.