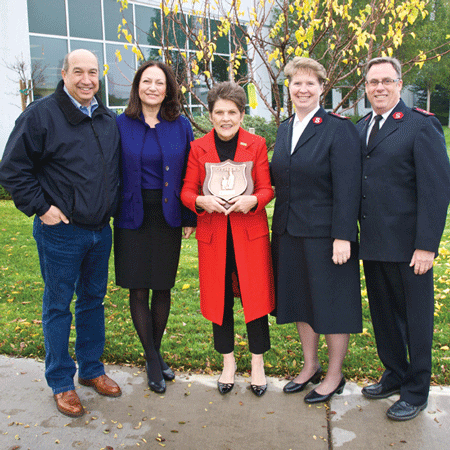 7 Minutes = $192,487
Kettle Kickoff in Modesto exceeds last year's total.
Seven minutes produced $192,487 for The Salvation Army in Modesto, Calif., thanks to community support at the 19th annual Kettle Kickoff on Nov. 17.
Over 1,200 people attended the kickoff luncheon at the Modesto Centre Plaza, where 29 teams of local celebrity bell ringers—business leaders and service club members—dashed around the room for seven minutes with red kettles, collecting money from guests. Last year's event raised $184,000.
Before the seven-minute sprint, bell-ringing teams also collected money, attempting to win the team competition. The "Christmas Angels" team—Kenni Friedman, Stacey Filippi, Lynn Dickerson and Jean Smith—came in first, collecting $36,656. The second place team, "The Samaritans 1"—Tracey Kerr and Denise Ganji—raised $30,753, and the third place "Do Gooders" team—Jeanne Abbott and Patty Stone—brought in $11,551.
Each year, dollar bills—this time, 5,000—float down "from heaven" to be collected and placed in kettles. This money, given by an anonymous donor, drops from the rafters into the auditorium.
"This was a magnificent event, like nothing I've ever seen before," said Captain Michael Paugh, Stanislaus County coordinator. "Looking up and seeing it snow money is incredible. We thank God for being a part of this generous community."
Guests enjoyed a traditional Thanksgiving buffet meal prepared by the Modesto Citadel staff. Lt. Colonel Judy Smith, territorial program secretary, spoke to the assembly and Lt. Colonel Stephen Smith, Golden State divisional commander, presented the Others Award to Friedman.
Majors John and Kathy Reed also attended; they began this tradition 19 years ago when they were short $7,000 before a planned homeless feeding.
A few days after the kettle kickoff, the Modesto Salvation Army along with several hundred volunteers again met at the Plaza for the Thanks-for-giving meal—a 26-year tradition—and served over 1,200 meals. Advisory Board member Denise Costa and her husband, Dan, led the event. Each year the Costases send out letters for support, typically this brings in $10-15,000. They tried something different this year, stating that they would match the money donated, dollar for dollar, and raised over $43,000. They will be presenting a check to The Salvation Army for $87,000.