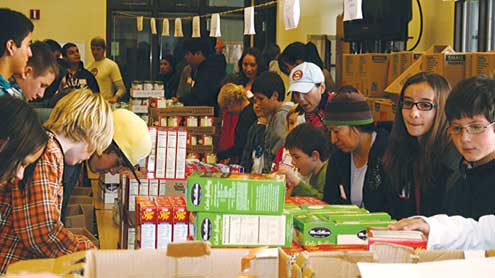 600 food boxes in less than 2 hours!
The Salvation Army joins community agencies to feed the needy at Thanksgiving.
by Sherry Manson
The Vail Valley Service Unit of The Salvation Army (Colo.) and over 150 volunteers assembled 600 Thanksgiving food boxes at two locations in less than two hours on Nov. 20, 2010. The service unit serves people throughout Eagle County, which includes Vail, Edwards, Avon and Eagle-Vail.
When you hear Vail, Colo., you don't think of people in need. However, these difficult times have impacted many of the resort communities throughout the Intermountain Division and Vail is no exception.
Outside the Avon Elementary School, local first responder agencies loaded the food boxes into their vehicles for delivery. An ambulance stretcher was piled high as well as vehicles from the sheriff's department, police department and the mountain rescue team.
The Thanksgiving program began 27 years ago, when volunteers organized in a local garage. Tsu Wolin-Brown, Vail Service Center coordinator, was part of the original team and says the need is greater than ever in Vail Valley.
Wolin-Brown and caseworker, Patricia Pierce, report a fourfold increase in caseloads in the past three years: 1,068 in 2008, 2,963 in 2009 and over 4,000 in 2010. The food pantry serves between 300-400 households a month and, until this year, has been able to provide food assistance with donated food. Even with the valley's generosity, the Vail Service Center has spent over $80,000 in the past 12 months to fill the gap.
"The tragedy is there is a greater need than ever, but the blessing is with community support we are able to assist those who come to The Salvation Army for help," Dan Smith, committee chair, said.
The Vail Service Center also provides emergency assistance for housing, utilities, medical, transportation, traveler's aid, emergency disaster services and a durable medical equipment-lending program.