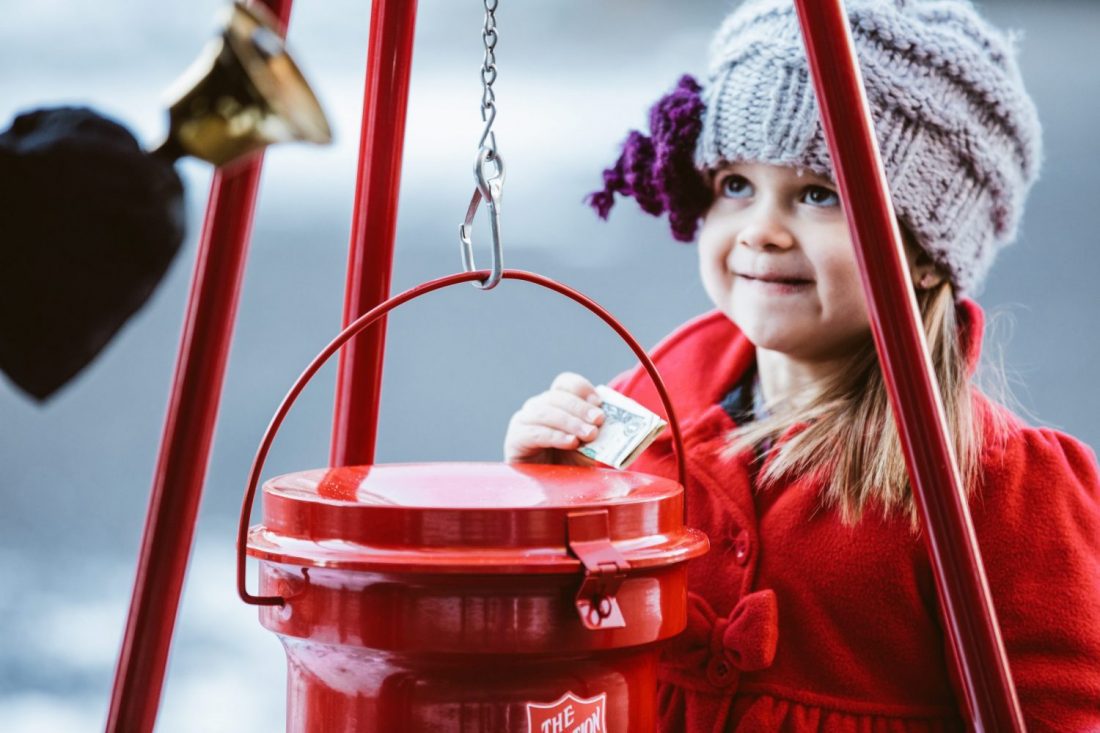 6 simple ways to teach your kids about giving
"I want…" These words are among the first that many children speak when they're learning to put sentences together. Even in toddlerhood, we are in tune with the concept of wanting things.
Giving, on the other hand, can be a bit trickier for kids to understand and embrace. You see, as parents, it's easy to give in to the wants of our kids—especially when the holidays come around. I'm definitely guilty of leaving the store with a new toy or treat for my daughter more often than not.
We do it for the smile it brings to their face and the joy it gives them. But what if I told you that giving would fill them with happiness (while helping others), too?
A study conducted at The University of British Columbia found that giving to others made young children happy. It reported children under age two "exhibit greater happiness when giving treats to others than receiving treats themselves. Further, children are happier after engaging in costly giving—forfeiting their own resources—than when giving the same treat at no cost."
So how do we instill that love of giving in our children that makes them happy? Here are some ideas to help:
1. Talk to your children about why giving matters.
Have conversations as a family about what exactly giving means and entails. Tell your kids about the impact that giving can have on the lives of others.
Give them examples of what giving to others looks like in their daily lives. Teach them how they can give back, and give them ideas for doing so. Answer any questions they might have.
And together, read and reflect on 2 Corinthians 9:6-8: Remember this: Whoever sows sparingly will also reap sparingly, and whoever sows generously will also reap generously. Each of you should give what you have decided in your heart to give, not reluctantly or under compulsion, for God loves a cheerful giver. And God is able to bless you abundantly, so that in all things at all times, having all that you need, you will abound in every good work.
2. Give them a designated allowance for giving back.
When awarding allowances to your children for doing chores around the house, give them a designated amount that is specifically for donating to a cause or charity of their choice.
Have your kids write down names of organizations they would like to support on small pieces of paper. Then, have them fold each piece of paper and put it in a jar.
So, when the time comes to distribute their allowance money, they get to draw the name of the organization they will donate to each time.
3. Encourage them to periodically go through toys and clothes to donate.
Every so often, set aside time for your kids to go through their toys and clothes. Ask them to choose which of their belongings they'd like to give away to another boy or girl who could use it.
Once the items are set aside and ready to go, give it to The Salvation Army in your community. Find the nearest donation drop-off center at satruck.org.
Want to show your kids how their donations to a Salvation Army thrift store help? Read about it together in this article.
4. Go shopping together for others.
As you do your holiday shopping in the next couple of months, have your kids join in the fun of buying gifts for others. Browse together for gifts online. Encourage them to select gifts not only for family members and friends but also to contribute to a local toy drive or Salvation Army Angel Tree program.
Shop The Salvation Army Angel Tree at Walmart online.
5. Have them recycle and donate recycling earnings.
Take the opportunity to teach your kids about helping others and the environment at the same time. Inform them on the positive impact recycling has on the planet, and what items in the house are recyclable.
Create recycling bins for each category—paper, plastic, and glass—in your home to make recycling easier and more accessible to your children. Then when they've collected enough, take them to a local recycling center.
Once they turn everything in, divide the money made from the recyclables evenly among your kids and tell them to choose a cause they are passionate about to donate it to.
6. Help them run a hot cocoa stand benefitting a nonprofit they love.
Introduce your children to the spirit of entrepreneurship and philanthropy by helping them start and run a hot cocoa stand. Show them how to make the perfect hot cocoa to sell, assist them in setting up a stand and making posters, and give them the basics of handling money.
  Before the hot cocoa stand takes place, have your kids decide on a nonprofit they would like the proceeds of their sales to go toward. After they're done selling, count all the money, deposit it and write a check for your children to mail to the organization—or take to the nonprofit in person.
Show your kids how rewarding it is to give back and bring joy and hope to others. Demonstrate how no matter how big or small the act of giving is, kindness and generosity is powerful.
You'll not only teach them a valuable lesson in humanity but also bring them more happiness than buying them stuff ever could.
---
Do Good:
Learn more about how you can help The Salvation Army make Christmas possible for those in need at RescueChristmas.org.
Find volunteer opportunities near you by visiting volunteer.usawest.org.
Did you know The Salvation Army served more than 23 million Americans last year fighting hunger, homelessness, substance abuse and more—all in a fight for good? Where can you help? Take our quiz to find your cause and learn how you can join in today.