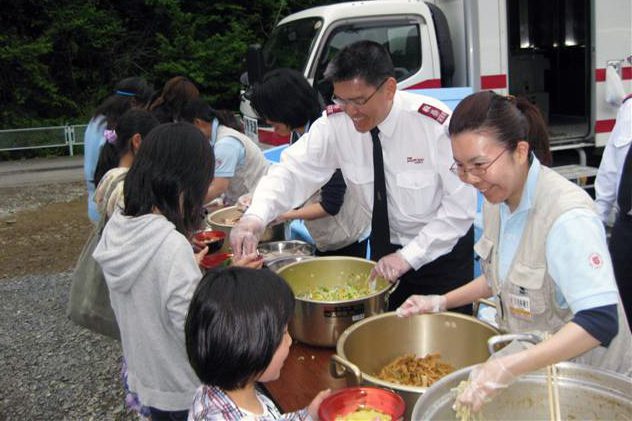 5 years in, Japan recovery continues
Ongoing efforts to rebuild focus on regaining livelihoods
By Megan Gandee – 
When a magnitude 9.0 earthquake shook off the coast of Japan March 11, 2011, the resulting tsunami swept away entire towns along the eastern coast. Widespread flooding swallowed homes, businesses and livelihoods, took the lives of more than 15,000 people and left another 500,000 individuals homeless.
Known in Japan as "Kyuu-Sei-Gun" (Save World Army), The Salvation Army was on the ground in the first days after the event providing relief to impacted coastal communities, and throughout the past five years has continued to offer support.
In an effort to rebuild, The Salvation Army—with funding support from the Salvation Army World Service Office (SAWSO)—focused on helping individuals regain livelihoods.  
The commercial district of Onagawa, a fishing village in northeast Japan, was entirely swept away by the tsunami. The Salvation Army, with support from partners and SAWSO, provided boats, machinery, forklifts, and other equipment to help revive Onagawa's primary industry and support the income of local fishermen.

In the same village, the Army constructed a temporary shopping center called "Kibou-no-kane" (Bell of Hope) that has been the center of enterprise for the community. Local business owners, who had initially considered moving to another community, were able to stay and resume work. The center has become a place for community gathering, and a means for returning to a normal way of life.   

The Salvation Army funded the building of 50 temporary stores in Minamisanriku—which had been a bustling commercial center—allowing business owners to efficiently get back to work while the government developed plans for long-term recovery. Roughly 150 jobs for construction workers, shop owners and employees were created in this process.

In the isolated city of Kesennuma, commercial fishing and related industries account for 85 percent of jobs. Following the destruction, The Salvation Army replaced the fishermen's trucks and equipment so they could complete the necessary harvest work. Similar efforts were established in other hard-hit coastal towns, such as Ofunato and Minamisanriku.
In each affected community, The Salvation Army has provided outreach programs to children and elderly citizens living in temporary housing with health screenings, home visitations, social gatherings and after-school programs. The Army is working to ensure that the needs of the most vulnerable people are being cared for during the long and difficult transition to full restoration.
Current projects of The Salvation Army in Japan, supported by SAWSO, include:
Offering education, skills building activities, and emotional health support to women through the "Megumi" (Restoring Beauty) Project for Women in Onagawa. Program participants are taught sewing skills with the goal of helping them find jobs and earn income. Since this project started, participants have opened a shop to sell their goods and are expanding to the online market.

Serving intellectually disabled children with growth and learning opportunities through the Kirara Onagawa Intellectually Disabled Support Project. These afterschool programs are offering children the opportunity to learn English as a second language. Similar programs are being offered in Minamisanriku.

Providing afterschool programs for children in Onagawa, where few extracurricular activities are provided. Funds are supporting the renovation of classrooms, providing transportation of children to and from school, and covering administrative costs. The goal of this project is to provide students with safe places to study and play, and improved school performance and emotional outlook.

Providing learning opportunities and emotional support for senior citizens through The Salvation Army Minamisanriku Elderly Support project. Through this service, seniors are taught ways of improving communication and engagement with other members. The goal of this program is to offer participants means for finding hope, joy and purpose in their lives.

Purchasing a much needed scallop machine for small-scale fishermen in Onagawa,, to be operational by mid-2016.

Programs for improving preparedness and prepositioning of relief supplies are being offered throughout the impacted communities with the goal of equipping every Salvation Army division with proper relief materials, training, and outreach programs.
See more at sawso.org.