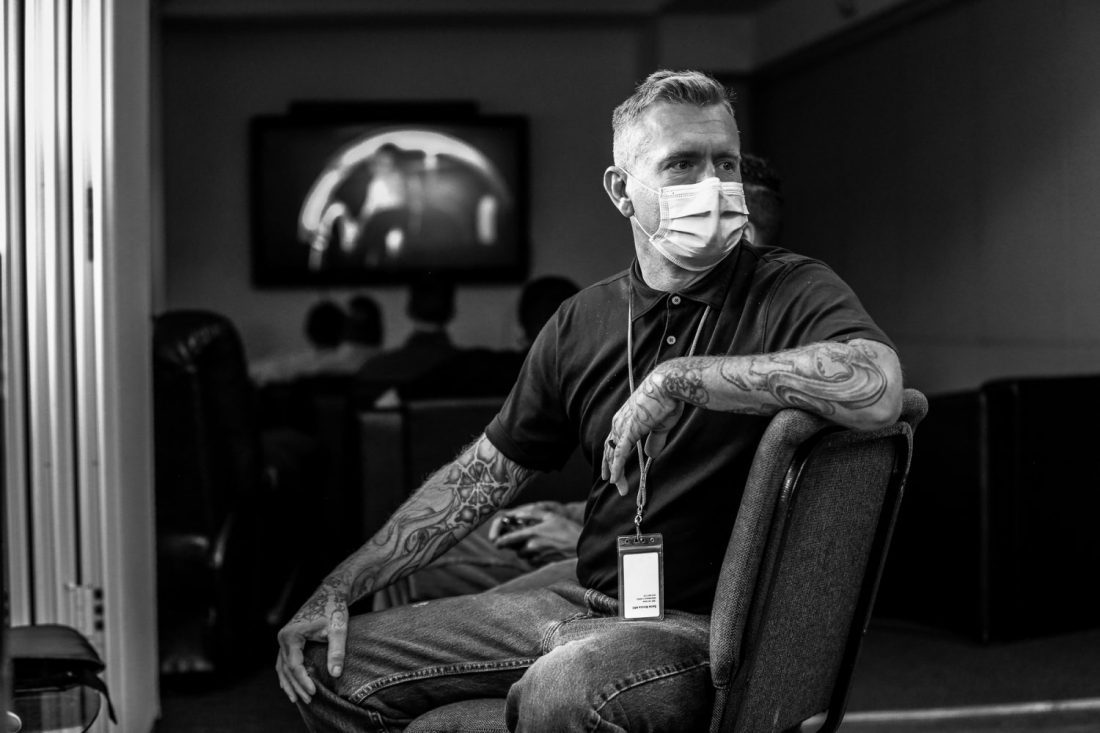 5 ways The Salvation Army is caring for those fighting addiction during COVID-19
The Salvation Army serves 23 million Americans a year in six key pillars of service in every zip code across the U.S. In the wake of the COVID-19 pandemic, The Salvation Army continues to serve in every respect—now more than ever.
While the Army houses the homeless, feeds the hungry, responds to disasters, serves kids and seniors, and helps people fight addiction, it does so with a mission to meet human needs in Christ's name. Here's a deeper look at one of those pillars of service—combating addiction—and how The Salvation Army is helping amid the coronavirus.
Each year, The Salvation Army helps to equip over 150,000 people to combat addiction through counseling, life-skills development, work therapy and spiritual direction in more than 130 residential treatment facilities across the country.
In these Adult Rehabilitation Centers (ARCs), The Salvation Army works to help people find not only sobriety, but recovery.
And while in recovery, individuals engage in work therapy, helping to process the donated goods for sale in stores or to be recycled. 
The sales from the Family Stores help fund the recovery programs.
So yes, it's more than a t-shirt. When you donate your used goods to The Salvation Army, you help fund the rehabilitation programs that assist people in finding recovery. 
Due to COVID-19, Salvation Army Family Stores are temporarily closed for shopping. The ARCs are, in effect, closed campuses to protect the men and women who live there. But the ministry continues.
1. Engaging program participants in serving
In California, the Bakersfield ARC packed 175 food boxes with the Bakersfield Corps and delivered them to a senior living residence. The Long Beach ARC is working with the Long Beach Corps social services making food boxes and providing janitorial assistance. 
Fresno ARC has provided one Spanish-speaking employee to the corps to assist the Spanish-speaking population coming to the Army for help. She is also helping pack food boxes. In addition, the ARC is sending beneficiaries to clean the Clovis Corps so it is ready to receive more product, and some of the men will be painting the chapel for the corps.
The Canoga Park ARC helped with a large donation of toilet paper in the Porter Ranch area, picking it up and delivering it for the corps. The Stockton ARC is sending men Monday through Friday to help out at the corps.
San Bernardino has been sending beneficiaries and an employee three days a week to the Ontario Corps to help with food boxes. These men are replacing senior citizen volunteers who need to stay home during this time. They deployed 25 beneficiaries to the San Bernardino Corps to help with food boxes. 
"They're also extremely grateful to be helpful to the community during these difficult times," said Major Henry Graciani, Adult Rehabilitation Centers Commander.
The Las Vegas ARC has been working with the Army's Clark County Command Social Services and EDS by providing a truck and driver to pick up and deliver donations on the Army's Owens Campus. 
2. Collecting goods donations
Although retail operations are suspended, including routine home pick-ups, dedicated staff will remain onsite to accept donations of gently used household goods, appliances, furniture, clothing and accessories. These goods will help ensure The Salvation Army can continue drug and alcohol rehabilitation programming. 
Where possible, donations will be accepted on a drive-through basis at Salvation Army stores and receipts will be available for donors. If a donor prefers, they can maintain social distancing by allowing our attendants to remove items from the trunk of their cars. 
3. Accepting bulk donations
Stores will also be accepting bulk donations of much needed supplies in response to increased requests related to COVID-19, including food, diapers, formula and sanitation items. These supplies will be distributed to people seeking assistance at Salvation Army service units.  
4. Connecting family members
ARC Connect is a way to help both the men and women in the centers as well as their loved ones as many beneficiaries are concerned about their family and their struggles during COVID-19. The ARC asked each for the city that their family is in and has contacted the local corps to find services there. While ARC Connect doesn't guarantee services, it provides connections and peace of mind for beneficiaries.  
5. Structured time for spiritual wellbeing and fun
While all ARCs are closed campuses during COVID-19, administrators and beneficiaries have kept spirits up and maintained sobriety by avoiding idleness. Throughout the West's 18 centers, beneficiaries continued holding Bible studies and had fun through creative quarantine ideas, ranging from themed meal nights to watching inspirational films, singing karaoke, playing games and holding go-cart races in the parking lot. 
---
Do Good: 
If you'd like to make a monetary donation, please click here to make a gift.
Text 'GIVE' to 52000 to make a $10 donation to The Salvation Army. This will automatically add a one-time donation to your next mobile phone bill.
For information about volunteering, please visit volunteer.usawest.org.
To learn more about how to support The Salvation Army's relief efforts, please click here.
Download our latest Scripture series, God With Us, written from quarantine.