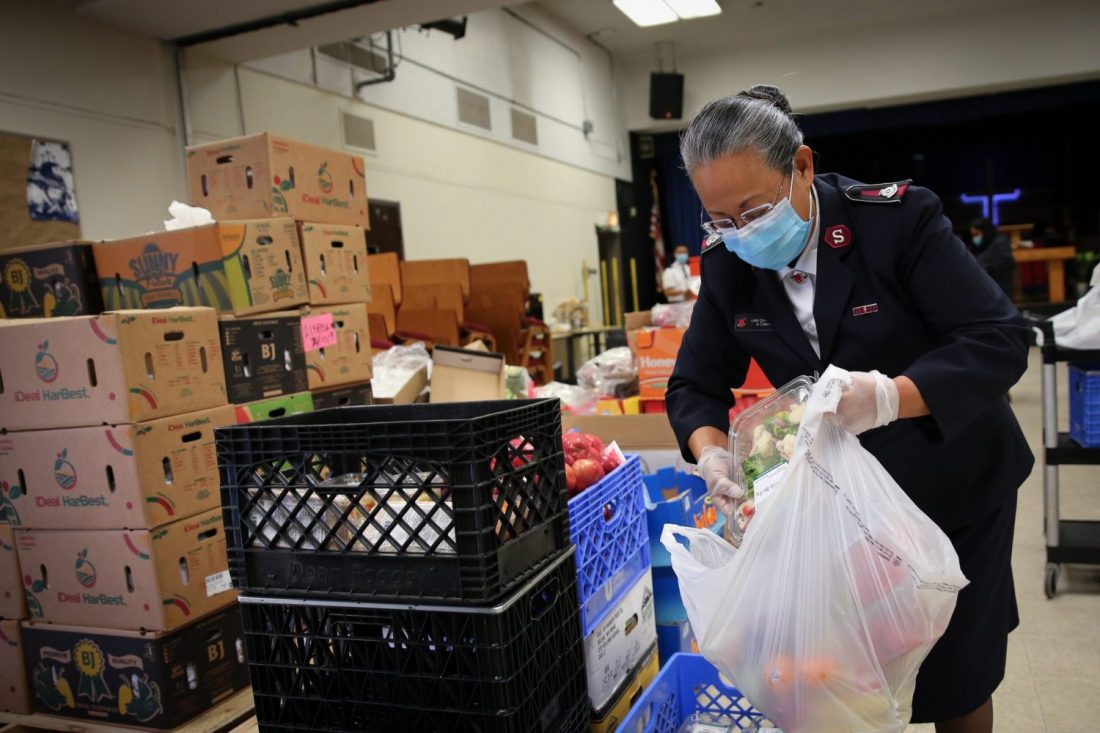 5 ways The Salvation Army is caring for the hungry during COVID-19
The Salvation Army serves 23 million Americans a year in six key pillars of service in every zip code across the U.S. In the wake of the COVID-19 pandemic, The Salvation Army continues to serve in every respect—now more than ever.
While the Army houses the homeless, feeds the hungry, responds to disasters, serves kids and seniors, and helps people fight addiction, it does so with a mission to meet human needs in Christ's name. Here's a deeper look at one of those pillars of service—being there for the hungry—and how The Salvation Army is helping amid the coronavirus.
The Salvation Army provides an average of 156,000 meals every single day across the country—feeding anyone in need. These nutritious meals are given through everything from food pantries, which offer free fresh produce and canned goods; meal programs that range from sit-down, hot meals and valuable human interaction to mobile meals that deliver much-needed sustenance to those who are homebound; to community gardens where those involved cultivate and care for the renewable source of produce at no cost. 
In essence, where there is hunger, you'll find The Salvation Army. As the coronavirus pandemic has taken hold of communities, however, the way The Salvation Army distributes food is changing.
Corps are working diligently to pack food boxes and bags for those facing food insecurity, including seniors isolated during the crisis and kids no longer receiving regular meals because of school closures. The method might look different, but the message remains: The Salvation Army is feeding the hungry.  
1. Delivering meals to families
While many school districts are providing meals for children, it generally requires in-person, daily pick up. The Estrella Mountain Corps in Avondale, Arizona, is therefore focusing on meal delivery to families who cannot get to the schools for pick up. 
"Our main focus is getting meals to kids who are home. Our first plan was to get those to the kids in our after-school program and their siblings because most of them come from families with at least six kids in the home but it goes up to 12 kids in one family," said Corps Officer Captain Stacy Antonovich. "The school is offering both breakfast and lunch, but each child has to be present at the school at two separate times a day to get those. With parents working that means those kids would be walking back and forth twice a day which doesn't help minimize the points of contact and isn't safe for the kids." 
On the first day in mid-March the kids in the area were out of school, The Salvation Army delivered just over 300 meals around the neighborhood to the kids from its program and others who needed lunch. 
"When contacting those families, nine of them asked for an additional food box because they need the help," Antonovich said.
2. Offering curbside pickup
Similarly, in Santa Fe, New Mexico, The Salvation Army partnered with Santa Fe Public Schools, Communities in Schools and Hope Unlimited Church to provide extended breakfast and lunch distribution to kids in a curbside pickup format in at least seven area locations. Corps Officer Lt. Immanuel Beeson said the Santa Fe Corps is also dropping off meals throughout the community for those in need.
"Today was a good day," Beeson said after distributions began in mid-March. "We were able to deliver approximately 393 meals to children in need. Tomorrow we do it again!"
3. Shifting how meals are given
In other locations, client choice food pantries are shifting to pre-packed boxes to limit the handling of food or from congregate meals in the main dining area to room-to-room delivery at the Phoenix Emergency Family Shelter, where they are also doing case management by phone instead of face-to-face.
The Service Extension Unit in Wickenburg, Arizona, provided more than 100 bags of goods to nearby Congress Elementary School.
The goods went to 25 kids in nine families who were without food because they are not in school. Each bag also came with a stuffed animal, and the school included the schoolwork students could do while at home.
In Bakersfield, California, The Salvation Army partnered with Aspiranet, a foster agency, to provide daily food and supplies to 71 individuals, including 15 parenting teens. In one recent week, the corps took 120 gallons of milk, 120 pounds of frozen pork and 200 pounds of fresh apples and oranges to Aspiranet.
The corps also provided diapers, wipes and baby formula. The Salvation Army will continue to deliver 55 food boxes to Aspiranet once a month along with baby supplies, and the youth are also encouraged to come to the food bank any time they have a need.
4. Bagging fresh produce to go
With a "shelter in place" directive in Santa Cruz County, California, The Salvation Army is continuing to shelter more than 120 people a night, providing a daily breakfast and dinner.
"We are encouraging our homeless friends to shower as often as available and wash hands regularly," said Captain Angel Marquez, Corps Officer and County Coordinator, noting two hand washing stations recently received from the city for the building entrance.  
Emergency food bags continue to be available to the general public and the weekly fresh produce is still being distributed.  
"Usually the produce is 'farmer's market' style, but we pre-bagged and gave out the groceries at the door," Marquez said. "We were also blessed to begin a new partnership a few months ago with the local Nazarene Church. They felt God calling them to give out diapers and contacted us to distribute them. Because of their diaper donations, we have been able to supply over 25 families with diapers when store shelves were empty. We have more diapers and will continue to give them out as long as we have them available."
5. Partnering with others to give away food
The Ray and Joan Kroc Corps Community Center in Hawaii recently received a donation from Eggs Hawaii Inc. of 7,000 eggs. The center then held two drive-through distribution days for community members to receive a free tray of eggs.
"It's always a blessing to serve our community," said Major Phil Lum, Kroc Center Administrator and Corps Officer.
In Aurora, Colorado, The Salvation Army regularly partners with the Aurora Police Department's Crisis Response Team, which works with people in the community experiencing mental health problems. Typically, officers will stop at the corps to pick up a food box for an individual or family in need, however as COVID-19 has spread the police officers have seen an increase in need among their clients.
Specifically, they've seen an increase in suicide attempts as the pandemic causes many people anxiety and fear. In response, Corps Officers Lts. Felicia and Sam LeMar provided the team with hygiene supplies and food boxes to keep in their cars.
"They are able to have food boxes on hand to be able to give to their clients at that moment to help provide a sense of peace," Felicia LeMar said.
---
Do Good: 
If you'd like to make a monetary donation, please click here to make a gift.
Text 'GIVE' to 52000 to make a $10 donation to The Salvation Army. This will automatically add a one-time donation to your next mobile phone bill.
For information about volunteering, please visit volunteer.usawest.org.
To learn more about how to support The Salvation Army's relief efforts, please click here.
Download our latest Scripture series, God With Us, written from quarantine.