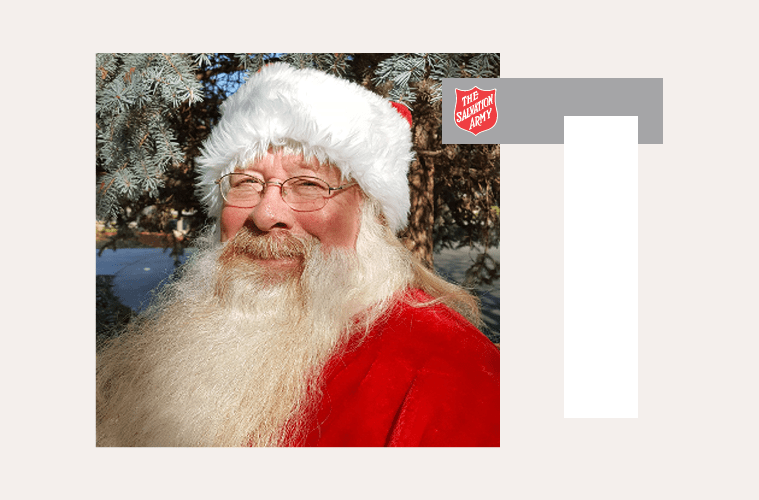 28: What Does It Take to Be a Salvation Army Bell Ringer at Christmastime
Did you know one of the two songwriters of the classic carol, "Silver Bells," said they were inspired by none other than The Salvation Army bell ringers standing on street corners in New York City?
True to the song, The Salvation Army does take to street corners, grocery stores and shopping malls across the country each year from Thanksgiving Day to Christmas Eve to ring the bell at the red kettle.
When you drop a dollar (or more) into a Salvation Army kettle, that money helps to fund programs in your community—from the food pantry, to emergency utility assistance, to after school programs and so much more. That money helps The Salvation Army serve some 23 million Americans a year.
So each of the 25,000 individuals who stand by a red kettle each year and ring a silver bell have an important role to play. But what exactly does it take—and who can ring the bell?
This episode will introduce you to four Salvation Army bell ringers to share more about what they do and why they do it.
From Riverside, California, Paula Mazey—a soldier, or member, of The Salvation Army, who rings in Salvation Army uniform.
From Donnelley, Idaho, Terrence Keeley—a volunteer, who is known to dress up as Santa to ring the bell.
From Sheridan, Wyoming, Greg Busche—a paid bell ringer, who last year rang the bell nearly every day before going to his full-time job.
And from Spokane, Washington, Major Ken Perine—a Salvation Army officer, who rings the bell with his family every year.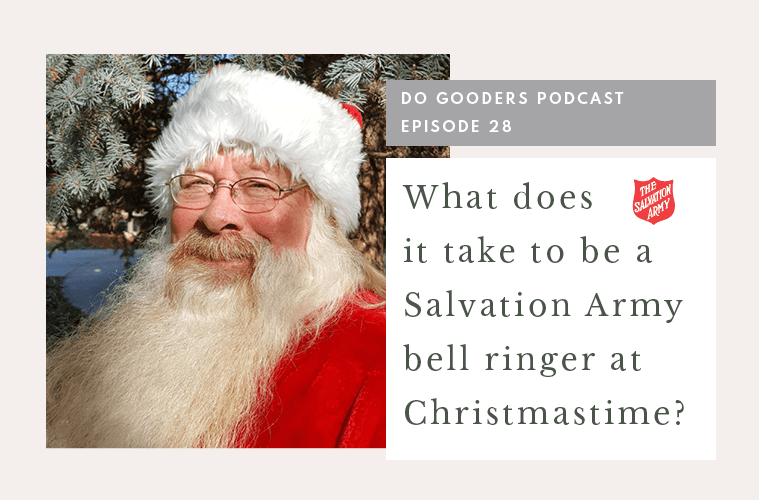 Show highlights include:
How many hours do bell ringers volunteer at the red kettle? Hundreds of hours to raise thousands of dollars!

What is it like to ring the bell? Enjoyable and positive opportunity to meet and help people.

What do you do as a bell ringer? Arrive at location, stand by the red kettle, ring the bell, smile, help people, answer questions and share stories.

Why be a bell ringer? It's a fun way to make a difference by helping people of all ages in need and serve the Lord.

What donated money does for communities: Helps people with their physical and spiritual needs, including the homeless and those addicted to drugs and alcohol.
Good words from bell ringers in this show:
"It's just a lot of fun. I just really enjoy bell ringing—my favorite time of the year." –Paula Mazey 
"I told the Lord, if I ring bells, what I get in those kettles is my Christmas gift to the Lord." –Paula Mazey
"All the money that people do donate goes to help people in the community. It helps a lot of people in a lot of ways with their physical needs as well as their spiritual needs." –Terrence Keeley
"I ring the bell because I know the difference it makes in people's lives." –Major Ken Perine

Additional resources:
Each person who rings the bell with The Salvation Army at Christmas helps raise money that allows the Army to serve some 23 million Americans a year. Join in this season and volunteer to ring the bell near you. Visit

westernusa.salvationarmy.org

to find your local Salvation Army and get in touch to sign up.

What's your story?

Take our free email course

to see why your voice matters and how to find your story

.
Download this episode wherever you get your podcasts. Find show notes for this episode and more at caringmagazine.org/podcast. Connect with The Salvation Army near you at westernusa.salvationarmy.org.
 
[button color="yellow" size="normal" alignment="none" rel="follow" openin="newwindow" url="https://podcasts.apple.com/us/podcast/the-do-gooders-podcast/id1462063355″]SUBSCRIBE AND LEAVE A REVIEW[/button]