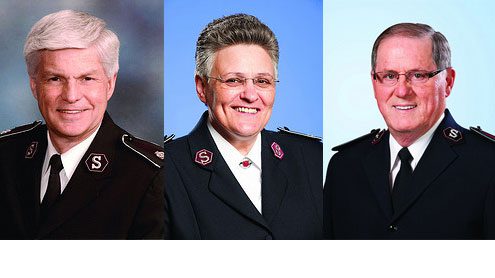 2011 High Council elects president, vice-president, chaplain
From a report by Laurie Robertson, Lt. Col.
The 17th High Council convened on Jan. 21 at Sunbury Court in London and elected Commissioner William Francis as President of the 2011 High Council of The Salvation Army. Commissioner Betty Matear was elected Vice-President.
Francis, assisted by Matear, will guide the High Council through the procedures required to elect the Army's 19th General. Matear is the first married woman officer to be elected to the position of Vice-President of a High Council.
Later in the day the High Council also elected Commissioner Max Feener to be Chaplain to the High Council.
The newly elected President immediately quoted Lamentations 3:22,23 as he encouraged the High Council members to trust in God, "whose mercies are new every morning."
Francis noted that 65 percent of the High Council members "are here for the first time." He reminded the council members that, "We are here for one purpose only – to elect the next leader of The Salvation Army and we need to allow the Holy Spirit to guide us."
Initial proceedings
The opening proceedings for the High Council, including the election of the President, were presided over by the Chief of the Staff Commissioner Barry C. Swanson.
In a devotional period the Chief of the Staff drew out salient similarities between the election of a Salvation Army General and the selection of David as king of Israel. Commissioner Swanson said that while the High Council is not selecting a king there are common points between the account of David's selection as recorded in 1 Samuel 16 and the election of the Army's General.
"God knew who he wanted to be the next king of Israel and he knows who he wants to be the next Salvation Army General," he said. "On both occasions God has chosen to use a human agency to select the leader. Samuel and Jesse had a part to play in the selection of David and at this time we all have a part to play in the election of the General."
To conclude the devotional time the High Council members moved into small clusters for prayer.