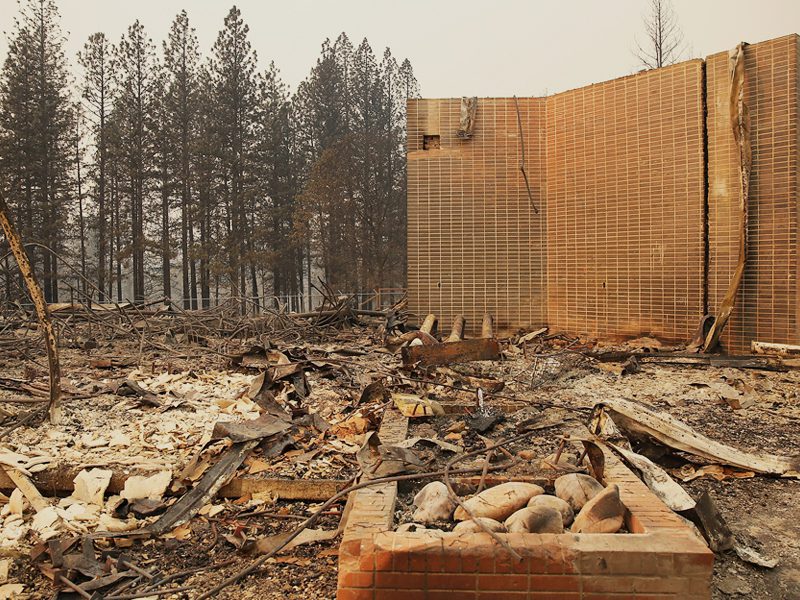 What it's like to survive unexpected homelessness
California fire survivors begin to rebuild.
Amber McErquiaga woke up in her home in Paradise, California, on Nov. 8, 2018, to get ready to take her children to school and go to work at the local Salvation Army Family Store, just like any other day. But that day, she noticed something was off as she drove her son to school in Chico.
"I saw the smoke off in the distance," McErquiaga said. "On my way back up the hill [to Paradise] my daughter was in the car with me, and the smoke was black and it was coming up the mountain."
She immediately drove home to pack up their personal documents, pets, clothes and other important belongings to evacuate. As she loaded her car, a large, hot piece of debris fell on it, and she told her daughter, "We have to get out of here right now." That's where the nightmare really began.
"We ended up stuck in traffic for three hours on a side street and were trapped. We could hear propane tanks exploding. It was so dark. We didn't know what was going on," she said. "I was sitting in my car praying that somehow we make it out alive."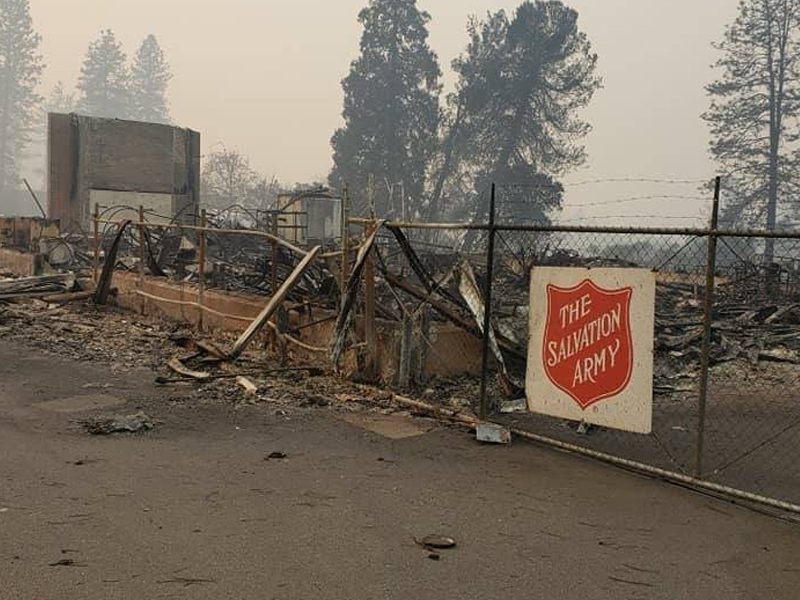 Traffic finally started moving, but what McErquiaga saw as she drove out of her hometown haunts her.
"The whole town was on fire. We were driving through flames and cars were on fire," she said. "There were people screaming and running down the street, and power lines on fire falling in front of you. It was seriously like a movie."
After making it to Chico, she learned not only had her place of employment burned down but her home had as well.
"Three years ago, my kids lost their dad in a car accident, and when he died I made a promise that I was going to make sure my kids had a roof over their head no matter what. I sacrificed a lot to get that house," McErquiaga said. "It's devastating because that was our home. We planned on staying there forever."
McErquiaga and her family are among the thousands of Paradise residents who found themselves unexpectedly homeless after losing everything in the Camp Fire, now known as the most deadly and destructive wildfire in California history.
While she and her family have found an apartment to live in for now, the road to recovery is long and full of uncertainty.
The Salvation Army in Chico, along with other Emergency Disaster Services response teams in the Del Oro Division, has been a strong presence for Camp Fire survivors to assist with immediate needs while long-term recovery efforts are determined.
"We're in it for the long haul," said Chico Corps Officer Lt. Arwyn Rodriguera. "We know one food box or one hot meal from the canteen is not sufficient to get them back on their feet. We want to be part of their long-term recovery process."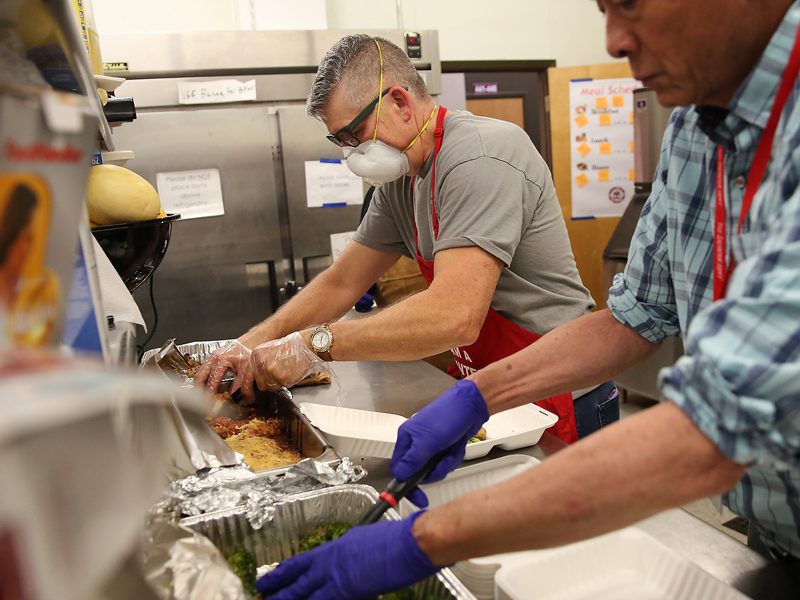 Rodriguera said many coming to The Salvation Army's distribution center were facing first-time homelessness.
"Those particularly impacted by the Camp Fire were seniors. We were talking to people in their 70s and 80s who have to start over again," Rodriguera said. "We also have staff members who have lost homes who have had their homes for 20 years or have newly bought their first homes because they are in recovery and thriving. It's tragic."
Making matters worse, Rodriguera said that Butte County was already in a housing crisis before the fire. "There's not enough housing to accommodate," she said.
This is a challenge Jodene Setera, The Salvation Army Chico Adult Rehabilitation Program (ARP) Office Manager, is facing as she looks to secure housing after losing her home, which she purchased only a year and a half before the Camp Fire. She and her son are living with her mom in the meantime.
"Being a single mom, it's quite an undertaking to own a home. To be homeless and start over is definitely humbling," Setera said. "I'm trying to find a home in Chico, but it's really competitive. There's 14,000 homes gone and 26 listed. It's a long shot. I'm trying, but it's going to be a long time before I can rebuild."
Setera is finding solace in the support system she has at The Salvation Army.
"There's so many people working so hard to get people what they need," Setera said. " I've felt loved, supported and cared for."
Chico Corps and ARP bookkeeper Sherry Rhine's home was also destroyed in the fire.
"I've had to humble myself and let people help me," said Rhine, who lived at the ARP with one of her sons and her dogs while she closed on the purchase of a new home. "If I didn't have the support of The Salvation Army, I don't know where I would be mentally right now. If I hadn't worked here, I would've been sleeping in my car."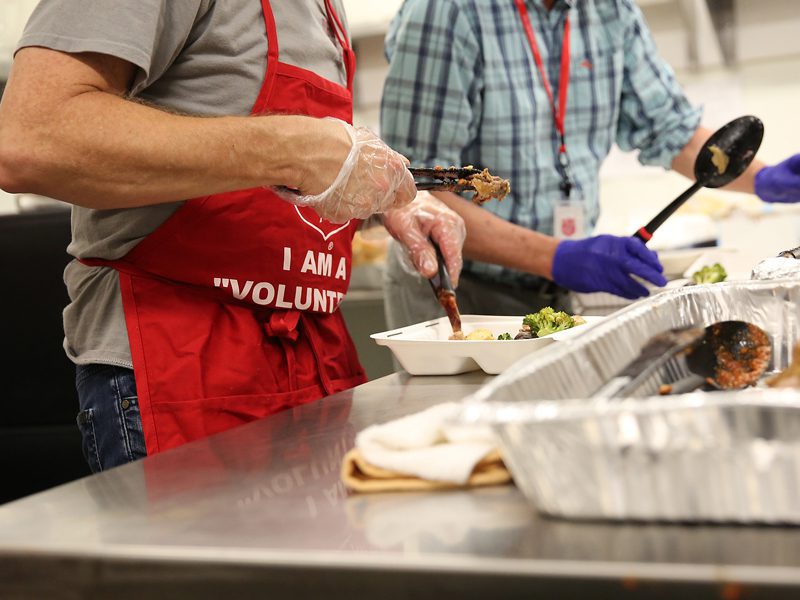 As Camp Fire survivors start picking up the pieces of what remains of their homes and lives, those left homeless by other major California wildfires are starting to rebuild.
Jennie Peikert—whose house and rental property burned down in the Carr Fire in Shasta and Trinity counties in July 2018—is expecting to start rebuilding this year. She is receiving rental assistance from The Salvation Army in Redding for temporary housing at an RV Park until her new home is ready.
"The Salvation Army has been very helpful. They've come through in everything they do," Peikert said. "If it wasn't for them I don't know what we would've done. We lost everything. I just walked out with my purse and that was it. It was all gone."
Leading Carr Fire long-term recovery efforts is Redding Corps Officer Captain Timothy Danielson, who said Peikert is the first of many Carr Fire victims The Salvation Army is ready to help through its rental assistance program.
"Sometimes the way that we look at things in the Army is trying to fix something that's already broken. This kind of a program is trying to stop things from being broken," Danielson said. "We want to start to make people whole again, so that they have a roof over their heads and they don't have to be concerned of where they are going to live every day."
Salvation Army California South Divisional Director of Major Gifts Sharon Kerr recently broke ground on her new home after the Ventura County Thomas Fire of December 2017 left her old house in ruins.
"You kind of go into shock for a while because there's so much that's gone and there's so much that you have to do. It's a scary feeling because you think your house is so solid and permanent," Kerr said. "It just brought home for me how scary it must be for people facing homelessness to live with that stress constantly."
Kerr said she got through this difficult time and garnered the strength to rebuild with her family, friends and Salvation Army colleagues by her side.
"It made all the difference," Kerr said. "It honestly takes a village to survive this."  
[button color="black" size="normal" alignment="none" rel="follow" openin="newwindow" url="disaster.salvationarmyusa.org"]See more about what The Salvation Army does in times of emergency, give to support the effort, and sign up to become a trained volunteer for when disaster strikes again at disaster.salvationarmyusa.org.[/button]