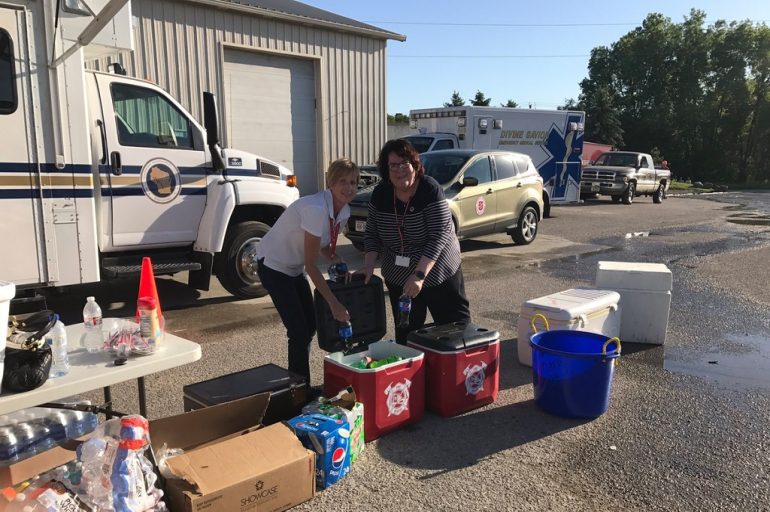 The Salvation Army serves in wake of corn mill explosion
By Krachel Greenwood –

The Salvation Army partnered with the American Red Cross to serve first responders after an explosion and subsequent fire at the Didion Milling Plant in Cambria, Wisconsin, on May 31.
The blast killed three employees and injured 11 others. The cause of the explosion, which came just
two days after
another explosion
at the facility
, has still not been identified.
The sheriff in Columbia County said that the blast was reported at the plant around 11 p.m., about 80 miles northwest of Milwaukee.
The Salvation Army deployed a canteen immediately following the explosion and began serving those on site. Volunteers served 275 meals, 600 drinks and 400 snacks.
Didion Milling employs over 200 people across southern Wisconsin, though the majority work at the Cambria plant.
According to the U.S. Occupational Health and Safety Administration (OSHA) the plant was cited in 2011 for not taking precautions against dust explosions. Such explosions can occur when large amounts of dust particles are suspended in the air in a confined space during grain handling. A spark from something like a cigarette butt ignites it, according to the U.S. Department of Agriculture.
Two of the five grain dust explosions in the U.S. last year were fatal, according to a report by Purdue University. Keeping facilities free of dust and equipment in good working condition are known to reduce the likelihood of such explosions, the report said.
The community of roughly 770 held a vigil Thursday night to grieve the loss of life.