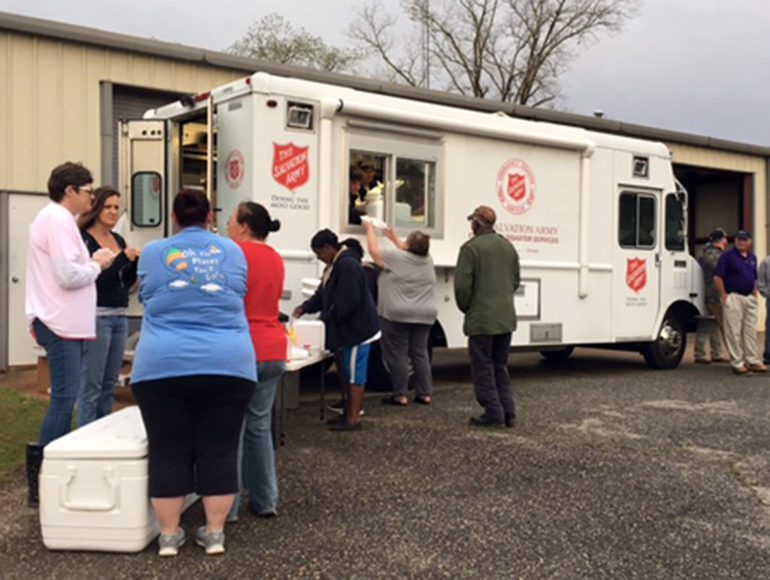 The Salvation Army responds to Georgia tornadoes
Mobile canteens from the Covington and Americus will serve until power is restored.
By Donald Felice –
Severe storms hit Ellaville, Georgia, on April 3, downing trees and cutting power to residents throughout the state. In response, The Salvation Army of Georgia deployed canteens from Covington and Americus, Georgia, to serve emergency personnel and residents affected by the storm.
The Salvation Army's Covington canteen deployed to Mansfield, and, at the request of the Georgia Emergency Management Agency (GEMA), the Americus, Georgia canteen deployed to Ellaville, Georgia. Both canteens will be providing food and hydration until emergency crews can make repairs and power is restored.
The storms were strong enough to stop flights from coming in or going out of Hartsfield-Jackson International Airport in Atlanta for about an hour. Widespread power outages may continue for many people across the state and clean-up could last several days.
"Local authorities asked The Salvation Army to serve emergency crews throughout the night so they could continue repair and relief efforts to affected communities," said Lanita Lloyd, Emergency Disaster Director for the Georgia Division. "The Salvation Army is a trusted resource the people of Georgia can always count on to be there for them in times of disaster."
More severe weather is on forecast for Georgia, calling for more thunderstorms and strong winds this week.