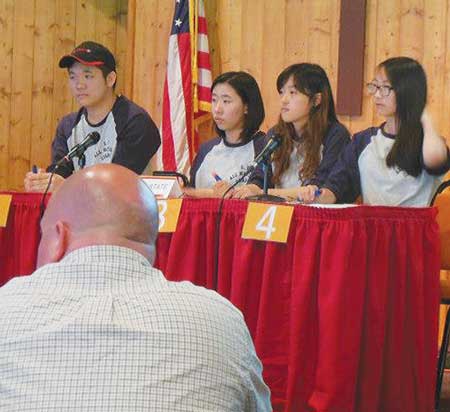 Teens find Christ through Bible Bowl
Girls overcome barriers and begin spiritual journey.
 By Cari Arias
Two 15-year-old girls came to the U. S. from Korea to study. After enrolling in a private high school to learn English far from their parents and friends, they wanted to get volunteer credit and looked to The Salvation Army.
Jin Sol Park and Alice Lee met each other in school in the San Francisco Bay Area. In June 2012, they signed up to volunteer at the All Nations Corps Day Camp for eight weeks, without even knowing The Salvation Army was a church. They also did not know Jesus.
When Captain Ellen Oh, corps officer of the All Nations Corps, met Park and Lee, they had each only been in the U. S. for a year. They said they came to a Korean church when they first came to the U. S. because they wanted to make new friends and learn more English. However, they felt isolated because they were Korean-born, not "Americanized."
Oh saw an opportunity to help the girls create friendships, and get them rooted into the church. She started a Bible Bowl team following the day camp, and Jin Sol and Alice started making friends at the corps.
Practicing for Bible Bowl proved to be a challenge for them due to their limited English and Bible knowledge. Pronunciation and memorization were difficult. Oh not only invested significant time to study Bible Bowl questions and answers, she went deeper and did a Bible study in Korean––covering the book of Matthew to really show them who Christ is.
Park and Lee had never accepted Christ into their hearts, but through memorizing Bible verses, Park said they "started having faith." In February, they each accepted Christ.
"They found the Lord," Oh said. "I'm so grateful they joined Bible Bowl this year."
The weekend playoffs held at Camp Kuratli in May were a wonderful experience for these new followers of Jesus. Their friendships with other believers, both from their own corps and other corps, deepened. Their team's performance in the competition brought them to the Commissioning weekend all the way to the championship round, where they took second place in the territory.
Park and Lee's plan when they first came to the United States was to go to college and succeed, but now they are focused on God.