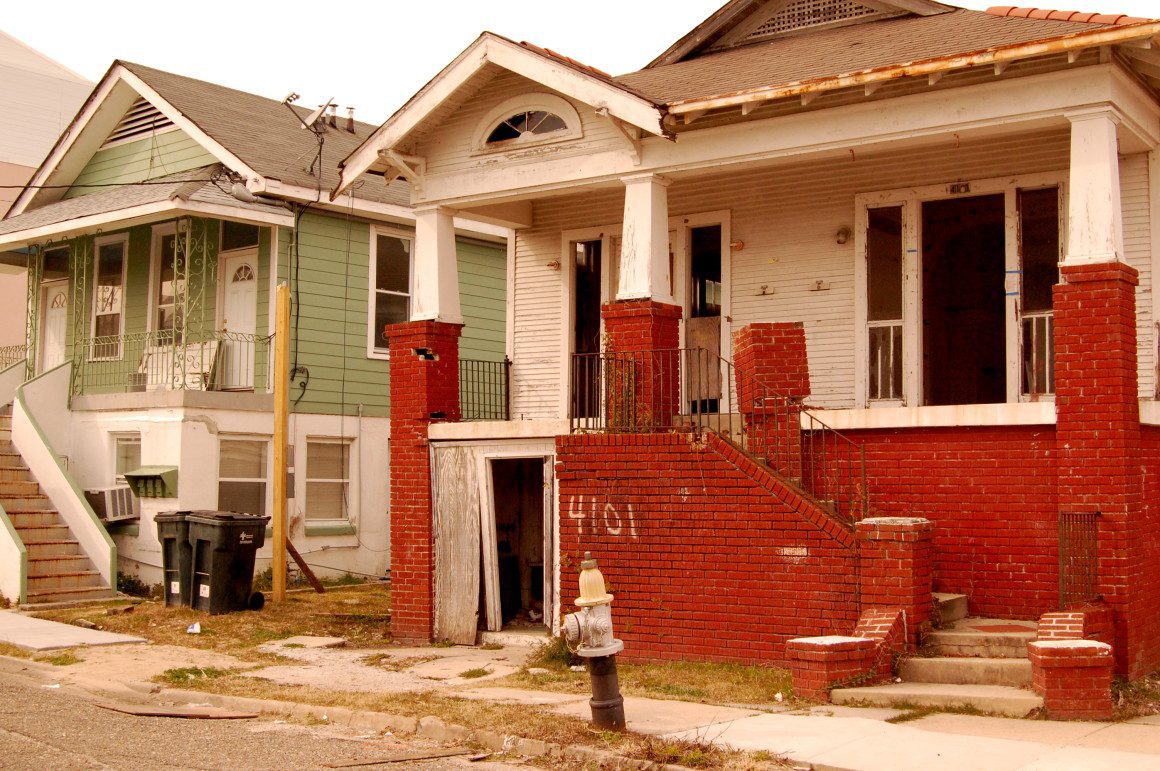 Splintered reality; renewed dreams
EnviRenew rebuilds in New Orleans
Shumeca Chadwick left for work on August 29, 2005, at 5 a.m. Wearing blue with badge in hand, she needed to report for duty by 6. All New Orleans police officers were instructed to arrive ready to serve—assisting with evacuations, monitoring the storm damage and protecting the city.
Chadwick never made it to the station. When she left the house, water spilled over her ankles. Minutes later, it reached her knees. A stranger helped Chadwick and six other people into his small boat and rowed to the Palmetto overpass bridge.
She sat on the bridge for four days, three nights, using her uniform shirt as a shield from the thick, bayou-country air.
"I wasn't sure I was going to make it or if I'd ever see my daughter again," Chadwick said. "On that bridge, I was just another person trying to survive."
On day four, the Coast Guard rescued Chadwick, taking her to a transportation staging area where she eventually boarded a bus.
"It was scary," she said. "I didn't know where the bus was going. No one had any plan."
Before long, Chadwick returned to her sworn duty in New Orleans. For two months, she lived aboard a cruise ship provided to first responders before securing a FEMA trailer on the police lot.
A place to call home
When Katrina ripped through the city of New Orleans that August, it left 80 percent of the city under water—up to 15 feet in some areas.
The country watched aerial footage of residents rescued by helicopter and boat from inundated rooftops. When the swampy water receded, roughly 228,000 occupied homes (45 percent) in New Orleans alone were flooded, according to an American Red Cross report.
In the hurricane's aftermath, The Salvation Army provided disaster relief across three states—Alabama, Louisiana and Mississippi—and served evacuees strewn throughout the nation. Construction was a priority in long-term recovery plans along the Gulf Coast, and The Salvation Army contributed money to support the efforts of organizations like Habitat for Humanity and Project Homecoming.
It also developed its own plan for community revitalization—EnviRenew—that aims to create efficient, affordable and quality houses for people in need of a place to call home.
As New Orleans now approaches the fifth anniversary of Hurricane Katrina in August 2010, The Salvation Army has concluded the pilot phase and moved into full implementation of the EnviRenew program.
"We are purposely reducing vulnerability using a triple bottom line assessment: quality of life, energy efficiency and affordability," said Lindsay Jonker, EnviRenew director. "We have taken a largely economic and environmental topic—rebuilding New Orleans—and focused on the social component to address the comfort of families."
Empowering community
Driving through affected New Orleans neighborhoods, the continued need for repair and rebuilding is obvious. Lingering effects remain: broken windows, splintered walls, leaning structures, water and mud stains, abandoned homes. Some owners have returned and remodeled; other houses still bear the neon spray-painted "X" of search and rescue teams—indicating in each quadrant the date searched, by which agency, whether the house was entered and if any corpses were found.
EnviRenew is working with five New Orleans neighborhoods to build 25 homes each. Two areas were selected early on—Broadmoor and Riverview. Fifteen neighborhoods applied for the three remaining slots; EnviRenew leadership selected Gentilly, Ponchartrain Park and Honeybee Road.
"With social and urban planning, you do have to fight through political will," said Grover Mouton, director of the Tulane Regional Urban Design Center at Tulane University, who is assisting with the Honeybee Road project. "You have to find out who the people are but also be economically viable. The mayor is usually listening to the developer, but you must also look at the quality of life—the distance to bus stops, grocery stores, the cost of lots—you must develop amenities and plan for open space and public playgrounds."
Long-term investment
"These houses will increase emotional security in the event of another flood," said Hal Roark, executive director of the Broadmoor Development Corporation, whose own Broadmoor home was filled with seven feet of floodwater. "The water is the easy part; what is emotionally traumatic is the experience of not knowing—will I have a job? Will there be anyone left in my neighborhood? Will my insurance cover the damage? Should I stay in the area?
"The Salvation Army is empowering this community," Roark said. "It is not just about building a house; they are serious about long-term recovery and respecting our community."
Broadmoor, with roughly 7,000 people and 2,400 buildings, suffered from six to 10 feet of flood damage following Katrina. Soon after, the Bring New Orleans Back Commission gave Broadmoor a "green dot," recommending that it be bulldozed and turned into a drainage field.
"The urban planners were not crazy," said Doug Ahlers, director of the New Orleans Recovery Initiative at the Harvard Kennedy School, which is assisting the Broadmoor community in its rebuilding process. "The level of damage and the statistics indicated no way for rebuilding.
"Broadmoor turned the corner when it realized there was no cavalry coming; they had to do it themselves," Ahlers said. "That's when it became an incredibly powerful and inspiring place as real leadership stepped up and real change occurred through dozens of citizens."
The residents of Broadmoor held 165 meetings from February to July 2006 to develop a 319-page plan for recovery and a vision for their renewed community.
Now 84 percent rebuilt, Broadmoor is nearing full revival. The 25 EnviRenew homes will help the area establish a "security grid" to house first responders, teachers and police—people who are contributing to the betterment of their community.
EnviRenew recipients will be chosen by the five individual neighborhoods but must qualify with a lending institution for the mortgage balance beyond the $75,000 home grant and must have lived in New Orleans on August 25, 2005.
"When rebuilding this much infrastructure, it is crazy not to rebuild better, safer and smarter. Most strategies are to rebuild as cheap and fast as possible; to build better takes planning and commitment," Ahlers said. "What I like about EnviRenew is the real commitment to thinking it out and doing it right—it is an investment in the long-term life of the community."
A different expression of recovery
The need for affordable housing in New Orleans is great. According to the Brookings Institution, the loss of housing in New Orleans drove up rent, resulting
in the current cost for a typical apartment to hit $733 a month, which, as Portfolio reports, is more than a person working in food preparation, retail or lower- rung health care jobs can afford in this area.
EnviRenew is intelligently and efficiently targeting this problem.
"We are trying to holistically recover in New Orleans, which is wholeheartedly the mission of the Army," said Captain Ethan Frizzell, area commander for The Salvation Army in New Orleans. "We're just expressing it differently.
"We want to restore the person to where they were before Katrina and prepare them to handle the next storm too," Frizzell said. "At the same time, we must be respectful of the neighborhood, create a sense of community, provide replicable strength-based social work and rebuild with energy efficiency."
From Katrina relief donations, The Salvation Army allocated $12 million to EnviRenew in September 2009. Scheduled for completion in September 2011, the program has four components: 125 home renovations to meet green home sustainability standards; 125 grants for new home construction throughout five neighborhoods; 125 EcoBaskets of products for home improvement resulting in energy savings; and a wiki-like website, envirenew.org, which chronicles the challenge of rebuilding and records data to allow for program duplication.
In Broadmoor, two home designs are available for recipients—the "William" and the "Catherine." Chadwick chose the former, an elevated three- bedroom home with a pantry, wash room, living room, dining room and porch. It is historic looking— in traditional New Orleans style—with a modern floor plan and amenities.
Three EnviRenew homes are currently complete, with the 122 remaining homes to be built by September 2011. To date, 14 green home sustainability retrofits are complete and 37 are in progress; 12 EcoBaskets have been distributed and installed and 25 are in progress.
Attracting families to revitalize
The three completed EnviRenew houses are in Riverview.
A visibly dated neighborhood, Riverview did not experience flood damage but is instead plagued by underdevelopment.
"As people have died, this neighborhood has died," said Beryl Ragas, president of the Riverview Association and a lifelong resident of Riverview. "We need people here to revitalize the community, and these new houses for first responders and teachers will provide a sense of stability and growth for the residents."
Driving through the roughly 5,000-resident area, Ragas points to tattered buildings with fond memories of days when jazz musicians, including Ray Charles, once played.
"I grew up here and love the old homes; I want the community to be restored to what it was," Ragas said. "We need people to move here who are committed to revitalizing the area, and hopefully the 'teacher's village' will help that."
Partnering skills
To fulfill the work of building neighborhood- appropriate, energy-efficient homes, The Salvation Army joined with local partners and subject experts.
Green Coast Enterprises, a New Orleans-based real estate development company, is managing all renovation and building for EnviRenew, including installing spray foam insulation, energy-efficient windows, low-flush toilets, wood flooring, and low- VOC paints to reduce energy costs and improve quality of life in the home.
"It's about people, planet and profit," said Will Bradshaw, president of Green Coast Enterprises. "We want to improve the community fabric, leave the planet in a better condition and be financially viable."
Green Coast Enterprises has completed renovations on 14 New Orleans homes and another 37 are currently in progress.
"I love the investment The Salvation Army has made and I wanted to walk alongside it," Bradshaw said. "EnviRenew is a model that says, 'Here's how you rebuild a community and achieve recovery.' It's inspired by vision and the leadership has brought in the skills needed to meet that vision."
The Salvation Army is also working with the United States Green Building Council (USGBC), which is hosting its annual Natural Talent Design Competition for students and young professionals in 2010 in conjunction with EnviRenew. Young architects will compete in designing an 800 sq. ft. house, seven feet above grade and fulfilling the LEED Platinum specifications (a certification designating the highest standards for green design, construction and operation) for under $100,000.
Four designs will be chosen and announced in August 2010; the houses will then be built as part of the EnviRenew program in the Broadmoor neighborhood.
More entrants have enrolled in the competition than ever before. To date, 276 contestants through 31 national chapters are participating.
"This competition is exciting because of the potential for the design to actually be built, and
built for the betterment of lives," said Anisa Baldwin Metzger, the USGBC green building coordinator in New Orleans. "That is beyond what most architects have the opportunity for. Architects are often hired bythewealthyorbycorporations.Peoplewhocould really use the thoughtfulness don't always get it, but here we have designers' minds centered around real needs.
"It's been nearly five years,but we are finally figuring out our recovery," Metzger said. "There is so much hope here—in the new building projects taking off, in the new mayor, in the Super Bowl victory—it's like a euphoric high of hope for the city."
Replicating a plan
One key element of EnviRenew is preparing to replicate the program in the future—in New Orleans and beyond.
Between summer 2009 and summer 2010, 19 students have worked at various times as EnviRenew interns in New Orleans. One intern, Aron Chang, a Harvard master's graduate who now teaches architecture at Louisiana State University, worked on design guidelines that relate to climate, region and best practices for architects to follow in the five selected neighborhoods. He advocated, for example, for the design guidelines to include significant porches to fit the area's traditional look and also provide shaded living space, which impacts the owners' quality of life. He also conducted research on lowering insurance rates for homeowners by building the structure higher off the ground and using a metal roof.
"In areas with blight, new construction raises property values and changes people's mindset," Chang said. "Here you have mostly smaller neighborhoods, which means the effects of new construction will multiply and The Salvation Army's collaborations might lead to further propagation."
Chang's thought is already a reality. By simply using the EnviRenew plan, Broadmoor recently secured another $1.7 million from the U.S. Department of Housing and Urban Development (HUD) to build additional homes.
Coming home
Chadwick stopped at Louisiana Avenue, in front of the lot of her future EnviRenew home, where construction is set to begin soon.
"I am most excited about it being mine…to walk into my house and know that it is mine," Chadwick said with a smile, before discussing ideas for interior paint colors with her daughter Ashli, 9. "I need this; I need a sense of closure."