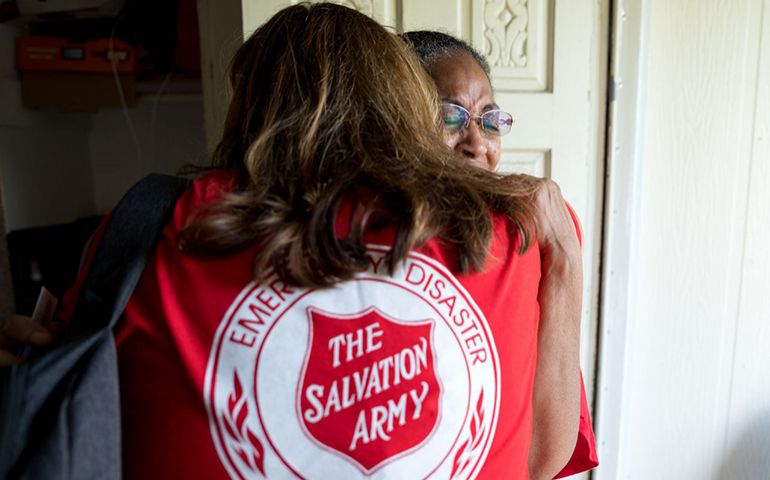 Social media connects hurricane survivors to relief
Thanks to a Facebook post from Kera Kizzee of Houston, Texas, The Salvation Army helped three chefs from North Carolina serve 1,000 tacos to her neighborhood.
It started with a message to The Salvation Army of Greater Houston's Facebook page.
"Can 77044 zip code get some help from Salvation Army? C.E. King/Tidwell area need hot meal truck in their neighborhood. These families have lost everything and do not have transportation to a help center and no one has come through with meals for these families."
Alexandra Ferber, a member of The Salvation Army of Greater Houston's Public Information Team, worked with colleagues to dispatch Salvation Army officers to the neighborhood to bring dinner and offer emotional and spiritual care.
"A few hours later I noticed another message on Facebook from the Kizzee family thanking us for coming out, but I wanted to do more," Ferber said. "Then I heard about the guys from North Carolina and I made sure they got their Fern Forest Drive address."
Three chefs from North Carolina were on the last leg of an 18-hour drive to Houston when they picked up the phone and turned to The Salvation Army of Greater Houston. They were hauling enough food to make tacos for 1,000 people.
"As soon as we reached out to The Salvation Army the response was immediate—'We'll find somewhere for you to go,''' said Steve Hawley of Raleigh, North Carolina.  
A few days earlier, Hawley and his friends Danny Hoots and Ray Chow launched a GoFundMe crowdfunding campaign online and turned to their friends and family on Facebook to support their relief plan. The three chefs ended up raising $3,500 to cover expenses.They were blown away from the response on social media, and hurried to buy groceries and pack the truck.
"I'm not even going to pretend to understand what these families are going through. I can't even imagine," Chow said. "But as chefs we have a skill set. We can come and provide a meal."
Like many neighborhoods in Houston, Fern Forest Drive had furniture, floor boards and appliances lining both sides of the street when the chefs arrived.
Sandra Kizzee and her adult children spent the morning gutting their flooded home and assessing the damage.
"We lost a lot of stuff," Kizzee said."When The Salvation Army came out, that was a blessing."
The Kizzees had been rescued by boat as Hurricane Harvey churned over the city. They stayed with friends until the rain stopped and the flood waters receded.
Kizzee returned home so see that her car was ruined and much of her home's infrastructure and belongings were unsalvageable.
Hungry, tired and overwhelmed by the task ahead, it was Kizzee's daughter, Kera, who posted to The Salvation Army of Greater Houston's Facebook page asking for a hot meal. Little did she know that it would result in a neighborhood cook-out the following day.
"I wanted to go out in person to tell Sandra and her family about the chefs from North Carolina," Ferber said. "I wanted her to know that The Salvation Army is here to help in any way we can."
Armed with cleaning kits for the neighborhood and some good news, Ferber and her colleagues revealed who was down the street cooking up comfort food and how it came to be.
"Thank you all so much," Kizzee said with tears in her eyes.
The smell of tacos wafted down Fern Forest Drive, and soon the mobile cooking operation was surrounded dozens of residents in Kizzee's neighborhood. A beautiful afternoon brought together thanks to family, friends, Facebook and The Salvation Army.
"Social media is good for something," Kizzie said.