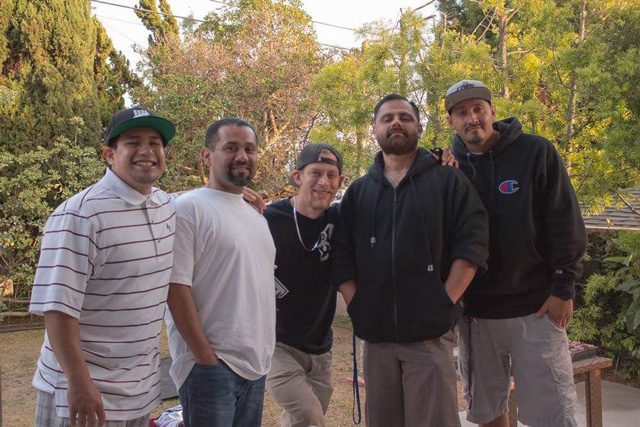 Santa Monica Bridge House encourages growth in recovery
Facility helps ARC beneficiaries transition to life out of the program
By Hillary Jackson –
When Jason was finishing up his program at the Santa Monica Adult Rehabilitation Center (ARC), it was obvious he wanted more than just sobriety—he wanted a relationship with God. His sponsor suggested he apply to the Santa Monica Bridge House, a transitional living facility for men coming out of the ARC and preparing to re-enter society, that he manages.
"I didn't really see how it would really help me, but when I got there it was immediate," Jason said. "I joined the corps community and I started seeing how they were walking, how they were living and how it was very much different from what I was accustomed to."
That's the essence of the Bridge House's mission: to connect beneficiaries of the Army's rehabilitation programs with the local corps. It's part of the Western Territory's Harvest Initiative that follows William Booth's vision to "Go for souls and go for the worst" outlined in "In Darkest England and the Way Out."
The Santa Monica ARC is a small program, with 52 beneficiaries, according to Santa Monica ARC Administrator for Program Lt. Tanya Pemberton. In addition to the Sunday morning meeting, Santa Monica corps officers lead Wednesday night music, discipleship and Bible studies with the beneficiaries.
"We have a beautiful relationship between the Santa Monica ARC and the corps. Our guys love going there," said Pemberton. "The guys are able to see who Jesus is and get to understand their faith better because of these relationships they have with the corps."
Pemberton said the Santa Monica ARC has experienced higher graduation rates in recent years, but when grads return to environments without support, there is a higher chance for relapse. That's where the Bridge House comes in. The six-bed facility sleeps five men and one house manager. Beneficiaries agree to serve five hours a week with the corps and submit to random drug tests. In return, they gain stability and fellowship.
No one has relapsed while they were in the house, according to Santa Monica Corps Officers Lts. Christopher and Erin Wikle.
"The Bridge House works because it's one piece of a bigger picture, and the picture is that there's relationship and a lot of ongoing investment," Christopher Wikle said. "It works because we know them and they know us and we've been a safe and important place for people going through the program."
Because of the corps-ARC relationship, when graduation approaches, officers typically have an idea of who's finishing, who's staying for re-entry or who found work. There is an application process to get in the Bridge House, but those who are deemed a fit are known personally and spiritually.
While the Wikles share the blessings of the Bridge House, they're quick to say it's not all "sunshine and rainbows." Learning how to navigate relationships and tough life events without using can be challenging for those in recovery.
Recently, Jason's uncle passed away. In the past, he would have turned to substances to cope. Now he's a positive example for his family. Erin Wikle said she remembers telling him, "How cool is it that God has established you as a spiritual pillar in your family now? You wouldn't have been able to imagine that a few years ago."
Sometimes people are concerned that the corps is not the place for recovering addicts because of the number of people coming through the doors on Sunday who remain actively in addiction.
"That may be in some cases, but it's also true that some really beautiful things happen," Christopher Wikle said.  
Recently, someone who was struggling with a methamphetamine addiction came to the corps and wanted help. Wikle was able to connect him with the ARC, he got in the program and later in the week, he was serving boxed lunches to those on the street alongside other beneficiaries.
"That was him a week before," Wikle said.
When beneficiaries commit to sobriety and to growing spiritually, change happens. And Jason is a testimony to that.
"He came through the program, he got connected with the Bridge House and we just saw him really flourish because he was one of those who wanted more," Erin Wikle said. "He didn't want just his life back, he wanted like new life, new opportunity. He wanted a relationship with Jesus."
Now Jason works full-time at the corps and operates the kitchen, where he sometimes cooks for up to 200 people.
"The Bridge House has…opened my heart up to be compassionate to other people," Jason said. "The people that are in there now…it's people that I've been to jail with, that I've used drugs with on the streets and was in the ARC program with, so it's a blessing to see the transformation not just within myself, but within each other…we're living these totally different lives."