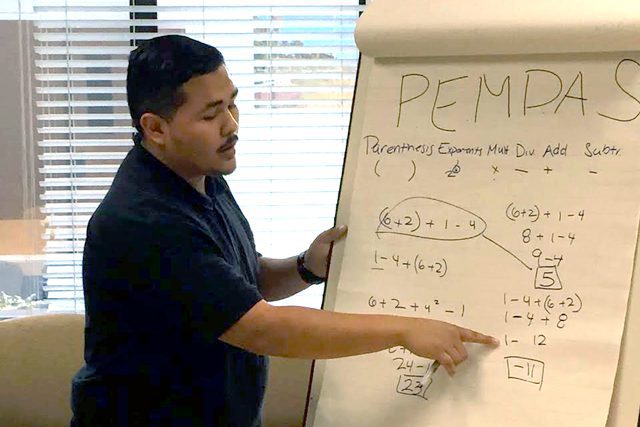 GED program launched at Santa Monica ARC
Research shows a GED certificate leads to $385,000 more income over a lifetime.
The Santa Monica Corps recently launched a GED class for Adult Rehabilitation Center (ARC) beneficiaries and the greater community.
"We saw a need among the ARC beneficiaries as they would attempt to gain employment as many are limited in what they are qualified for because of a lack of education," said Corps Officer Lt. Kari Rudd. "With a GED diploma, they may have more opportunity to explore more mainstream avenues of employment."
Six students are currently learning from three teachers from Dogtown Disciples, a group of young adults that provide ministry opportunities to the community.
The students study beginner level do-it-yourself GED preparatory books for language arts, mathematics, science and social studies before taking the final exam to earn their GED certificates.
According to Rudd, many of the students lack confidence in their ability to grasp the material.
"The men of ARC come from broken families and are in need of hopeful encouragement and a positive environment in which to learn," Rudd said. "We can provide this for them."
U.S. Census data indicates that people with a GED certificate make an average of $385,000 more in a lifetime than those who don't have a GED certificate or high school diploma.
Having the GED certificate can also open doors for advanced training. Many specialized training programs require either a high school diploma or a GED certificate. It also allows for participation in most workplace or on-the-job training programs, along with higher educational opportunities.
"I like coming to the GED class because I am accepted for wherever I'm at with the material, with no judgment," said a student named Joe.
"Even if the student has a long way to go, as long as they leave knowing something that they did not know coming in, then we count the class a success," Rudd said. "The GED class is a single component to the healing of the entire self in our corps program."