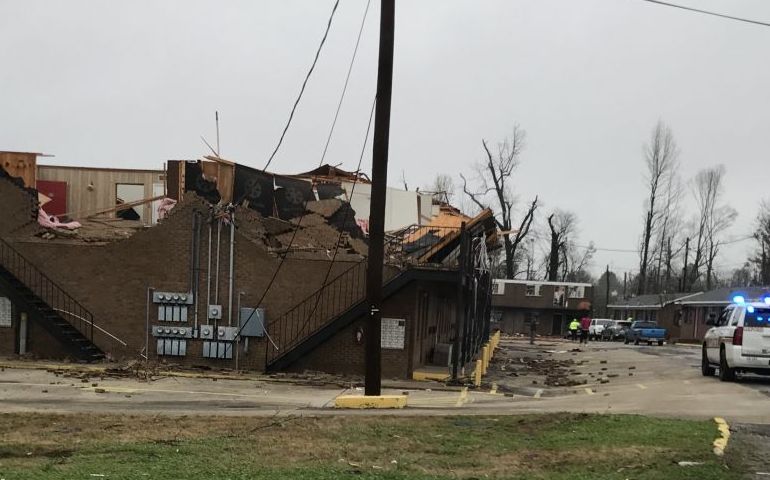 Salvation Army serves in Alabama after tornadoes
By Jon Kalahar –
Several tornadoes caused extensive damage in Alabama and northern Mississippi this week as severe storms rage across the region. Jacksonville State University in Calhoun County, Alabama, was one of the locations to take a direct hit.
"There has been significant damage," Alabama Gov. Kay Ivey said in a statement. "We are sending state resources to those affected areas, especially to Jacksonville and Calhoun County. We will continue to monitor and respond to needs in other areas as needed. Our first priority is ensuring our people are safe."
The Salvation Army Anniston Corps has been called to feed lunch and dinner Tuesday for 300 first responders at the Jacksonville Public Safety Complex. The corps will also provide service delivery to volunteers responding to the area, as requested.
The Anniston Corps mobile feeding unit will be supported by three additional mobile feeding units from Birmingham and Gadsden. Other resources throughout Alabama are on standby to provide support as needed.   
"There are several buildings with roofs ripped right off," said Major Eric Roberts, Anniston Corps Officer. "It breaks your heart knowing what these folks are going through, but we are here to offer a little bit up hope and a hot meal. We want them to know they are not alone in this. They can always come to us for help."
Roberts and Salvation Army staff are also trained to offer prayer and counsel to residents who may have lost their homes and simply need someone to talk to.
Other Salvation Army local units in northeast Alabama are continuing to assess service delivery needs.
"We are communicating with local and state emergency management officials to determine if there are additional needs in the state." said Terry Lightheart, Emergency Disaster Services Director for The Salvation Army of Alabama, Louisiana, and Mississippi. "We will provide service wherever it is needed."