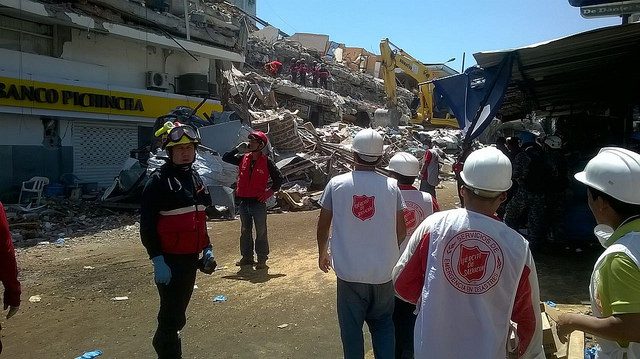 Salvation Army reinforcements boost Ecuador earthquake response
In the wake of an April 16 earthquake in Ecuador now known to have killed nearly 600 people, Salvation Army teams are at work across the affected region around the country's northwest coast. Red Shield emergency response teams have headed to Manta, Pedernales, Guayaquil and Puerto Viejo, providing food, water and other essentials to people who have been forced from their homes.
"When we arrived we saw the devastation caused by the earthquake—buildings in rubble, people lining up to buy a little bit of water, commercial premises closed," reported Captain Franklin Acosta, Ecuador divisional program secretary, from Manta.
After speaking with the local government's emergency response coordinator, Acosta and his team began preparing sandwiches for distribution, with milk, to people sleeping on the streets.
"Looking around, it is really disheartening to see people sleeping in parks and under bridges, waiting for someone to help them," said Acosta. "In total we gave out more than 100 rations of milk and bread."
The team also followed a group of young locals to a remote area that had not received help, where they discovered 500 people who had lost their homes, sleeping in makeshift tents and shelters. "We talked for a long time and had the opportunity to pray with them and give them words of hope," Acosta said.
Lt. Colonel Alex Nesterenko, chief secretary of the South America West Territory and a previous divisional commander in Ecuador, will travel to Ecuador to support the leaders of the Ecuador Division, Majors Samuel and Gloria Flores.
Today, a team of four disaster responders, including two with experience in Ecuador, arrived from Chile. Three of the reinforcements received training from The Salvation Army's International Emergency Services team in October 2015. Once a thorough assessment takes place, they will develop short and longer-term plans.
Territorial Commander Commissioner Torben Eliasen said he was grateful to have received offers of international help. "We understand the magnitude and the urgency of the situation and we want to address it wisely," he said. "We anticipate that there will be a need for short, medium and long-term actions and we are preparing ourselves for this.
"We do want to express our profound gratitude to all Salvationists and friends who are praying for the situation in Ecuador and sending resources to help," he added.
Donations to the Americas and Caribbean Disaster Fund can be made here.
Report by IHQ Communications