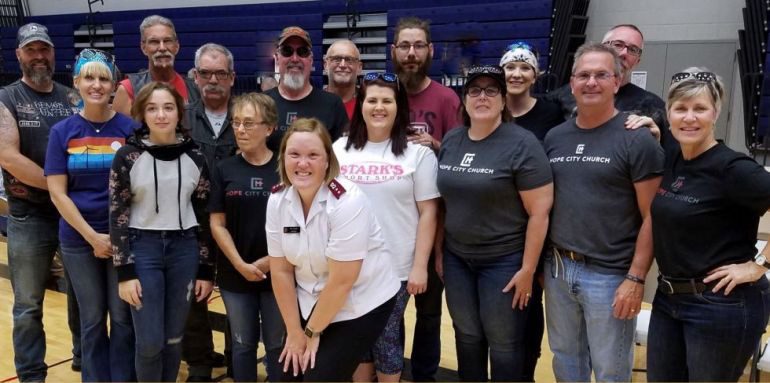 Salvation Army provides tornado relief in Iowa
Marshalltown Corps has served over 15,000 meals since the EF-3 struck.
By Susan Eustice –
For the last six days, The Salvation Army in Marshalltown, Iowa, has been operating without a functional headquarters building.  The Corps Community Center—the organization's longtime base of operations in the central Iowa town—was damaged in last week's storm, which saw an EF-3 tornado strike the heart of the downtown area.
"The corps building sustained quite a bit of damage," Corps Officer Captain Pam Kasten said.  "We have some foundation issues, the doors have been pushed in, and we're still without power."
The roof also took a direct hit, but staff members are hoping to shore it up as soon as possible.  Structural engineers are set to begin assessing the building for safety. The goal is to have the facility reopened later this week.
But all that damage hasn't stopped Kasten, her staff, and a group of volunteers from providing much-needed relief services in the wake of the storm.
Tuesday saw more area families seeking help.  That day alone, Salvation Army officers, staff, and volunteers served 353 meals, provided 178 snacks, and handed out 717 bottles of water.  All told, the organization has now served over 15,500 meals and offered prayer and counsel to more than 420 people.
Nearly 100 families received assistance Tuesday from The Salvation Army via the organization's participation in the Multi-Agency Resource Center (MARC)—a "one-stop shop" set up for multiple relief agencies inside Marshalltown High School.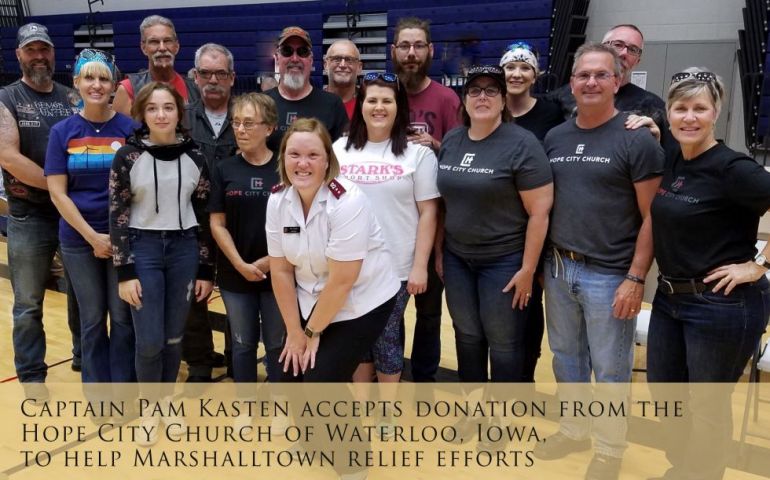 Kasten, meanwhile, is also receiving praise from leadership at the highest level of The Salvation Army Western Division.  Major Lee Ann Thompson, who traveled to Marshalltown from Omaha this week, surveyed the damage alongside Captain Kasten, and lauded her relief work.
"Through it all, Captain Kasten has kept the needs of the community at the forefront by making sure needs are met and people are being served," she said. "Recovery will take weeks, months and perhaps years—but we are committed to helping until that very last need is met."
In addition, as the corps staff and leadership continue to work toward reopening their headquarters building, a motorcyclist group from Hope City Church in Waterloo, Iowa, rode into Marshalltown Tuesday to deliver a special gift.
The group brought in a significant monetary donation for The Salvation Army to assist with disaster relief.  The group made their road trip Tuesday to drop off the funds—plus, they gathered with Captain Kasten in prayer for the entire Marshalltown community.
"This extremely generous gift is a huge help for us," Kasten said.  "We're sending out a big thank you to Hope City Church for their outstanding support."