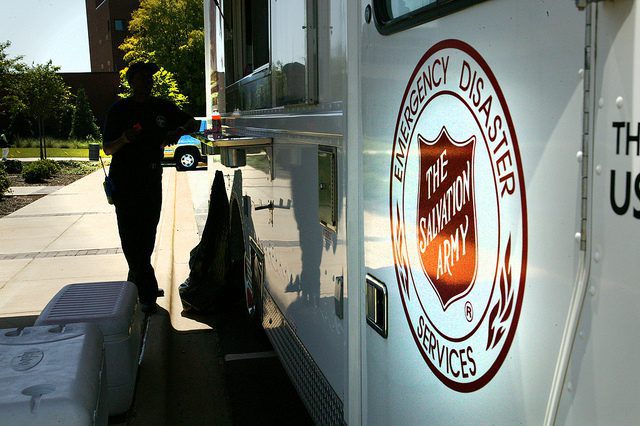 Salvation Army pairs up with Hawaii Community College to help volcano victims
Roughly 600 homes have been destroyed by the Puna lava flow.
The Salvation Army is now partnering with Hawaii Community College to provide meals to residents displaced by the Puna lava flow and Kilauea volcanic eruption.
Hawaii CC's Culinary Arts program is preparing breakfast, lunch and dinner several days a week for approximately 300 people each meal. The program is also is growing and harvesting produce at its farm site in Panaewa.
"We're grateful that Hawaii CC's Culinary Arts program could partner with us for shelter meals several times a week," said Victor Leonardi, Divisional Emergency Disaster Services Coordinator for The Salvation Army. "In addition to purchasing these meals in partnership from Hawaii CC, we are continuing to support local restaurants with the purchase of meals on other days. All of this highlights the continued need for monetary donations to support the shelter meal service. We are averaging $35,000 per week in meal purchases"
So far, Hawaii CC faculty, staff and student interns have helped harvest produce that was planted during the spring semester; planted more lettuce; and they'll soon be planting other vegetables. The produce will be used in the meals prepared by the Culinary Arts program. In addition, Hawaii CC's Planning, Operations and Maintenance department is assisting with the delivery of meals from the Hilo campus to the shelters.
"Our thoughts are with all those affected by the eruption," said Shawn Sumiki, a Hawaii CC Culinary Arts instructor. "There are so many people and organizations helping out during this disaster, and the Hawaii Community College 'ohana is pleased to be able to use some of the resources we have available to contribute to this effort."

Since the eruption of the Kilauea volcano May 3 on the Big Island, it's gushed out roughly 9 billion cubic feet of lava—enough to fill 100,000 Olympic-size swimming pools.

Kilauea has erupted continuously since May 3, spewing out a fiery, toxic torrent of lava and ash—destroying 598 homes and forcing over 2,000 people to evacuate.
Emergency Disaster Services (EDS) personnel and volunteers from The Salvation Army continue to help with meal coordination, hydration, and emotional and spiritual care at the three emergency shelters in Pahoa and Keaau, including Keaau Armory, Pahoa Regional Recreation Facility-Gym, and Pahoa Senior Center.
---
Since May 9, The Salvation Army has been coordinating the food service with three meals per day to the emergency shelters in the Puna District.  As of June 19, a total of 30,964 meals have been served including 5,943 vegetarian meals.

Since May 13, 712 households have received donations from The Salvation Army's distribution center at the Pahoa Community Center.  That includes 1,271 mosquito repellant cans, 937 food boxes, 843 cases of water, and 530 hygiene kits.

As of June 16, a total of 93 households have received financial assistance with a total of $10,765 in vouchers that can be redeemed at The Salvation Army's thrift stores in Hilo, Honokaa, and Kailua-Kona.