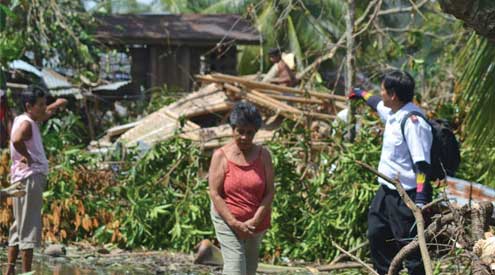 Salvation Army in The Philippines Broadens Emergency Response
With the mass transport of relief supplies to the typhoon-devastated city of Tacloban still proving very difficult, The Salvation Army in The Philippines is working on alternative methods to get help to the thousands of people who are in desperate need.
Teams of Salvation Army volunteers are providing life-saving items such as bottled water, biscuits, bananas and bread for people who have been evacuated to Cebu and Manila from Tacloban. The initial outlay will provide food and water packages for 3,500 people.
The distribution of goods is only part of the response. The teams will focus on talking to and comforting the people as needed. Even in these days where rapid action is required, The Salvation Army seeks to go beyond providing for people's physical needs – the spiritual, caring element is a vital part of helping distressed and traumatised people.
This is only an initial response ahead of the arrival of 54 tons of food, medical supplies and other essentials that await transport to Tacloban from Manila, but it will meet a pressing need that has been identified by the Salvation Army response team in Tacloban in coordination with local authorities.
In Manila, The Salvation Army is working with the local authorities and will act as a reception partner for people evacuated from Tacloban, providing spiritual and practical care as appropriate.
International Emergency Services team leader Damaris Frick is on her way to Cebu before heading to Tacloban. She participated in a Logistic Officers Meeting chaired by World Food Programme personnel, as The Salvation Army seeks to ensure that any response is carried out in full coordination with other agencies.
Damaris reports: 'There are major logistical challenges on the ground preventing goods from being distributed.' With this being the case, The Salvation Army is using its extensive local connections to organise road transport for food, water and other essentials. Damaris says that there is growing concern for the health and well-being of Salvation Army responders, with reports coming in that teams on the ground in the most affected areas 'are starting to run out of food and water – and this is gravely concerning'.
Away from Leyte and Tacloban, The Salvation Army is at work in many other parts of The Philippines which are struggling to recover from Typhoon Haiyan. The government reports, for instance, that 196,361 families on the island of Panay were affected by the typhoon. Major Ronaldo Banlasan (corps officer in La Paz) visited typhoon-hit communities including Conception, Lemery and Banate in Iloilo Province on the island and has organised a team to go back to the worst-hit families with food packages.
The Salvation Army's International Headquarters continues to receive funds from across the world to be used in the short- and longer-term responses in The Philippines, for which The Salvation Army in The Philippines is hugely grateful.
Up-to-date information and full details about how to make a donation can be found on the new Typhoon Haiyan Appeal page: sar.my/haiyan
Report by the Communications Section
International Headquarters
Photos from The Philippines can be viewed at sar.my/haiyanpics