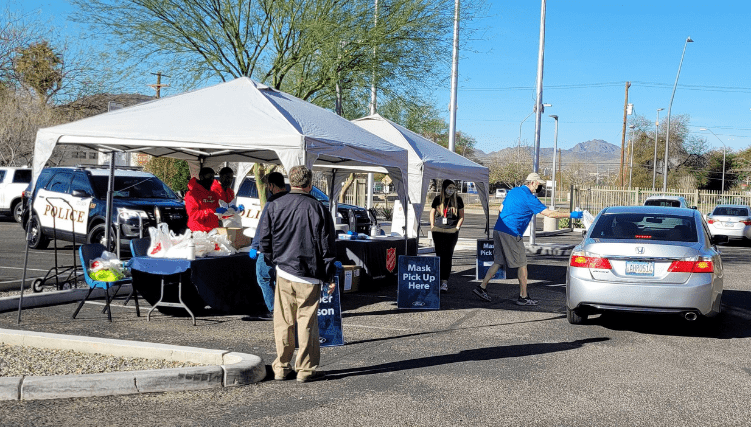 Salvation Army helps Ford distribute more than 1.3 million face masks to Arizona communities
By Scott Johnson–
During the pandemic, Ford Motor Company has answered the call and, in partnership with UAW, produced tens of millions of pieces of personal protective equipment (PPE) to meet the strong demand. These include 70 million face masks; 20 million face shields; 50,000 patient ventilators; more than 32,000 powered air-purifying respirators in collaboration with 3M; and 1.6 million washable isolation gowns.
Ford Fund, the company's philanthropic arm, has delivered those 70 million masks to nonprofit organizations, state and local officials, first responders, schools, community groups and Ford dealerships in all 50 states.  
The company will hit its goal of producing 120 million medical-grade masks for donation to at-risk communities by mid-2021, and when Ford was discussing the best way to get over 1.3 million masks to Arizonans in need, their first thought was The Salvation Army Southwest Division.
"Ford has been a leader in COVID-19 mitigation efforts since April 2020 and one of the first manufacturers to pivot toward making personal protective equipment," said Brad Jones, Phoenix Regional Manager for Ford Motor Company. "It was a natural fit for us to partner with The Salvation Army on this effort, as it's an extension of the partnership we already have in place supporting their annual water drive efforts, Thanksgiving turkey drive and Red Kettle campaign."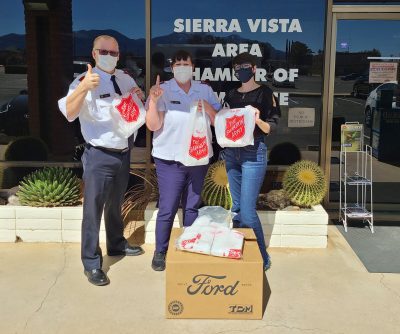 An initial shipment of nearly 520,000 masks was delivered to Southwest Divisional Headquarters in Phoenix, where dozens of volunteers—including Commissioner David Hudson, former National Commander of The Salvation Army, Metro Phoenix Advisory Board members, and soldiers of the Arizona Army National Guard—sorted the masks into bundles for Ford Mask Donation Day on Feb. 23.
That day, Southwest DHQ, the North West Valley Corps in Surprise, the Mesa Corps, the Tucson Hospitality House, and the Sierra Vista Corps gave out tens of thousands of masks to grateful clients during contactless, drive-through distribution events. Phoenix Family Services' Project HOPE delivered masks to the area's homeless, and the Sierra Vista Corps made a wide array of visits in the community, including donations to the Cochise County Sheriff's Department, Fry Fire District, Sierra Vista Gives, Sierra Vista Area Chamber of Commerce, S.A.H.A.R.A. Humanitarian Resource, INC., Good Neighbor Alliance, Volunteer Interfaith Caregiver Program of Sierra Vista, and the Town of Huachuca City.
The balance of the masks were supplied to Corps Community Centers, Service Centers, Service Extension Units, and Family Thrift Stores throughout Arizona. Southwest DHQ has now received the remainder of the 1.3 million masks from Ford and will continue to distribute them to Army units across the state to help keep their local communities safe. 
"Ford has been a valued community partner of The Salvation Army for many years and has always stepped up to serve the needs of the community, and that's certainly been no different during the pandemic," said Major David Yardley, The Salvation Army Southwest Divisional General Secretary and Metro Phoenix Program Coordinator. "We are privileged that Ford has put its trust in The Salvation Army to get these masks to our most vulnerable neighbors." 
Ford's effort is part of its #FinishStrong initiative—a public call to action encouraging Americans to pull together, protect each other and help save lives in the months ahead until COVID-19 vaccines become more widely available.
---
Do Good:
Did you know The Salvation Army served more than 23 million Americans last year fighting hunger, homelessness, substance abuse and more—all in a Fight for Good? Where can you help?

Take our quiz

to find your cause and learn how you can join in today. 

See how you can get involved in the Fight for Good

with The Salvation Army

.