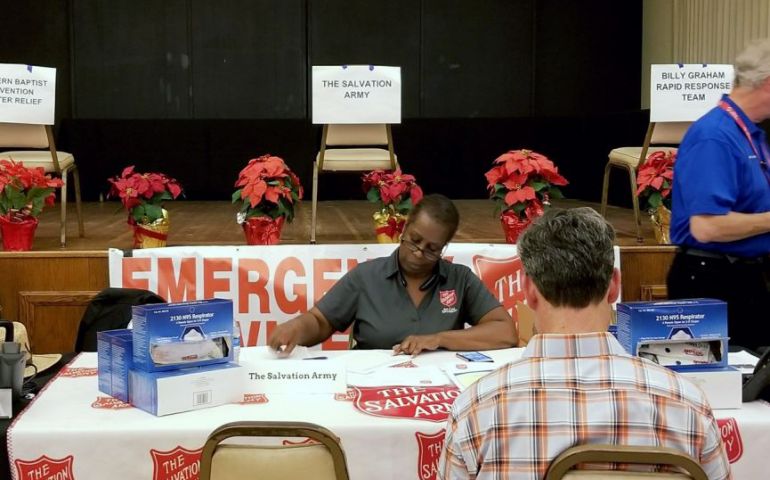 Relief efforts continue for record-setting Thomas Fire
The blaze has now claimed more than 425 square miles—an area bigger than the entire city of San Antonio.
Despite scaling back from its torrid pace, the Thomas Fire became the largest fire in modern California history Friday.
The blaze eclipsed California's record-holding 2003 Cedar Fire, which killed 14 people and destroyed 273,246 acres in San Diego County. The Thomas Fire has now claimed more than 273,400 acres and 1,000 structures as fire crews continue to battle high winds and extremely low humidity.
Meanwhile, more than 20 nonprofits and agencies continue to work with impacted residents at the Local Assistance Center (LAC) set up at Poinsettia Pavilion—the primary site of disaster recovery assistance.
The Salvation Army has been a major presence at the LAC. Since Dec. 13, The Salvation Army has given out more than $100,000 in financial assistance.  That includes vouchers and gift cards to Ralph's, Walmart, Home Depot and Salvation Army Thrift Stores.
The Ventura Corps is also serving as a distribution center where visitors can pick up supplies such as canned goods, cleaning products, and hygiene products.
During the peak of the initial response, The Salvation Army staffed two major evacuation shelters and distributed over 5,000 meals in total. As the need for shelters abated, The Salvation Army transitioned toward assessing the individual needs of impacted residents.
Saturday, Dec. 23, is the final day scheduled for the Ventura LAC, but The Salvation Army will continue serving residents as needed.
Officials don't expect to reach full containment of the blaze until Jan. 7, 2018.
To support relief efforts, go to socal.salvationarmy.org or call 1-800-SAL-ARMY.