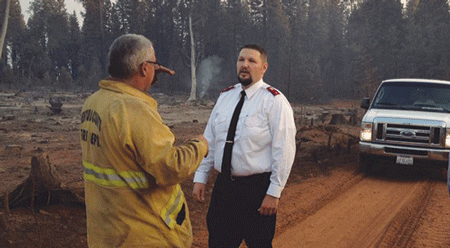 Redding Corps assists fire victims
The Salvation Army recently assisted evacuees of the Ponderosa Fire, which threatened more than 3,000 structures and 4,000 people in Northern California. For six days at the evacuation center near Redding, the Army fed evacuees, volunteers, and fire personnel. Volunteers drove up the mountain to provide water, energy drinks, sports drinks, snacks, and meals to those working on the fire. In total, The Salvation Army served more than 2,300 meals and more than 9,250 bottles of water, juice, sports and energy drinks.
Local radio station KRCR held a cash drive, raising more than $20,000 for The Salvation Army, and brought in a Teamsters truck with 21 pallets of water.
"We've been humbled by the outpouring and support raised by the Redding community," said Lt. Dan Whipple, Redding corps officer.
As residents returned home, the Redding Corps delivered food boxes with non-refrigerated items and water.