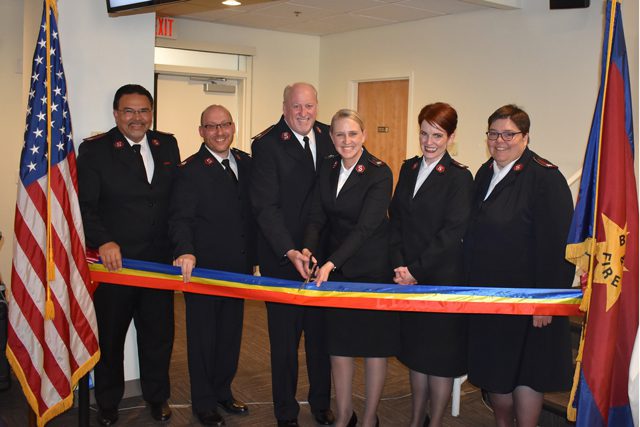 Phoenix ARC triples capacity for women
ARC dedicates newly renovated "Lyncrest" residence.
The Phoenix Adult Rehabilitation Center (ARC) dedicated the renovated women's residence facility, called "Lyncrest," May 15, more than tripling the ARC's capacity for women from eight to 27 beds. The event was part of the celebration of National Salvation Army week.
"We saw a community need for more women to have an opportunity to benefit from our rehabilitation program," said Major Darren Stratton, Administrator for Business at the Phoenix ARC. "This now provides us with an increased level of occupancy for our entire program."
Special guests at the dedication included Western Territorial Chief Secretary Colonel Douglas Riley and Women's Ministries Secretary Colonel Colleen Riley, Southwest Divisional Commander Lt. Colonel Kelly Pontsler and ARC Command General Secretary Major Henry Graciani.
"The facility is beautiful and a place for restoration and renewal in the lives of the women who live there," Colleen Riley said. "It is a place for new hope—hope for a future, leaving behind the things of the past and looking forward to what God has in store for their lives."
Service highlights included a dramatic presentation by the women beneficiaries, followed by the graduation of one woman and one man from the ARC program.
"This is exciting!" Douglas Riley said. "It's full of anticipation; there's lots of things to come. There's more ministry and impact that is going to happen in the days ahead."
Primary funding for the facility remodeling and expansion was provided by the family of Mike Michaels. During his lifetime, Michaels supported many Salvation Army programs and centers. He left the bulk of his estate to The Salvation Army for use in programs benefiting women and children. He is also the namesake of The Mike Michaels Activity Center, located on the campus of The Salvation Army Phoenix Emergency Family Shelter.
The Phoenix ARC accepts men and women ages 21-64. The ARC's capacity for men is 90 beds. With the women's capacity of 27 beds, the combined total is 117.
The Salvation Army's ARCs form the largest network of rehabilitation programs in the nation. At no cost to the beneficiaries, these centers give men and women battling substance abuse opportunities to stabilize their lives and regain confidence and self-respect, while developing a good work ethic and other responsible behaviors. The program's continuing successful formula is built upon the principle of spiritual regeneration through Christ, combined with physical and emotional strengthening through meaningful work therapy and educational enrichment.
With reporting by Major Fred Rasmussen and Scott Johnson