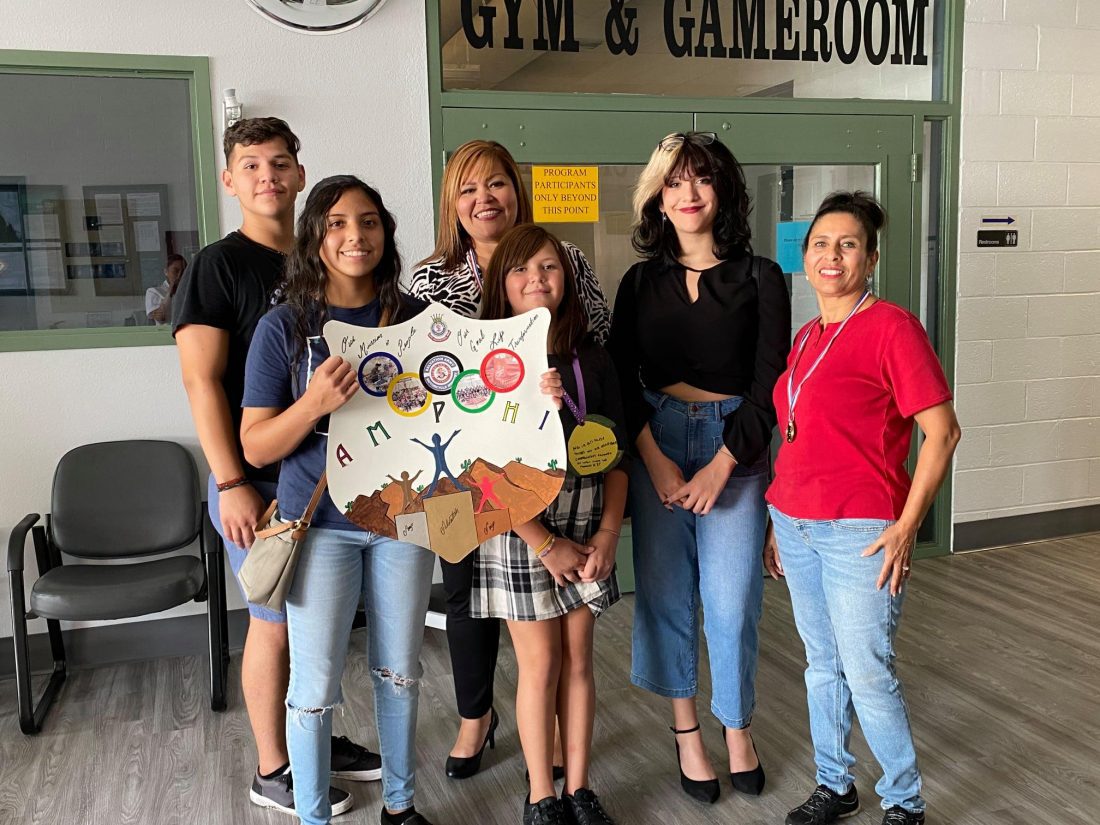 Participants of all ages go for gold in Southwest Olympic Challenge
As the Olympic cauldron was lit in Tokyo, marking the start of the Summer Olympic Games—athletes of all ages in The Salvation Army's Southwest Division, which covers Arizona, New Mexico and Southern Nevada, joined in the spirit of competition and sportsmanship. They participated in the Southwest Olympic Challenge from July 23 to August 8 and competed right as world-class athletes sought gold, silver, and bronze medals on the other side of the globe.
The divisional Olympic games were conceptualized by Captains Kelsey and Jess Pearce, Salvation Army Southwest Divisional Youth and Candidates' Secretaries, who had previously been serving in an appointment in the U.K. They found out about their move back to the U.S. in March 2021 and started planning for what it would bring.
"We knew that here they were also dealing with COVID and lockdowns and youth programs had been terminated or at least dramatically decreased in terms of their capacity," Kelsey Pearce said. "So we started thinking right away of what could we do right when we got here that would be fun, exciting, engaging and be a hybrid of in-person activity and also something that could be done in isolation—if need be." 
The Pearces loved the Olympics and knew it was something they wanted to bring to the Southwest Division to revitalize youth programming that had been impacted by the pandemic. They pitched their idea for the Southwest Olympic Challenge to divisional leadership, and upon approval, began planning from abroad via Zoom. They arrived at their new appointment a week and a half before the Olympics and got right to work.

"We wanted something momentous—something that would have a lot of energy, something that could be good for camaraderie…[and] something just to get the youth, young adults, and kids excited," Jess Pearce said.
It all kicked off with the Opening Ceremony in which corps participants from all over the division created flags that best represented them, their likes and interests, and more. Then the games began spanning six challenges across different sports—gymnastics, discus throw, basketball, soccer, volleyball and breakdancing.
For gymnastics, participants competed on how many cartwheels they could do in a minute. The discus throw was a frisbee tossing competition. In basketball, it was seeing who could make the most free throws in a minute. Volleyball was all about peppering a ball for the longest amount of time. Soccer consisted of dribbling, and breakdancing was showcasing dance moves individually and as a corps.
Everything concluded with a Closing Ceremony complete with an Olympic history trivia game.
"The goal of the event was to stimulate youth program activity and encourage corps to be getting together around something exciting," Kelsey Pearce said.
Participants had to be recorded across all events via video, which then had to be submitted. Categories included children ages 12 and under, teens ages 13 to 18, and adults 19 and older. There was also a corps category. The Southwest Youth Department received nearly 200 video submissions from 14 different corps and units in the division.
"We had kids as young as 3 and adults as old as 75 participating in this," Kelsey Pearce said.
"It was for everyone," Jess Pearce added.
Gold medal prizes included a Nintendo Switch for children, a choice of Playstation 5 or Xbox Series X for teens, and a choice of a select small kitchen appliance for adults. Silver and bronze medalists received $50 and $25 gift certificates, respectively. For the corps category, the prizes were $1,000, $500, and $250 for upgrades to the corps' or units' youth rooms. Medalists won based on total points awarded by participation and successful event outcomes.

Winners included Jordan Garcia (Gold), Tyson Downey (Silver) and Emma Beeson (Bronze) of the Santa Fe Corps in the kids category; Sean Downey (Gold) of the Santa Fe Corps, Alex (Silver) of the Yuma Corps and Jaelyn Gaspar of Tucson Amphi Corps and Ashley Morse of the Las Vegas Citadel Corps (Bronze) in the teen category; Patrick Quintero (Gold) of the Tucson Amphi Corps, Travis Silva (Silver) of The Salvation Army Ray and Joan Kroc Corps Community Center in Phoenix and Holly White of the Mesa Corps in the adult category; and the Yuma Corps, Arizona (Gold); Santa Fe Corps, New Mexico, and Tucson Amphi Corps, Arizona, (Silver); and Mesa Corps, Arizona (Bronze) in the corps category. 
"[Winning] was awesome," said Lieutenant Amber Herzog, Yuma Corps Officer. "It was a great surprise." 
Herzog said her corps participated because of a lack of programming in the last year.
"When we heard about the opportunity, we thought it was a great way to rally [the youth] together and get the corps to kind of support them," Herzog said. "It was a lot of fun."
And more fun awaits as the 2022 Winter Olympics in Beijing are coming soon.
---
Do Good:
You've probably seen the red kettles and thrift stores, and while we're rightfully well known for both…

The Salvation Army is

so much more

than red kettles and thrift stores. So who are we? What do we do? Where?

Right this way

for Salvation Army 101.

How do we treat everyone with love and kindness, as if they were our neighbor?

Get the Do Good Family Roadmap

and take a 4-week journey for families in how to be a good neighbor. Follow the guide to see what the Bible says about the art of neighboring and take tangible steps together on your printable roadmap to be a caring, helpful, welcoming and supportive neighbor right where you are.

 

Listen to an interview with California South Camp Director Marty Brown on the Do Gooders Podcast about "

Planning a lasting summer camp experience, even in 2021

."