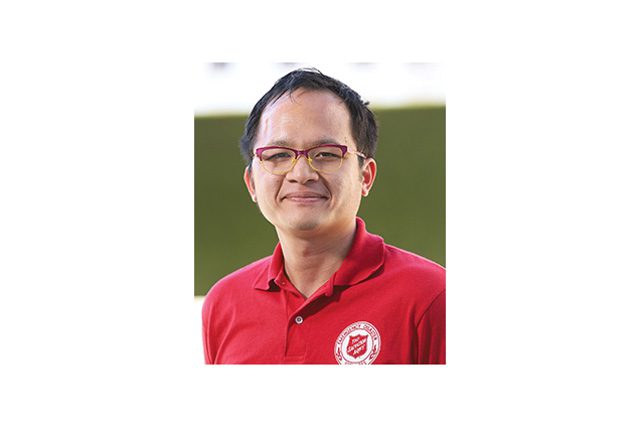 Nguyen recognized for work as Emergency Disaster Services Director
His first full year on the job was a busy one.
By Kristin Marguerite Doidge –
Resilience has been a powerful recurring theme in Nicholas Nguyen's life. It's fitting then, that he would be drawn to a career in emergency preparedness and response management.
Since late 2016, he has served as The Salvation Army Emergency Disaster Services Director for Southern California, a role for which he was recently honored by the City of L.A.'s Business and Industry Council for Emergency Planning and Preparedness (BICEPP) with the "Rising Star" Award for his leadership, commitment to service, and outstanding contributions to the field.
To say Nguyen had a busy first year on the job would be an understatement. This fall, he returned from serving in Beaumont, Texas, on a support team that helped with response efforts following Hurricane Harvey, to immediately help coordinate the response for the recent string of deadly wildfires in Southern California. That included the record-breaking Thomas Fire, which claimed more than 425 square miles and destroyed thousands of structures.
Still coordinating efforts through the Christmas holiday and end of 2017, there was no rest for the weary; the devastating Montecito mudslides that soon followed in January meant that Nguyen was pulled to lead the charge of coordinating the response for families affected by that disaster.
"Nick had a lot to balance," said John Berglund, Western Territorial Emergency Disaster Services Director. "But he never gave up. He's the 'real McCoy.'"
Berglund had recruited Nguyen to help with relief efforts in the U.S. Virgin Islands after Hurricanes Irma and Maria struck last fall before he returned to the states to help domestically. In the immediate aftermath of the Thomas Fire in Southern California, Nguyen and his team staffed two major evacuation shelters and distributed over 5,000 meals, thousands of items of clothing, and countless bottles of water, respiratory masks, and monetary vouchers. As the need for shelters reduced, he helped lead the recovery work efforts with residents, assisting more than 300 families.
Nguyen gets his physical endurance from training for marathons in his free time, having overcome a terrifying car accident four years ago that nearly took his life. But spiritually, he's driven by an intrinsic desire to support families as the son of Vietnam refugees who were forced to flee their homes during the war.
"My parents met in a refugee camp," he said, "so I've always wanted to help alleviate suffering for families in difficult times. After college, when I wasn't sure exactly what I wanted to do in my career, I started volunteering in Haiti in response to the earthquake."
That led to studying disaster work at Tulane where he earned a master's degree in public health. He went on to serve on teams that assisted during the ebola outbreak in West Africa, during the conflict in Northern Mali, the typhoon Haiyan in the Philippines, and conflict in Myanmar's Rakhine State. Berglund said Nguyen's educational background and international work is noteworthy, as it's not typical for people in his position to have such experience. He also said it's worth exploring, perhaps as new directors are cast throughout the territory.
"Nick has different models in his head in how to address need and how to provide humanitarian assistance," Berglund said. "Bottom line for him, because he's been taught in international circles, is: how do we provide aid on the ground? The humanitarian imperative is his core. It's his center."
Impressive still, he continued, is that Nguyen has taken a proactive approach in absorbing the culture at The Salvation Army and taken on leadership roles in the community by networking both internally and externally.
"We need more Nicks," Berglund added. "He's jumped in with both feet, and all of those relationships pay off when something happens and we're at the community table during recovery efforts. He's helping The Salvation Army move forward."