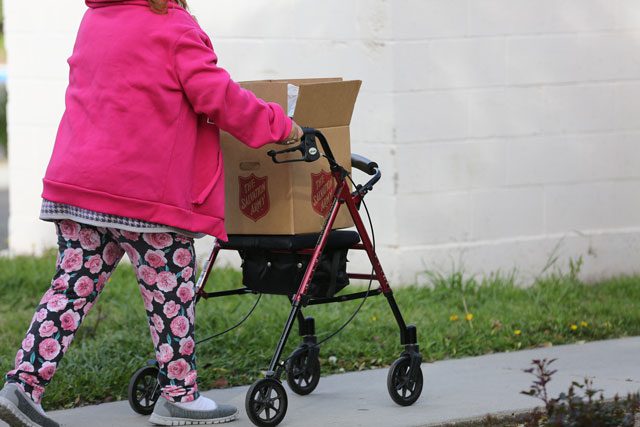 Need someone to talk to? Call The Salvation Army's national hotline.
If you're scared, lonely or dealing with uncertainty, dial 844-458-HOPE (4673).
Between social distancing, loss of income and a host of unprecedented circumstances, the COVID-19 crisis has given rise to crippling stress, anxiety and isolation in recent weeks—not to mention fear of contracting the illness itself. 
As the situation continues to unfold in households across the U.S. for at least another month, The Salvation Army has set up a special hotline at 844-458-HOPE (4673) for anyone impacted by the pandemic.
Manned by Salvation Army officers and trained employees, the service is available from 6 a.m. to 6 p.m. PT, seven days a week for anyone in the U.S. feeling lonely, scared or just in need of a listening ear and a friendly, reassuring voice.
"Our goal is to give people an opportunity to connect with someone who will hear their story and concerns. We hope to offer a calming presence in the midst of circumstances none of us have ever experienced before," said Captain Jason Moore, Corps Officer in Beaumont, Texas. "The Salvation Army wants people to know they are not alone and that even though we might not be able to meet them face-to-face, we care, want to listen and are as close as a phone call."
The hotline, which launched March 27, received a number of calls in its first weekend. 
One caller was a mother unexpectedly thrust into the role of homeschool teacher for her children and dealing with the stress of the added workload. 
Another caller sought advice and prayer while facing the potential loss of a home.
One young man was coping with the reality of being furloughed from his job. 
There is concern among many mental health professionals that the isolation brought on by the crisis will exacerbate the pre-existing epidemic of loneliness, particularly among seniors. 
Major Richard Greene (Ret.), one of several retired officers recruited to help with a similar hotline set up in the West's Intermountain Division, said, "people just want to be heard right now."
"It scares people when something happens that they're not in control of, that they're not in charge of. And it's hard to avoid when it's constantly on the news," he said. "There are so many different dynamics at play with this pandemic."
If callers need additional resources to help survive the pandemic, the trained staffers will refer them to The Salvation Army's nearest location, which may be able to provide food, rent and utility assistance, and more.
Though this pandemic is uncharted territory for the world, the service provided by The Salvation Army to help those affected has decades of experience behind it. Trained Emotional and Spiritual Care staff and volunteers work alongside mobile feeding units as they minister to hurting communities all across the country in times of disaster.
"The Salvation Army is here to help during this time of heightened need," Moore said. "We understand physical needs are just one aspect of this. We also want people to know we are here—trained and ready—to pray with and encourage them throughout this crisis."
To support The Salvation Army's COVID-19 response efforts, visit helpsalvationarmy.org.
HOW TO HELP:
If you'd like to make a monetary donation, please click here to make a gift.
Text 'GIVE' to 52000 to make a $10 donation to The Salvation Army. This will automatically add a one-time donation to your next mobile phone bill.
For information about volunteering, please visit volunteer.usawest.org.
To learn more about how to support The Salvation Army's relief efforts, please click here.