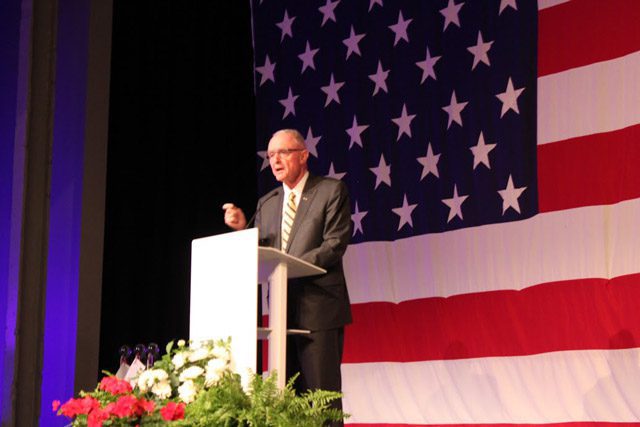 Four-star General cites Salvation Army as model
General Barry McCaffrey spent a day with the Army and acknowledged veterans at event
By Diana Sanglab –
Former White House Drug Czar and four-star General Barry McCaffrey spent the day with The Salvation Army in Kent County, Mich., on May 14, citing it as a national model of service for helping 40,000 people a year through its various programs.
Last year, across Kent County, the Army's Emergency Food Pantry provided 5,600 households with emergency food resources. The Fulton Heights Corps Community Center had an attendance that topped 25,000 for various events. Nearly 420 men and women in Kent County were helped at the local Adult Rehabilitation Center, and the Turning Point program helped over 120 individuals break the cycle of addiction.
With a specific interest in veterans returning from military service—there are 2.5 million Iraq and Afghanistan vets alone in the U.S. today—McCaffrey said The Salvation Army can have tremendous impact in the addiction and homelessness arenas.
As of last year, there are almost 50,000 homeless veterans in America, a decline of 33 percent since 2010. The Substance Abuse and Mental Health Services Administration (SAMHSA) reported that 21 percent of veterans in substance abuse treatment were homeless. The U.S. Department of Veterans Affairs found that more than two of 10 veterans with posttraumatic stress disorder also have substance use disorder.
According to Major Norman Grainger, Western Michigan and Northern Indiana divisional secretary and Kent County coordinator, between 10-15 percent of those served by The Salvation Army in Kent County are veterans.
Grainger led McCaffrey on a tour of The Salvation Army Ray and Joan Kroc Corps Community Center in Grand Rapids and a local Adult Rehabilitation Center. They had lunch at a veterans home, and McCaffrey spoke at a dinner to honor Vietnam veterans at the 40th anniversary of the fall of Saigon.
"I've admired [The Salvation Army's] work for most of my life," McCaffrey said. "Kent County really underscores their commitment to help veterans."
Sponsored by the Center for Health and Wellness at Grand Rapids Urban League, McCaffrey acknowledged the work of The Salvation Army in Kent County at the event, and was awarded a Trinity Award for his efforts on behalf of veterans. The award is presented to honor businesses, individuals, and volunteers who are a consistent and significant contributor to the organization through time or resources.
"General McCaffrey was honored with the Trinity Award because of his long history of financial support and his willingness to step forward in both volunteer efforts and leadership roles for The Salvation Army," Grainger said. "This support was evidenced by the culmination of his heartfelt remarks during the Celebrating Our Veterans event."