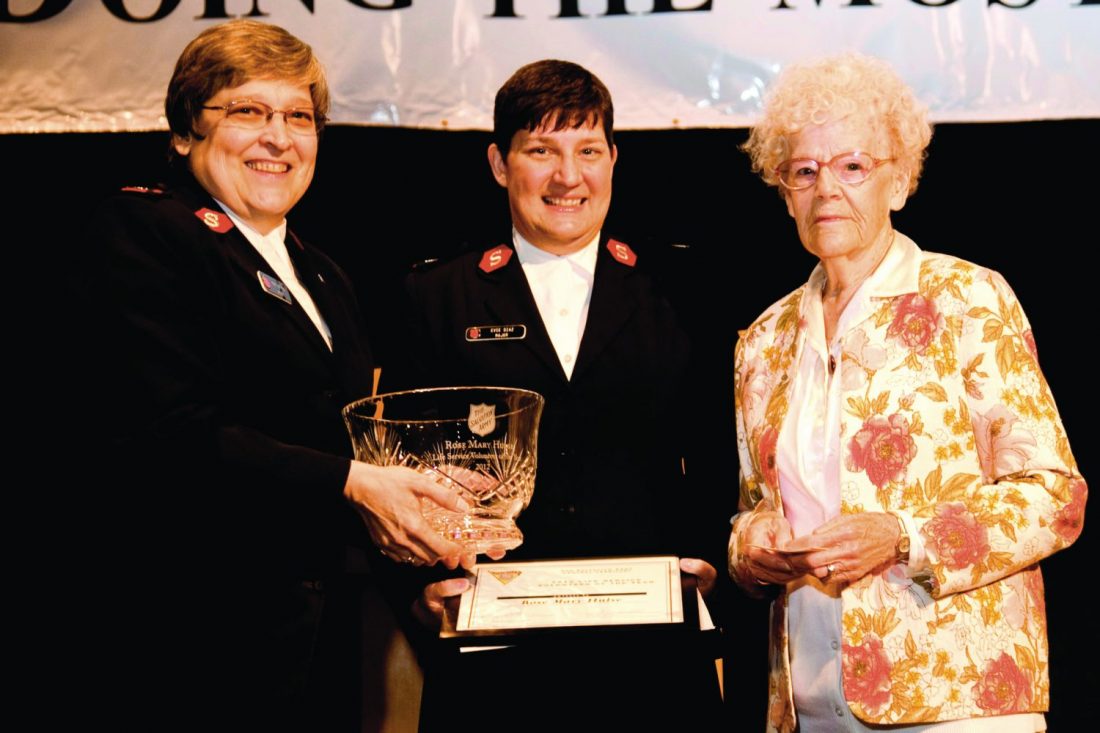 Meet Rose Mary Hulse
Committed to compassion
You can find Rose Mary Hulse, 90, out serving others almost every day.
"She really is an amazing person," said Major Donna Miller, Peoria, Ill., corps officer. "She's always willing to do anything. The phrase, 'Compassion in action' epitomizes Rose Mary."
Hulse offers a hand wherever she is needed at the corps, whether it be cleaning the building, helping in the kitchen during birthday parties or funerals, transporting people to church, or setting up a new library for the corps.
She also visits people in the hospital and nursing homes and brings practical gifts like pencils, writing paper and stamps. When members of the corps are ill at home, she visits to lift their spirits and make sure they are warm and have enough food.
Hulse insists her age doesn't slow her down, but her faith fuels her desire to serve and show God's love.
"When people recognize that you have a personal relationship with the Lord, that means a lot," she said.
When Miller started a new program for seniors, "Young at Heart Drop-In Center," Hulse helped to get it off the ground. The Central Territory recognized her as the Life Service Volunteer in 2012.
Hulse's association with The Salvation Army goes back more than 50 years. She was first referred to a position with the Army in Peoria in 1959 while at business college. Her husband, Robert, had sustained multiple injuries from military service in Okinawa, and they had two young daughters, Rosalie and Roseann, to care for.
"All [Robert's] money went to treatment, so that's why I went back to business college," Hulse said. "They had this address and the name of the place, and asked me to go there and talk to them, and they hired me on the spot."
It turned out that although this was her first contact with The Salvation Army, it was not her first connection.
"My great aunt and uncle were some of the first Salvationists in the U.S.," Hulse said of Kate and Will Lane of Kansas. "They were friends of the founders, William and Catherine Booth."
Like the Booths, Hulse's passion for volunteerism stems directly from her compassion for others. Her memories of one young mother, Marylyn, whom she helped years ago, still resonates with her.
"If I only volunteered for one person, it would be for Marylyn and her three young children," Hulse said of the family she picked up at a bus stop on a cold day. "I went around the block and stopped to ask if someone was coming for them. She said no, that she was just going to get groceries, so I took her to Kroger to get her groceries."
Hulse continued checking in on the family, who then lived at the Young Women's Christian Association (YWCA)  and helped them get furniture through The Salvation Army when they relocated to a housing project. She continued to buy Marylyn's groceries until one day Hulse put Marylyn and her kids on a bus to Bradenton, Fla.
"I heard from her once in awhile," Hulse said. "Her kids were in school, and she was doing good. She would write to me, and the last line was always, 'I will never forget you.' That always stuck with me."