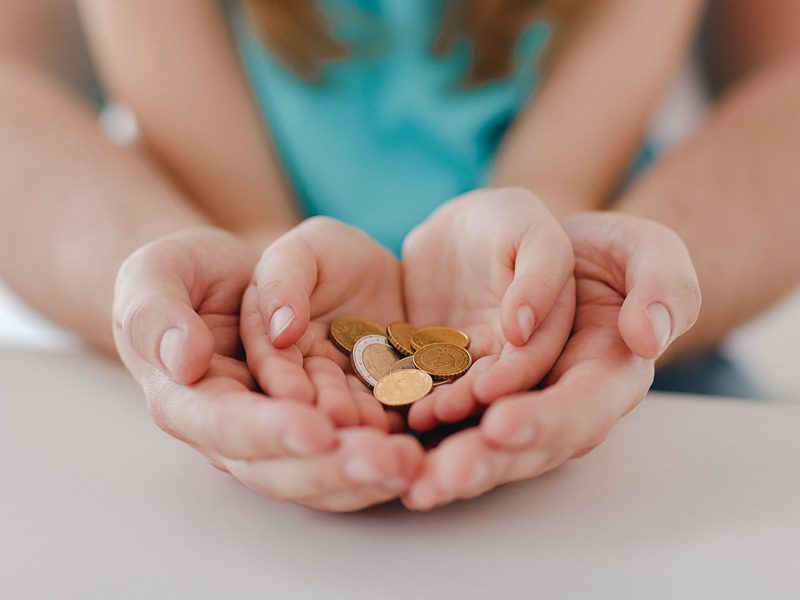 Keeping child care costs in check
As affordable child care becomes more and more a commodity, low-cost providers such as The Salvation Army step in to fill need, and give parents peace of mind.
"Eight-hundred dollars a month in child care?"
He slumped back in his chair, stared off into space and slowly shook his head.
For the past year, Sylvain Kande's had his daughter enrolled at The Salvation Army Los Angeles Day Care, a 150-person capacity child care facility for children ages 2–5. Situated in the fashion district, the program is free to those who qualify, funded largely by federal and state grants. So he's covered.
Still, even the prospect of paying $800—the average monthly cost for child care in the U.S.—is almost incomprehensible to Kande.
"This program took a huge burden off my shoulders," said Kande, who discovered it when his wife, Patricia, was enrolled as a full-time student at Cal State Los Angeles. Meanwhile, he was at home caring for their younger daughter. "This is the only way we could've done it," he said.
Even with the financial boost, it's tough getting by around here. Adjacent to Skid Row, the fashion district, in many ways, belies its glamorous moniker.
"The industry we're in is mainly the garment industry, the produce industry," said LA Day Care Director, Sara Varela. "They're mostly low-paying jobs, so word of mouth from the parents in the program really matters."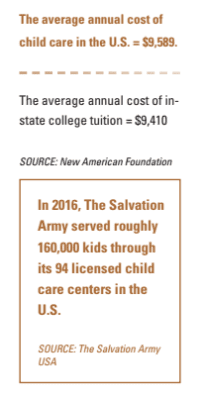 The LA Day Care is just one of more than 90 licensed child care centers The Salvation Army operates in the U.S., and like many of them, it falls under the "low or no cost" category—an increasingly critical selling point.

A recent poll from NPR, the Robert Wood Johnson Foundation and the Harvard T.H. Chan School of Public Health, noted that nearly one-third of parents who have a fee for child care said the cost has caused a financial problem for their household.

The average annual cost of child care in the U.S. is $9,589 per year, and yet the Department of Health and Human Services (HHS) says that families should not put more than 7 percent of their household income toward child care. According to a report from Child Care Aware, a nonprofit advocacy group based in Washington, D.C., all but one state—Louisiana—fell above that mark in 2015.

"Literally, it's unaffordable according to that [HHS] standard," said Dionne Dobbins, Child Care Aware's Senior Director of Research. "What we've found is that the costs per se are not rising, but over time, the percentage that parents are paying for child care has remained to be one of the biggest parts of their budget…Salaries have stagnated. It's something that is felt. It's a pinch for family budgets."

Why? One of the biggest reasons, Dobbins said, is a shortage of resources for the federal Child Care and Development Fund (CCDF), an aggregate of several funding sources that is distributed in block grants. Only one in six eligible families actually receives a subsidy via the CCDF.
Pair the prohibitive costs of child care with a shortage of grants and a dearth of quality, accessible providers without a lengthy wait list, and some parents are left with a tough decision: overpay and take the financial hit, or leave their jobs and care for the child themselves.

According to Marcella McKnight, The Salvation Army Southern California Divisional Director of Child Development Units, many of The Salvation Army's affordable child care facilities often border other resources such as transitional housing, which allows for some parents to actually re-enter the workforce while their kids are getting care. Such is the case for the Bessie and David Pregerson Child Development Center, where McKnight previously served as a director.

"Because a lot of our parents were coming from a homeless or transitional [situation], having the day care on site actually gave them the opportunity to go back into the workforce," she said. "The comfortability level, of knowing their kids are right across the parking lot, and that they're safe—it reduces the anxiety that a lot of parents have about where their children are going to be."

Location matters. Even the LA Day Care, the territory's only standalone child care facility, sits directly across the street from a middle school and elementary school, so many parents who have an older child enrolled in the school can pick up their school-aged kids, then swoop their younger ones all in a jaunt.

Looking for child care?

– Your local Child Care Resource and Referral agency can help you find options near your home or work. Visit

childcareaware.org

to learn more.

But as much is made of cost and convenience, parents want to know their children are in good hands while they're out working or job-searching, and they want to be involved. In other words, quality matters.

"I think that parent involvement is something very positive, because they can come in and see for themselves what we're doing," Varela said. "And they're being a part of it, part of the children's education. I find that's the key factor to maintaining enrollment. If parents are happy, then we're going to have children."

In St. Paul, Minnesota, The Salvation Army's King Family Child Development Center has earned high marks for its quality. Several years ago, it became certified by the nation's top accreditation nonprofit for early childhood education—the National Association for the Education of Young Children (NAEYC). The program serves children ages 16 months up to 5 years old. And recently, it started utilizing "Creative Curriculum," a series of early childhood education materials designed to help kids develop critical thinking skills and enthusiasm for learning.

"Ever since we've started that, we've really seen our kids' test scores jump," said Lindsay Montana, center director. "Our kindergarten teachers are reaching out to us and saying, 'What are you guys doing? These kids are so much further than some of my other students.'"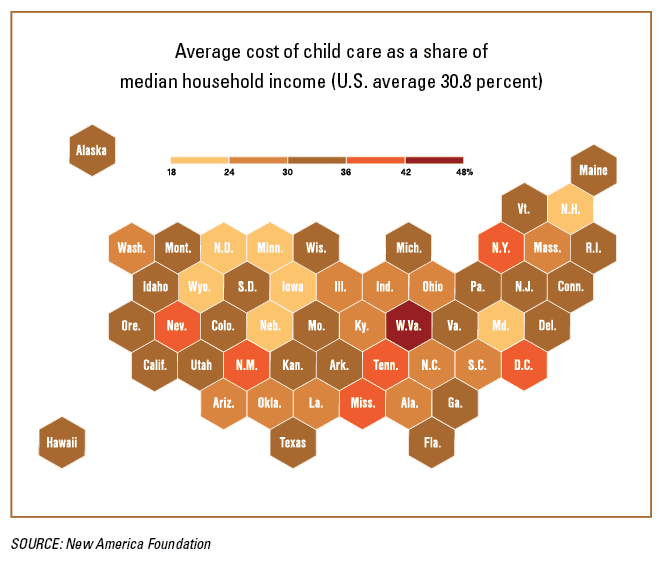 The effects of strong early childhood education can have lasting impact. Results from a recent U.S. National Institutes of Health study showed children in high-quality child care scored higher on measures of academic and cognitive achievement as teenagers.
Montana said they also incorporate a prayer time each morning, sing songs about Jesus, and read Bible stories. Sometimes the parents report back to the teachers that their kids made them pray at home.   
"It's fun to see these progress that the kids are making," she said. "We have an after-school program too, so some of them go over there and grow up a little bit, so it's fun to know that you may have planted a little seed in them when they were younger."
That kind of commitment is something that doesn't go unnoticed among parents, like Kande.
"The staff at The Salvation Army—they're just there to help," Kande said. "You could not imagine how great it's been for us. It's given us peace of mind."