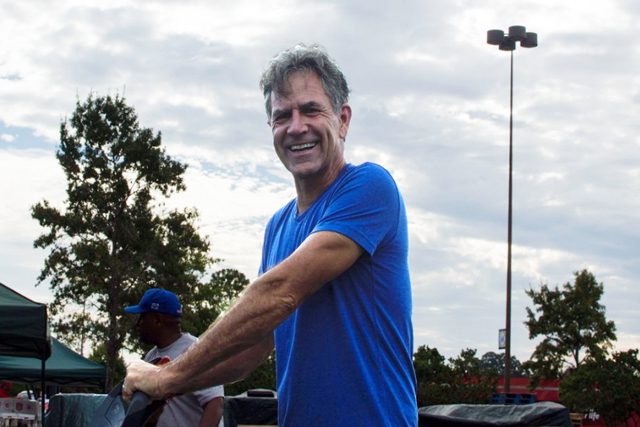 'I serve because I was served.'
9/11 worker volunteers after Louisiana floods.
By Christopher Bryant –
Joe Hillmann came to know The Salvation Army in the aftermath of 9/11. As an environmental consultant for Verizon in New York, he saw firsthand the work that The Salvation Army was doing at Ground Zero and was a recipient of many meals provided by the Army. That stuck in his mind for many years.
"I was fed by The Salvation Army for three months, and I never forgot that," Hillman said. "I had many options to serve here in Baton Rouge with many different organizations, and I remembered The Salvation Army, so I came to volunteer for a day."
Hillman came to Baton Rouge last week, to lend a hand after devastating floods hit the region in what's been called the worst natural disaster in the U.S. since Hurricane Sandy struck the East Coast in 2012. More than 60,000 homes were damaged by historic flooding, which displaced tens of thousands of residents.
In Baton Rouge, Hillman played an instrumental role in getting the car distribution lines—where people drive through to pick up much needed supplies—up and running smoothly.  It's a hectic job; in one typical day, 1,336 cars came through to received perishable and non-perishable food items, cleaning supplies, hygiene products and other supplies.
"It's a little sad at times as people drive through the car line to get supplies and they're living in their cars," he said. "Everything they own is piled up in the car, but they are appreciative to be able to get things from this line."
The extent of Hillman's sacrifice is illustrated by the fact that he's actually from New Orleans, having moved there after Hurricane Katrina to serve as an environmental consultant. Hillman took a week off of work to come to Baton Rouge, paying for his own hotel and meals while serving the community.
"Disasters suck, but they have a way of bringing people together," he said.