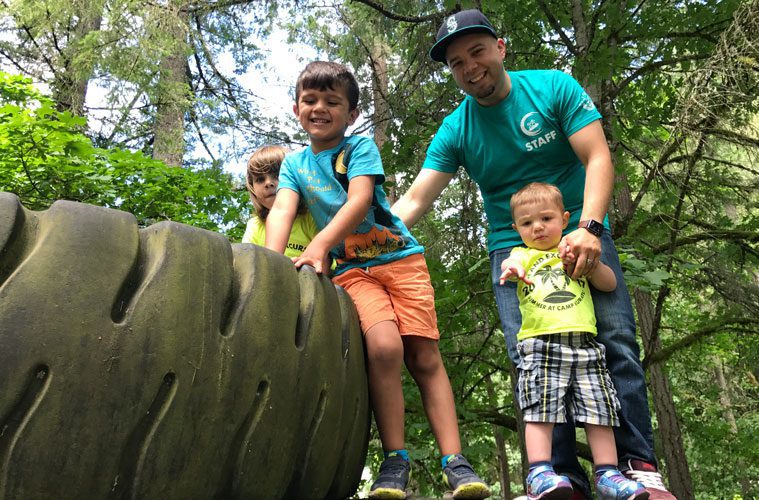 How summer camp changed my life
For whatever reason, someone allowed me to attend summer camp as a 6 year old. It was the first time I was away from home without my parents. It was the first time I spent the majority of my week outside. It was the first time I made friends outside of school and outside my neighborhood. It was a week of firsts for me, and I'll never forget the impact that a week of summer camp had on my life.
For those of you who have never attended a week of summer camp as a child, I think you missed out on a life-changing time. Sure, those experiences can be had elsewhere, but there is nothing like summer camp.
The fun activities, the last-minute programming on rainy days, the adventures in the woods and the facilities that are right outside your cabin door all make summer camp a unique and amazing thing.
More than just fun
However, it's the intangible outcomes from summer camp that truly change a child's life. Living in a cabin with your peers and a young-adult counselor for a week teaches you the value of keeping a clean cabin, maintaining appropriate hygiene and the sharing of implausible childhood stories. The pressure cooker of dirty socks, random snack wrappers, stink bugs and dirt everywhere create the perfect environment to make friends. 
As an introvert, I don't know where else I could have learned to make friends or be part of a friend group. Summer camp taught me friendship—and the teamwork and conflict that comes with it. Tug of war, goofy skits and chanting with a cabin pushed me out of my comfort zone, and made me a different kid at camp. I learned to work with others and that conflict had to be dealt with when you sleep three feet away from the kid that told your counselor you snuck chocolate into the cabin and it attracted ants the size of your big toe.
One of the years that I attended camp, I had a counselor I'll never forget: David Aird. I don't know how old he was or why he was working at camp that year (the rumor was that he was there for a girl). David saw something in me only my parents had mentioned before. He saw me as a leader. He told me I was responsible and mature. He expected me to set an example to the other boys in the cabin. David believed in me. 
That gave me all the confidence in the world. That made me want to be a leader. That made me want to help the other boys in the cabin. His encouragement did more for me than any game, activity or camp song ever would. David changed my life in that summer camp.
Life after camp
I went home to normal life. Things slipped back into the same routine, but a couple of days after my birthday, I was checking the mail with my mom and there was a postcard for me. It was from David, and he was wishing me a happy birthday. He told me I was a great kid and he hoped I would enjoy the new school year that was about to begin. His letter reignited that confidence within me and made me a different kid beyond camp.
Since my first week at camp, I have been back to camp every year of my life. I've been a camper, volunteered my time, and worked at camp. For the past two years, I've been a Salvation Army Divisional Youth Secretary, which means I get to plan and program all aspects of summer camp, and live and work on-site through the summer. 
I don't know if there's a better way to sum up what it's like being in this role other than to say it's a dream job. Not only do I get to have fun (and not be in a polyester outfit for the summer), but I get to do for others what David did for me.
I get to hang out with kids and impact their lives. I get to encourage those who may feel hopeless. I get to empower kids to try new things and show them that they are capable of so much more. I get to speak truth and tell kids that they are valued beyond their circumstances. 
In other venues, these kids might be put down, shamed or hurt, but I get to build them up, respect them and tell them how much they are valued and loved. Beyond the care and love that camp staff members show to each child, I get to also help kids learn about God's love and his relentless pursuit of them. I get to share that God finds them worthy and cherished and can be the greatest Father to them.
The power of camp
The power of camp isn't just fun, games and songs. It's more than what you see on the surface. The power is in the lives that are changed each week. The power is in the kids who go on to be counselors and camp staff members. The power is in the love of God that each child receives.
For me, the power of camp was seen most in David. Camp helped shape me into the person I am today. Camp helped me experience God in greater depth than ever before. Camp made me a leader and continues to help me lead. As I work to hire staff for summer camp this year, I pray that other Davids will apply. I pray that kids' lives will be changed. I pray that kids will feel safe, have fun and see God's love. If you have an opportunity to work at camp, take it. If you can give to allow a child to attend camp, do it. You can impact a life with so much more than a fun week away. You might just change a life. That's the power of camp.
---
Do Good: