How art can heal and bring people together
How art can heal and bring people together
When art meets people where they are, magical things can happen.
Even better: when art heals people in some of the most dark or unexpected places through song, dance, the written word or live theatre.
"I think that we are all made to create," said Bethany Farrell, creative arts director for The Salvation Army in the Southern U.S. "We are made in the image of the creator, after all, and by giving ourselves the opportunity to physically interact with something—paper, paint, space, music, fabric, whatever it is—we release something that we didn't even realize was knotted inside of us."
DO GOOD
– Share scripts with other Salvation Army writers for free at
sascripts.org
.
– Consider trying a new art form to see if it has healing power in your life.
– See more about The Salvation Army's artistic efforts and get involved at westernusa.salvationarmy
.org.
To get that much-needed release, Farrell and others in creative arts leadership across the Army are working together to help redefine what it means to be a creative artist—expanding the definition to be more inclusive of people of all ages and backgrounds.
In the South, Farrell's annual Territorial Music Institute (TMI) offers a model of "blended worship"—that is, a "unique experience to have all the arts together, showing how we can marry different styles, mediums and schools of thought, all for the Glory of God," she said.
The institute offers more advanced training than the music conservatories each division hosts throughout the summer, and is open to musicians, dancers, actors and leaders over the age of 14 who are active participants in the Army's arts programs in their home corps or division.
"We put tried and true Christian leaders in front of them that not only teach them excellence in their art form, but model how to keep Christ as the center of it all, whether they become professional performers or lifelong members of the corps band," Farrell said.
But what about the members of the community who don't yet identify as artists? Or what about reaching those who once did, but who've given up on its healing power because of grief, illness, age or lack of access?
These are some of the questions driving the work of Jessica Fagerstrom, Farrell's creative arts counterpart for The Salvation Army in the West until recently.
During her tenure, Fagerstrom and the territory's creative ensemble held a series of worship and dramatic arts workshops at a men's prison that houses more than 3,000 inmates in Riverside County, California, allowing them to share their personal stories in entirely new artistic and meaningful ways.
"I think it's a beautiful way to process experiences," she said. "It's a beautiful way to process grief, and a beautiful way to grow closer as a community."
Those community connections are a key component in moving the practice forward in the Army and beyond.
At a recent research symposium called Art Rx—created in honor of the late comedian Robin Williams—artists and entertainment luminaries, including TV producer and activist Norman Lear, screenwriter Will Reiser joined clinicians from UCLA, Cedars-Sinai and the USC Suzanne Dworak-Peck School of Social Work and Keck School of Medicine to talk about how the mind, body and soul can heal through specific art modalities, and how therapy and medicine can be transformed into artistic practices in unexpected places.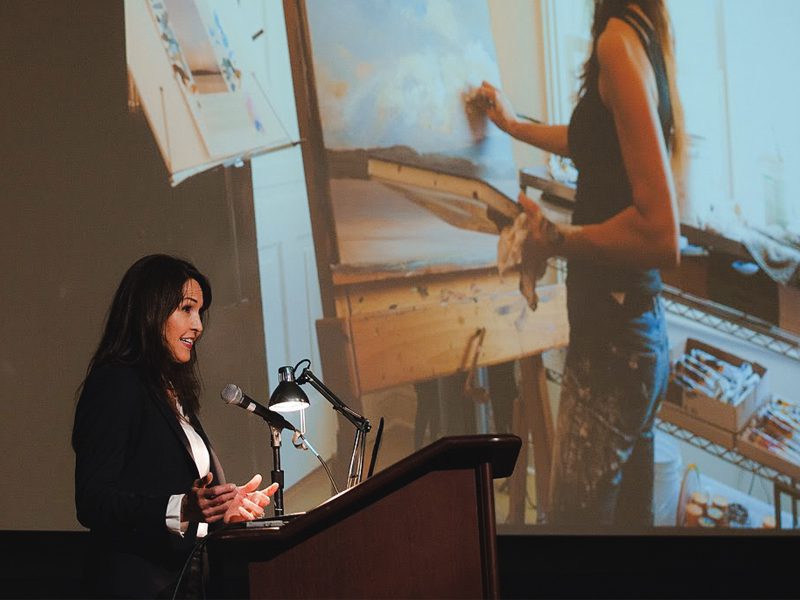 Williams' widow, Susan Schneider Williams, a Bay Area-based fine artist and photographer, was moved to get involved when she was approached about the event by social work student Sydney Siegel, who created the symposium along with her school colleagues at USC following an internship at the Simms/Mann UCLA Center for Integrative Oncology.
"Art Rx actively breaks down age-old barriers between science and art," Schneider Williams said. "Its mission falls in line with a dream I have had since I first fell in love with art: to prove scientifically the power of art, so that it might be valued as much as science or medicine."
That power came through in an interactive art installation at the event created by NY-based artist Adam Jonah. He became interested in the intersections of art in healing wounds of all kinds after suffering a concussion in high school.
"During that time I was really embracing my art practice—drawing all day, photography and painting," he said. "I was using that whole experience of creative expression as a guiding light during that difficult time for myself dealing with an injury."
But when his sister suffered an injury soon after, he realized he could share the benefits of that expression with others and launched a project called United Imagination.
"A big theme of my work is to draw whimsical, joyous creatures," he said. And through his art installations—which have been taken everywhere from galleries, to schools and community centers to cancer centers and hospitals—people of all ages can become artists, too. They can draw, write, share stories and add on to the piece directly on the glass canvas.
"It takes it exponentially further in the amount of healing when you can do it with the community," Jonah said.
'Wisdom of the group'
If the creative arts has awesome power to transform people and communities, experts and clinicians also want to know how they can be integrated more effectively into other areas of wellness—and how to break down or reshape any barriers between disciplines that might be hindering their potential.
For Farrell, she believes an exciting development in Arts Ministry called Applied Theatre is the bridge that brings The Salvation Army's social wellness and worship services together in unity.
According to NYU's definition, Applied Theatre is "the practice of theater and drama in non-traditional settings and/or with marginalized communities."
Salvation Army artists can go into a variety of settings like the adult rehabilitation centers (ARC), shelters, after-school clubs and even local prisons, and invite people into the theater performance, as Jonah has done in his art installations. The practice is a work in progress, but actively growing, according to the Army's creative arts directors.
"The belief is that there is 'wisdom in the group,' and when they are allowed to step into these roles and work together, they create something that brings empathy between groups, fosters courageous conversations, and leaves everyone with a greater understanding or awareness of the part they play in their situation," Farrell said.
In the Eastern U.S., Playback Theater is a similar technique that has been helping to bring diverse groups of people together for the past seven years. According to Carol Jaudes, Salvation Army special events and arts ministries director, the basic premise is that stories are taken from the audience and enacted by actors and musicians on the spot. She and her team were able to take training from Jo Salas, one of the cofounders.
"It is a recognized form of theater that is used internationally with its origins in New York," she said. "The time spent together speaks to the worth of each person to be heard—that each person's story is important."
That matters, especially for those who may have lost their way and need help finding their way back, Fagerstrom said.
"We remind them," she said, "you don't have to go through this alone."