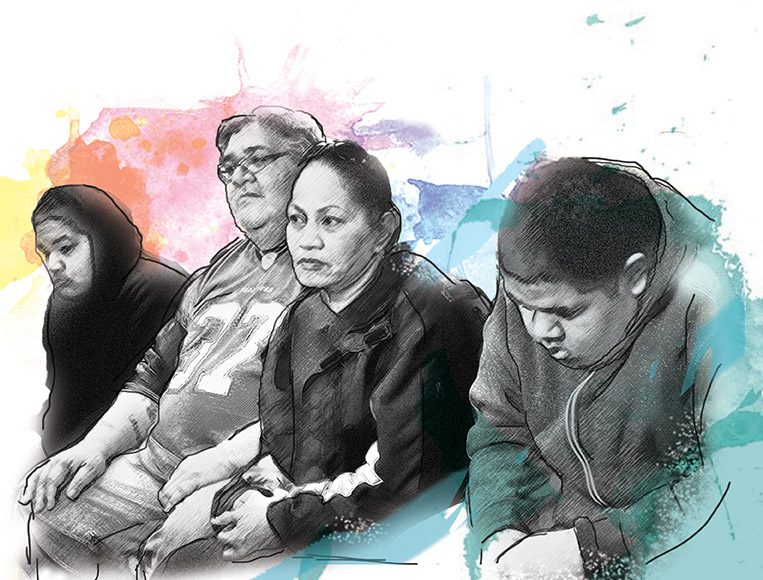 Homeless to home
Illness and relocation left a family of seven out in the cold until they met The Salvation Army.
Fifteen-year-old Kayden Kuewa quietly tucked his younger brothers into bed at a shelter. When they asked when they were going home, all he could say was that it wasn't home, but it was inside.
"When we became homeless, it made me feel as a mother like I couldn't take care of my family," said Iva Kuewa, the boys' mother. "We were out on the street with basically nothing."
The family's troubles began when Iva's husband Kayne Kuewa could no longer take construction work after falling ill with cancer and diabetes. Her full-time salary wasn't enough to support the family of seven, so they decided to leave Hawaii for Federal Way, Wash., near Seattle.
Expecting to live with family there until they found a place of their own, the Kuewas and their sons—Kayden, 15; Isaiah, 13; Lawton, 10; Zayne, 9; and Rain, 5—were asked to leave after a month.
"I told God, 'you led us here, and I truly believe that you are going to get us through it,'" Iva said. "'It is in your hands.'"
Only one shelter would take in the entire family, and it was only open daily from 8 p.m. to 6 a.m. Despite the winter temperatures, the Kuewas had no choice but to spend their days outside in the park until well into the evening.
"Living on the streets…was the lowest part of my life," said Kayne Kuewa, the family's father.
According to the Department of Housing and Urban Development's 2015 Annual Homeless Assessment Report, 206,286 people in families with children were homeless on a single night in 2015, a full 36 percent of all homeless people counted.
The Kuewas first came to The Salvation Army for a free community supper, held every weeknight.
"We always looked forward to that evening meal," Iva said. "It wasn't what we expected. You get a full meal, and it's a home cooked meal." When she shared her family's situation, The Salvation Army stepped in to help.
East King County Corps Officer Lt. Sierra Dwelle gave the family hotel vouchers, along with warm clothing, school backpacks and supplies, and hygiene kits.
"It crushes me to see people homeless, and especially to see children homeless," Dwelle said. "I think it touched my heart to know they were coming here to better themselves. Their family living situation in Federal Way just didn't work out the way they had expected."
According to Kayne Kuewa, the hotel stay was just what the family needed.
"What we needed was rest, because we used to wake up at 6 in the morning at the shelter, and we couldn't get back until 8 at night," he said. "Those vouchers were a relief for us, because we were so tired and we wanted to sleep, shower and rest."
More than services, Iva Kuewa credits The Salvation Army with becoming part of the family.
"The Salvation Army stepped in, and they became my parents," she said. "They took care of us, and that was our hope when we were homeless."
Before long, the Army helped the family find a four-bedroom apartment and covered the security deposit and move-in costs after Iva Kuewa found a job at a local grocery store. And as the holidays rolled around, Kayne Kuewa worked as a paid bell ringer during the Army's 2015 Red Kettle Campaign.  
Now 18 months since leaving Hawaii, the mother of five says she often reminds her kids not to forget where they come from.
"I used to avoid the red kettles, not knowing that one day those kettles would be the very kettles that kept my kids clothed, fed and warm," Iva Kuewa said. "If you ever feel like you are hitting rock bottom, The Salvation Army is the place to go and visit."  
[button color="black" size="normal" alignment="none" rel="follow" openin="newwindow" url="endhomelessness.org"]See more on the state of homelessness in America from the National Alliance to End Homelessness at endhomelessness.org.[/button]