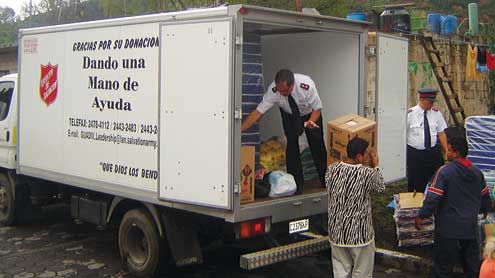 Guatemala's great expectations
Salvation Army helps with disaster relief, education and spiritual development.
by Luis Uribe
Pacaya Volcano erupted in Guatemala in May 2010, spewing lava and ashes in a 60-mile radius. The volcanic activity continued for three days, affecting nearly 24,000 residents.
While still evaluating Pacaya's destruction, authorities faced another disaster. Tropical storm Agatha also struck in May, killing 170 people and injuring 200. More than 100 people "disappeared." Approximately 30,000 homes were damaged. The storm affected 230,000 people; 93,000 of them sought refuge in shelters.
Residents of Tecpan watched the river rise, depositing debris in the center of the village. The storm affected thousands of people, with 6,300 displaced to safe havens.
Another severe rainstorm hit the country in September, adding nearly $500 million dollars to the list of damages.
Army's presence
The Salvation Army was among the first responders to all the tragedies.
"Nueva Santa Rosa is a town near the capital where the Pacaya Volcano and Agatha storm caused many people to lose their homes," Major Alvaro Jimenez, retired divisional commander in charge of the Guatemala Division in the Latin America North Territory, said.
"There, the victims established a kind of refuge camp. We have been visiting the families and helping them with food, blankets, mattress pads and clothes. The Salvation Army has helped more than 1,600 of those affected by the tragedies."
Along with disaster relief, education is another focus of The Salvation Army. The Army runs six schools; each charges a small attendance fee. Jimenez noted that if a family cannot afford the fee, the Army still accepts their children into the program. Currently, the schools have 600 students enrolled.
A spiritual awakening is occurring in Guatemala, according to Jimenez. "The tragedies have provided a new reason to search for God," he said. This includes the country's youth.
In Tierra Nueva the youth participate in taking food into the streets at night every other week, "to feed the homeless and preach the word of God." Nearly 70 young adults are active in this program.
Great expectations
The schools have adopted a unified work strategy, which is generating positive results. They hired a general supervisor—a professional with experience—to oversee the teachers and review result reports.
"They give educational formation to the officers," Jimenez said. "We have great expectations for this year, and we are very excited."
---