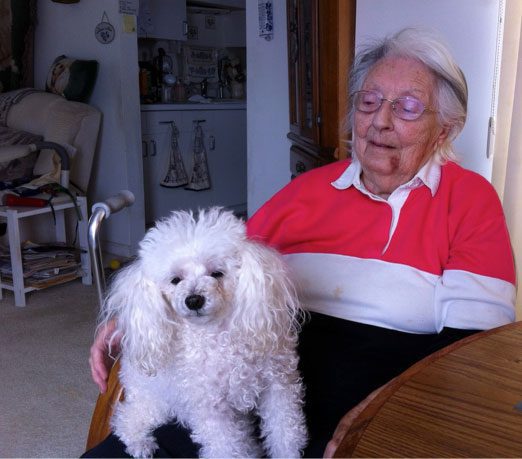 Golden Diners
Meal delivery helps seniors and their pets
By Maureen McGreevy –
Pet owners love their pets—so much that they spent over $53 billion on them in 2012 in the U.S. However, many are burdened by these costs, while others are homebound and unable to make regular visits to the pet store.
The Salvation Army Chicago Metropolitan Division identified these issues in seniors enrolled in its Golden Diners nutrition program and began making quarterly pet food deliveries to their homes.
Golden Diners staff and volunteers deliver hot meals to 875 seniors a day throughout Kane and McHenry Counties. Clients are encouraged to make a voluntary donation but anyone can enroll, regardless of contribution.
Major Ken Nicolai, Golden Diners administrator, said seniors typically become homebound due to a health-related illness. As they age, those living alone often have difficulty preparing meals, and those with lower incomes are apt to skip meals altogether due to high food costs. According to Nicolai, several Golden Diners volunteers discovered that some seniors were sharing their delivered meals with their pets.
"That caused us concern because we only deliver one meal a day and the seniors need that nutrition," Nicolai said. "Our seniors are at risk of malnutrition, Some are already malnourished. We want to make sure they're eating the full amount of nutrition that's being delivered to them."
Nicolai applied for a grant through PetSmart to fund pet food deliveries for seniors in Golden Diners, but quickly realized a need for alternate funding after over 100 requests for the service. Golden Diners then partnered with nonprofit RunFurShelter, which held a pet food drive April 6 and will host its fourth annual 5K walk/run on May 18 in South Elgin, Ill. All proceeds from the 5K will be used by Golden Diners to purchase pet food and veterinary care. RunFurShelter raised over $28,000 last year to help area animals in need and aims to help Golden Diners increase to monthly deliveries.
"Some people ask, 'Why are you doing this?'" Nicolai said. "At Golden Diners, our mission is to help homebound seniors stay in their homes and it's also to help make sure they don't become isolated. Pets are one good way for a senior to prevent isolation, because that pet becomes like a companion to them and keeps them alert. They have conversations with that pet and they bond with that pet."
A study reported in the Medical Journal of Australia even found that pet owners generally have lower blood pressure, triglycerides, and cholesterol levels than non-pet owners.
For longtime Golden Diners enrollee Geniveve Gwartney, the program's pet care service was a welcome addition. Gwartney lost most of her family, so now her closest family are her pets. Gwartney is homebound, except for the occasional trip to the store or doctor, and spends the majority of her time with her three cats and BJ, an 8-year-old toy poodle, who was a gift from her granddaughter.
"I couldn't live without them, especially BJ, who is so much company to me," she said. "He is more company to me than people are."