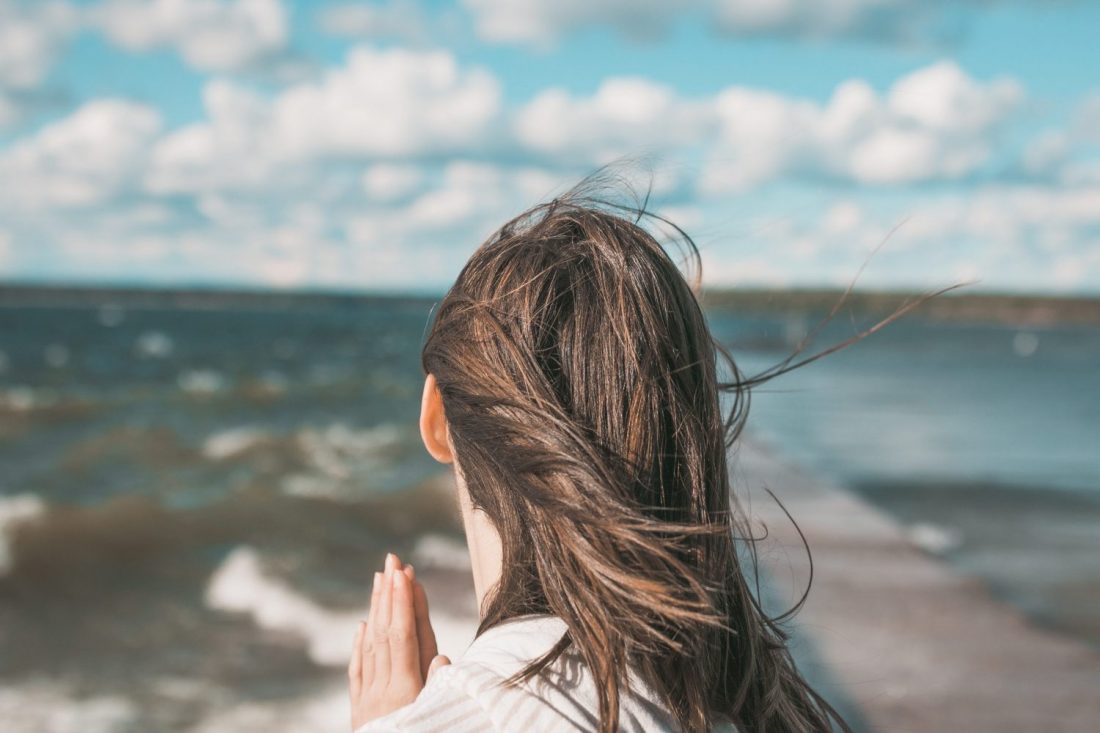 Give thanks in all circumstances?
A pastoral word on how to find gratitude, joy in the suffering
Gratitude is a concept we're well familiar with and have plenty of information about, including some 196 million Google search results. But what does it really mean to be grateful? Why is it important? And how does it improve your daily life?
Salvation Army USA Western territorial leaders Commissioners Douglas and Colleen Riley dove deeper into gratitude on an episode of the Do Gooders Podcast, releasing Nov. 23. After 25 years of pastoral leadership, they've experienced rejoicing and endured suffering. They've sat with people in all circumstances, good and bad. Simply put, they know what it is to be grateful.
In our interview, excerpted here, they point to biblical examples of gratitude and share how to find gratitude, especially in a year like this one.
Christin Thieme: It's easy to look around this year and see that people are in pain. What has 2020 been like for you—personally and as leaders of The Salvation Army Western Territory?  
Douglas Riley: It's been a year of change. It's been a year of constant reflection of what's happening around us. It's been a year where we've had to be nimble. We have had to make changes. But it's also been a year of excitement, which might be strange for someone to say.
It's forced us to get outside of our buildings. We've had to engage with the communities, our neighborhoods, our friends. We've had to do things that we've never expected to do. And it's been exciting to do that, to see the officers out there just full of life and wanting to share and wanting to help in their communities to show compassion, show passion for sharing with others and loving each other. It's been wonderful.
CT: As we approach the holidays, we don't often talk about suffering, but stick with me. We know from Scripture that Paul endured much suffering and had a lot of reason to feel like a victim of his circumstances. And yet, he writes, Rejoice always, pray without ceasing, give thanks in all circumstances for this is the will of God in Christ Jesus for you (1 Thess. 5:16-18). It's almost a playbook for how to live, and yet that, "give thanks in all circumstances," sounds a lot easier said than done. So practically speaking, how do we acknowledge suffering without being overtaken by it?
DR: Well, he lays it out. 'Rejoice always', no matter what you're going through. That's from the very depth of his soul. Because of his love for Jesus he had a joy that was overflowing. He prayed without ceasing. I think many times we get caught in the crisis of the moment. There are circumstances that face us in our lives or our family and we instantly forget our source. That's a challenge, no matter what's facing us to give thanks to God. He is the creator, preserver, governor of all things so if we think of all things that are good, we know they're from him.  
Colleen Riley: This year, we can choose to be in despair about all that's happening, or we can choose to find the good and find the gratitude in what the Lord has given to us. It changes you as a person when you choose gratitude. It doesn't make the fight any less real, but I think it changes the focus of that fight. Instead of wallowing, we know with the Lord we're going to find a way through. We can choose gratitude.
CT: Of course, gratitude is not only biblical. It might be one of the most talked about concepts out there. An article from Psychology Today lists seven scientifically-proven benefits of gratitude: it opens the door to more relationships, it improves physical health, improves psychological health, enhances empathy and reduces aggression. We sleep better. It improves our self-esteem and increases our mental strength. The benefits are many; we know this biblically, we know this scientifically. So how do you cultivate gratitude in your own life?
DR: For me, by encouraging others. You can't have an attitude of ungratefulness if you really look around at the people in life, and things that we can see. By just simply looking at around you and being grateful for those things, it will start to completely change your perspective. And you'll start to encourage more and be grateful for more, realizing how blessed we are. That's how I do it.
CT: Going back to 1 Thessalonians, Paul writes, "rejoice always," what is joy—true joy—and where do we see it in Scripture?
CR: Often people take joy and happiness and they use them interchangeably, right? But happiness is more of an emotion while joy is something you can achieve. It's settled assurance that God is in control of everything, for those of us who are believers. Everybody wants happiness, but it's fleeting, it goes away. When you have joy and you have the joy of the Lord, it's something that can sustain you, that stays with you always.
So for me, I want to choose joy every day. Life is good. Life is really good. And so there's a lot of happiness in it. But if you choose joy every day, you're going to see the joy in others, you're going to see the joy in your circumstances. Even in the difficult days, you're still going to be able to see the joy. It's settled assurance that God's in control of everything, because I certainly am not, so I'm grateful for a God who is in control.
DR: I'm going to tell you that for me, it's the assurance that Jesus loves me. I keep coming back to that because that's the source of my joy. And I don't mean to let that just roll off my tongue. It's a deep assurance. It's knowing that God came, brought his only son to come and to die on the cross for us and forgive us of our sins and to assure us that we have a place, if we accept his love, for eternity. I mean, that's joy.  
CT: In James 1:2-4, he writes, Consider it pure joy, my brothers and sisters, whenever you face trials of many kinds, because you know that the testing of your faith produces perseverance. Let perseverance finish its work so that you may be mature and complete, not lacking anything. He writes "whenever" you face trials not "if" you face trials, so we know they are going to come. And yet, what would you say to those who are experiencing real pain—who question how to possibly consider their suffering pure joy?
DR: Well, as the Scripture says, because it produces perseverance. We don't want anybody to have to suffer, but we know through that, we can test what we believe in. We can test how we respond, how we react, and that produces perseverance.
It was a devastating year as people have gotten ill and have passed away and not been able to have loved ones in the room with them. Challenging times. And during those times, I believe that I just have to remain strong in my faith, believing that a God who loves me will help me through all these things. That's when you have to stop relying on yourself and start relying on him. That's how we endure the suffering and pain. It's who you rely on.
CT: How do you encourage people to persevere? How do we find that perseverance in the hard times?
CR: It might just roll off our tongue, but it's the truth: It's just relying on Christ and leaning on him because he is the one that's going to sustain us and get us through to help us persevere. I think he allows these times to happen to help us grow in our faith and to help us to lean on him more, because we realized that we can persevere in our own strength only for so long and then you get exhausted or you get sick, or you just can't continue. But when we lean on him, he helps to carry us through.
It is difficult, it is not easy, but when we have Christ, we can make it through. And with a body of believers who have the same faith, we lock arms with one another and persevere together. It's a lot easier to persevere together than alone, right?
CT: What do you think God is trying to work in your soul this year?
DR: Reliance on him. It's only by the grace of God and his spirit in me that gives me power and strength for tomorrow and even for today and the decisions of today. So for me, that's the lesson learned, 'What God? What do you want me to learn to rely on you? How do you want me to do it?' One step at a time, one decision at a time, one acknowledgement of that he's in control at a time. It's not so much 'Why God? Why are you doing this to me?' It's, 'What do you want me to do?' I do it for him, not for me. Again, take that change of focus that Paul had to change my life and my attitude from why to what. What does he want me to do?
CR: He's always reminded me to go back to that love relationship with him, where I'm walking hand in hand with Christ so that I can feel his pulse, so that I can share that love with others. I think everything we do needs to stem from that love from Christ. He reminds me every day it's about love. Whatever that means, either a cup of cold water or a phone call to somebody you know is struggling or literally picking somebody up because they need to be carried, like a stretcher bearer, just carrying them through, it's however we can show love to those people around us. It's all about love and the love starts with him.  
Listen in to hear the complete interview Nov. 23 on the Do Gooders Podcast with Commissioners Doug and Colleen Riley, including one way to choose gratitude today, at caringmagazine.org/podcast.
---
Do Good:
Learn more about how you can help The Salvation Army make Christmas possible for those in need at RescueChristmas.org.
Find volunteer opportunities near you by visiting volunteer.usawest.org.
Did you know The Salvation Army served more than 23 million Americans last year fighting hunger, homelessness, substance abuse and more—all in a fight for good? Where can you help? Take our quiz to find your cause and learn how you can join in today.